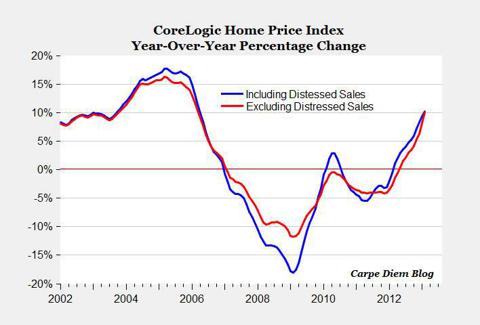 CoreLogic reported today that its repeat-sales Home Price Index (HPI), based on sale prices for the same homes over time, posted a 10.2% year-over-year gain in February (including distressed sales). That was the largest annual increase, and the first double-digit gain in home prices nationwide in nearly seven years, going back to March 2006 (see blue line in chart). The February gain was the 12th consecutive monthly increase in national home prices on a year-over-year basis starting in March of last year. The last time of 12 back-to-back monthly increases in year-over-year home prices was in 2006. Excluding distressed sales, CoreLogic reported that national home prices increased annually by 10.1% in February (see red line).
At the state level, there were 11 states that posted double-digit gains in February home prices: Nevada (19.3%), Arizona (18.6%), California (15.3%), Hawaii (14.6%), Idaho (13.5%), Oregon (12.1%), Colorado (10.5%), Utah (10.3%), Washington (10.1%), New York (10.1%) and Georgia (10.0%), and only three states posted annual declines in home prices: Delaware (-4.4%), Alabama (-1.5%) and Illinois (-1.0%). Of the top 100 metro areas by population, 96 posted year-over-year home price increases in February, up from 94 in January.
Looking forward one month, the CoreLogic Pending Home Price Index predicts that the increase in March home prices will match February's gain with another 10.2% year-over-year increase.
Anand Nallathambi, president and CEO of CoreLogic, commented: "Home prices continued their march upward in February. Nationally, home prices improved at the best rate since mid-2006, marking a full year of annual increases and underscoring the ongoing strengthening of market fundamentals. Continued home price appreciation will provide fuel needed to drive further recovery in the home purchase market."
For many months now, almost every new report on the US housing sector is showing improvement, and the case for a robust and strengthening housing recovery keeps getting stronger. Today's CoreLogic report of double-digit gains for both of its home price indexes – the first double-digit increase in home prices since March 2006, almost seven years ago – is a major milestone in the housing recovery that started last year.
And there doesn't appear to be any signs of a slowdown in the long-awaited rebound in housing. Early reports for March sales are just starting to come out, and if Denver is at all typical of national housing market conditions, we can expect the housing recovery to gain momentum going forward.
Exhibit A: Denver metro area home sales increased in March by 46% from February and by 20% from March of last year. Compared to a year ago, the average price of a Denver-area home increased 19% in March, the average number of days on the market fell by 35%, and the inventory of homes for sale is 35% below March 2012.
Looking ahead, the shortage of housing inventory in many parts of the country is one factor that could slow the housing recovery somewhat. But there's no question that housing market fundamentals are solid and improving, and we can expect 2013 to be another good year for US housing.