The last year has rather been rough on Zynga Inc. (NASDAQ:ZNGA). The stock price dipped by over 75%. Can it again reach last April's price level of $12 again? It is too early to comment on that. But it would be wise to keep a watch on the company. There is future potential, which relies on effective management of the company.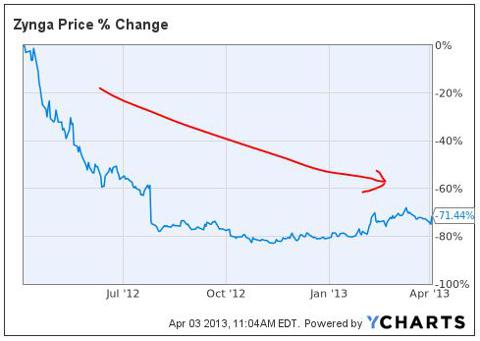 In a recent Seeking Alpha article, the writer wrote:
"Approximately 45% of Zynga's value comes from its cash pool with another 30% coming from new and smaller games (other than FarmVille, CityVille, CastleVille, Empires & Allies and Texas HoldEm Poker) according to our estimates. In other words, a significant portion of our price estimate relies on the expectation that Zynga will continue to launch successful games."
That sounds promising, but I have a question. Zynga's monthly unique users (MUUs) increased to 167 million in the fourth quarter of 2012 from 153 million in the fourth quarter of 2011, up 9% year-over-year. On a consecutive quarter basis, MUUs were down 6% from 177 million in the third quarter of 2012. In contrast to that, monthly unique payers (MUPs) were 2.9 million in the fourth quarter of 2012, down 1% year-over-year and down 2% quarter-over-quarter. So, does this mean that the monthly unique users are going up and monthly unique payers are going down? That is a bad sign since the company needs revenue to develop more high-tech games in the future. And the more hi-tech games it can release decides the future of the company.
Last year, Zynga modified its partnership with Facebook (NASDAQ:FB), claiming the right to cater to its customers separately on its own site and on other third-party platforms. Last month, it renounced the necessary Facebook login option for the site's Farmville players. The question is whether this distancing from Facebook might have any negative effect on the top line of the company or not. We must remember that 90% of Zynga's total revenue is derived from Facebook while only 11% of Facebook's revenue was dependent on Zynga. As a matter of fact, the number of Facebook players who paid within games increased by 24% since March 2012.
If you look at the graph below, Zynga's revenue has dropped by over $20 million in the most recent quarter. Would that be an effect of severance of relationship with Facebook? It might be.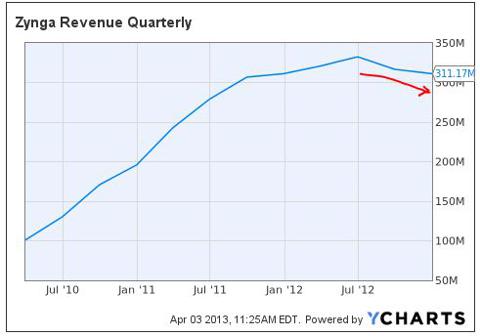 Moreover, even with the flurry of new games released, it is wise not to be too hopeful. "Zynga is often accused of copying games, which is mostly true," Zynga's VP Dan Porter said at a panel discussion in New York, hosted by menswear start up Frank & Oak. (Needless to say, he got fired for saying so.)
Here are just a few of the clear rip-offs:
Electronic Arts' Sim Social became The Ville
Nimblebit's Tiny Tower became Dream Heights
Slashkey's Farm Town became Farmville
David Maestri's Mob Wars became Mafia Wars
With all these rip-offs (with many more coming soon), you can surely count the litigation costs shooting up beyond the roof. In that case, I would not be too optimistic about the launch of new games such as Bubble Safari Ocean, CityVille 2, Coaster Ville and The Friend Game released last quarter.
The mobile market is going to be an area of growth for Zynga. On being asked how the transition to mobile is going and how far it might go, Zynga's games president Steve Chiang said:
"We have one of the top casual games in Words With Friends, and Poker Mobile is one of the top casino games. We're also positioned well with 72 million monthly active unique players. In terms of everything else, we're pretty early. The way I describe it is we had our top game makers building Facebook games, and all those games are now starting to finish up. Now they're pivoting to mobile, and we'll start to see some of their games coming out in 2013."
Electronic Arts Inc. (NASDAQ:EA) COO Peter Moore said "digitally delivered video games may account for 50 percent of sales by 2015 as more players migrate to tablets and smartphones from consoles."
With the mobile gaming market expected to reach $1.5 billion by 2014, Zynga is aiming right on spot.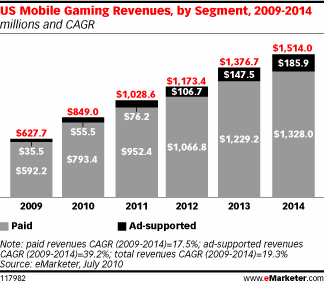 I can also see Zynga getting into online gambling in the U.S. very soon. As reported this month, Zynga is foraying into online gambling in the UK, in partnership with Bwin.Party Digital Entertainment PLC. However, this is just the start. Last month, the state of Nevada gave permission to UK-based company 888 to operate online poker games in the state. Nevada, New Jersey, and Delaware, have so far passed laws to allow online gambling in their legal territories. The partnership with Bwin.Party is definitely a good move by Zynga as well. The graph below, with Bwin.Party holding 8% share of the UK online gaming market, proves that.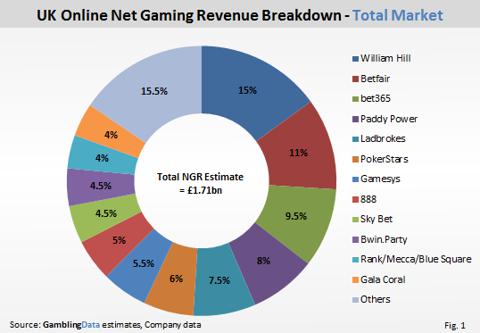 And all the future potential can only be realized based on present financial health.
Zynga's gross margin of 72.51% is much better than Activision Blizzard's (NASDAQ:ATVI) 65.77% and Electronic Arts' 61.43%. It must be noted though that both competitors' EBITDA margin is almost three hundred times over that of Zynga. This cash flow crunch can catch on to the company's balance sheet very quickly.
One interesting difference to note about Activision Blizzard and Electronic Arts is their approach to revenue generation. While EA thinks that the freemium model is what the gamers want and recently launched the free Real Racing 3, Activision generated 34% of its revenue in subscriptions and licensing fees last year. With weakening revenue and even weaker profitability margins, it is interesting to see how Zynga approaches its revenue model in the coming year.
High current ratio of 2.92 and low debt-to-equity ratio at 5.48 shows, the company is not being able to find proper venues to utilize its available capital. With over $1.3 billion sitting on its balance sheet, we need to see some action now.
In short, the company needs to take action and resurrect its income statement so as to keep the balance sheet in a healthy condition as is.
To sum it up, it is not wise to invest in Zynga right now. We should keep a watch on it for few more upcoming quarters before we make any decision. If you have already bought it, keep it for the next few quarters since the price should not go any lower than this.
Disclosure: I have no positions in any stocks mentioned, and no plans to initiate any positions within the next 72 hours. I wrote this article myself, and it expresses my own opinions. I am not receiving compensation for it (other than from Seeking Alpha). I have no business relationship with any company whose stock is mentioned in this article.