Marathon Oil Corporation (NYSE:MRO) announced the completion of the sale of its wholly owned subsidiary, Marathon Oil Ireland Limited (MOIL) to PSE Ireland Limited, a subsidiary of Petronas for $180 million.
These properties yielded 30 million cubic feet of natural gas per day in Jan-Mar-09 and has net proved reserves of 46.2 Bcf (7.7 boe). Based on the current production rate, the properties had a life of 4.2 years.
Further, based on the current futures price of gas at $3.61 per thousand cubic feet, the revenues from this property would have been $167 million over the next four years. The net return would have been lower as the cost of extracting the gas, royalty payments and taxes on profits would have left only a small portion for the shareholders.
This is an excellent deal for a company that has been selling properties through 2008 to generate the targeted $2-4 billion from asset sales required to fund capital expenditure in the core business.
Positive Free Cash Flow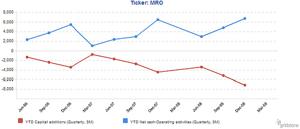 Source: Gridstone Research
As can be seen from the graph of cash flow from operations to capital expenditure, the company has been generating a healthy free-cash flow. Although internal cash generation could be strong enough to meet majority of the near-term requirements, it makes sense to focus on projects that will bring in cash flows sooner that latter for the benefit of shareholders. The management seems to be following a principle of maximizing near-term cashflow so as to have a strong reserve for these turbulent and difficult times.
The company has a planned capital investment budget of $5.7 billion for 2009 - a 24% decrease from 2008 spending.
The budget includes worldwide exploration and production spending of $2.5 billion. The break-up between near-term, mid-term and long-term project is 45%, 35% and 20%. A significant amount of the budget is, thus, targeted on projects that will sustain and grow production in the short-term.
The company's refining segment has a $1.9 billion

budget for 2009 with projects to meet Mobile Source Air Toxics ("MSAT") and other environmental regulations (effective at the beginning of 2011) and maintenance projects accounting for 31% of this budget.
The company will, thus, be spending $1.7 billion

on projects that will help sustain production at current levels.
The earliest expansion project to add to revenue will be the $3.35 billion Garyville refinery expansion, where the company is spending around $1 billion

in 2009. This project is expected to be operational around 4Q09, but may not start contributing meaning fully until mid-FY10 given weak refining margins.
The management seems to be making the right moves, but may not receive significant support from external factors in the near-term. Also, investment in the business will take about a year to add meaningfully to revenues. Investors may, therefore, be required to be patient.
Disclosure: no positions