The following article is a reprint from this month's issue of SmartGuyDH's newsletter Wall St. Cheat Sheet:
Retailers are performing better than Wall St.'s most pessimistic predictions. So, the stocks have helped fuel the recent rally. Regardless, this is truly a matter of "very shitty" outperforming "shittiest." Thus, don't get caught sprinting into the headwinds of continuing unemployment and increasing savings rates. Walmart (NYSE:WMT) continues to be the only low-risk play in the sector.
The internet version of Walmart, Amazon (NASDAQ:AMZN), has been a Wall St. darling lately. The killer app Kindle evolved to 2.0 and consumers are on a waiting list to sip a fine Pinot while caressing Oprah's favorite new gadget. But, I think valuations (e.g. P/E around 50) for the stock are now in the emotionally euphoric zone. Uber-cool Apple (NASDAQ:AAPL) has announced a new tablet device launch sometime later this year, and those with a fetish for AMZN don't seem to understand the implications. Read my lips: if AAPL releases a device with book reading capabilities like the Kindle, and they use content leviathan iTunes to sell digital books, AMZN shares will fall faster than Bernie Madoff's reputation. Thus, AMZN may be a great day trading vehicle, but the risk-reward is not great for holding overnight.
The Retail Holders ETF (NYSEARCA:RTH) really filled out this month. However, unlike my wife, they are not pregnant with anything special.
On the Rise: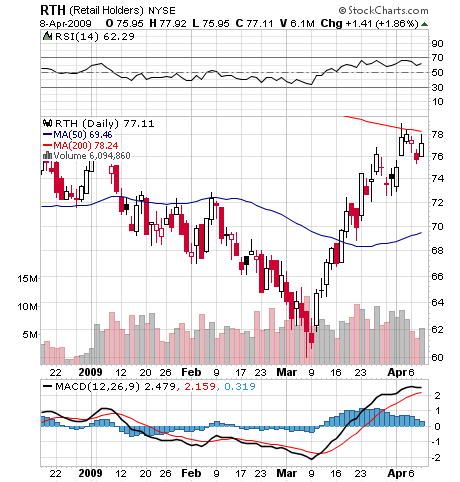 Earnings season should be a roller coaster ride for retailers. There will be real winners and losers. However, before making any long term investments, make sure your picks have strong business activity. Most people are piling into the sector simply because companies may start beating heavily reduced expectations. In other words, analysts have assumed something near a nuclear holocaust, so anything like a depression will "beat the Street." Caveat emptor! It is better to be out of the market wishing you were in, than in the market wishing you were out. If you are not a short term trader, your time will come.
Originally published on April 10, 2009.