Sometimes, you just need to take a step back. Markets and stocks get overheated, and you don't want to buy at the peak. Pullbacks are inevitable, and they reward those who are patient. Today, that is true when it comes to Philip Morris (NYSE:PM). The cigarette giant, one of my top value names for the past two years, has rallied to new highs over the past couple of weeks. Philip Morris is a great name to be in for the long-term, with a solid dividend and strong buyback plan. However, I will never recommend overpaying for a name, and I feel like investors who buy today are doing just that. Today, I'll explain why.
Current Expectations:
When comparing Philip Morris to others in the space, I look at three other names: Lorillard (NYSE:LO), Altria (NYSE:MO), and Reynolds American (NYSE:RAI). The following table is one I've used in several articles for this industry. It shows the currently expected growth, in terms of both earnings per share and revenues. These are the current analyst estimates for 2013 and 2014, as well as a two-year total. I've also provided each company's dividend yield as another way to compare these names. The yellow highlight indicates the leader in that specific category.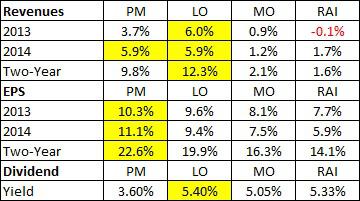 It's been about a month since I fully updated this table, and we've seen a couple of important changes. First, let me briefly say that Lorillard has not seen any changes. The average revenue and earnings estimates for Lorillard are the same today as they were in early March.
The first change I'll get to is obviously Philip Morris, since that name is the focus of this article. Since my last update, Philip Morris' average analyst earnings estimate for both 2013 and 2014 has come down by a penny. Those numbers now stand at $5.76, and $6.40, respectively. That means that expected earnings growth is a bit lower. With those numbers coming down a little, Philip Morris' lead over Lorillard for earnings growth has narrowed slightly.
Additionally, Philip Morris' revenue forecast has been cut a little. Since my last update, the average estimate for 2013 revenues has come down from $32.60 billion to $32.53 billion. The 2014 average has also declined from $34.59 billion to $34.46 billion. That may not seem like much to you, but the percentage growth numbers have come down from 3.9% to 3.7% (for 2013) and 6.1% to 5.9% (for 2014). That has also brought the two-year total down from 10.2% to 9.8%. Because of the estimate cuts, Philip Morris has gone from being the leader in expected 2014 revenue growth to a tie with Lorillard. Additionally, Lorillard's lead in the two-year total has expanded.
Altria and Reynolds have also seen some changes to their growth forecasts, although not to the extent we saw in Philip Morris. For Altria, the only change was a reduction in 2014 EPS estimates by a penny to $2.58. For Reynolds, analysts took their 2013 revenue forecast down from $8.31 billion to $8.29 billion, and their 2014 revenue forecast from $8.46 billion to $8.43 billion. These slight changes have put Philip Morris and Lorillard even further ahead in most of the expected growth categories.
Additionally, with all of these names rising a bit over the past few weeks, we've seen the dividend yields of all four come down:
Philip Morris' yield has decreased from 3.70% to 3.60%.
Lorillard's yield has decreased from 5.75% to 5.40%.
Altria's yield has decreased from 5.18% to 5.05%.
Reynolds' yield has decreased from 5.47% to 5.33%.
When it comes to both growth and yield, Lorillard is the clear winner here, and I discussed that in a recent article. Lorillard offers the most revenue growth, and almost the same earnings growth as Philip Morris. Additionally, Lorillard offers the highest dividend yield. Philip Morris' growth forecast has been reduced a bit lately, which combined with the lower yield, makes the name a bit less attractive.
Current Valuations:
I always say that growth is important, but the more important part is how much are you paying for that growth. Well, the following table shows valuation metrics for each, as of my last update and now.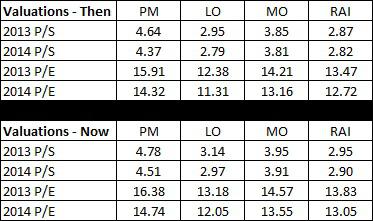 All of these names have seen rises in their valuations since my last update. The issue here is that Philip Morris still trades at an enormous premium, roughly 40% on price to sales and about 16% on price to earnings, when looking at both 2013 and 2014.
Short interest is rising again:
With the recent rally in Philip Morris shares, more and more are becoming non-believers. The amount of shares short in the name is at its highest point so far in 2013, per NASDAQ update. Over the last two months, the number of shares short has risen from 7.9 million to more than 12.22 million. While that still represents an extremely small portion of the 1.65 billion shares outstanding, a 55% jump in short interest over two months is something to watch. The following chart shows short interest in Philip Morris over the past 10 months.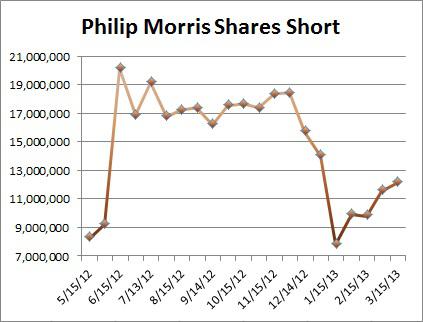 Technically, the stock is due for a pullback:
I don't really talk about technical indicators that much, but when they indicate something fairly strong, I bring them up. Looking at the technicals, Philip Morris is due for a pullback. As you can see from the chart below, the stock is a little more than $3 or so above its 50-day moving average. When the stock gets that much above the 50-day moving average, it generally pulls back, meaning it doesn't stay that high for long. Also, the stock is above its bollinger band range. Over the past year, when it approaches the top end of those bollinger bands, the stock starts to pull back, and we're above it now.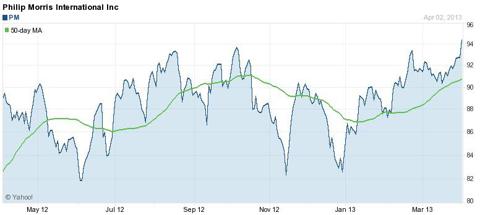 (Source: Yahoo! Finance)
Now I'm not calling for a tremendous pullback in the stock. But a number of the technicals are saying that the stock is a bit overextended, and a pullback may be coming. We may have started that pullback on Wednesday, with shares cracking $95 but unable to hold that level.
The analyst take:
Don't just take my word for it when it comes to Philip Morris. It's always good to see what the analysts say. The following table shows the average rating, where a 1.0 is a strong buy and a 3.0 is a hold. The table also shows the average, or mean, price target currently, and the upside to that target from Wednesday's close.

Philip Morris has the strongest rating from analysts, but it also has the least amount of upside according to those analysts. From my experience over the past 18 months or so with this stock, when the upside gets down to about 3% to 5%, it's time to wait. There's been plenty of times in the past where the upside according to analysts has been above 8%, 10%, or even more. Those are the times to buy. Also, analyst ratings don't always correlate to gains. Apple (NASDAQ:AAPL) has had a higher rating than Philip Morris for several months now. How has that worked out for shareholders of that company?
Final Thoughts:
Philip Morris is a great company and a value investor's dream. The stock has a solid dividend and a great buyback program. It also offers a fair amount of growth. The stock has been one of my top value picks for nearly two years now.
But even after saying all of that, I can't ever recommend overpaying for a stock, even one as great as Philip Morris. Since my last update, Philip Morris' growth forecast has been reduced by analysts, the dividend yield has come down, and yet you are now paying about 3% more for it. That doesn't make sense to me, and it shouldn't to you.
Philip Morris is ripe for a pullback, and everything from the valuation to the technicals say that it will. The pullback may have already started on Wednesday, with the stock hitting a new high of $95.32 before losing almost a dollar. I'm not recommending that you go out and short this name, not by a long shot. But if you want to buy Philip Morris, now is not the time. This stock will come down. It has in the past and it will again. Why pay more for less growth and a lower dividend yield? Wait till the name comes down a few bucks, and you'll be happier in the long run.
Disclosure: I have no positions in any stocks mentioned, and no plans to initiate any positions within the next 72 hours. I wrote this article myself, and it expresses my own opinions. I am not receiving compensation for it (other than from Seeking Alpha). I have no business relationship with any company whose stock is mentioned in this article.
Additional disclosure: Investors are always reminded that before making any investment, you should do your own proper due diligence on any name directly or indirectly mentioned in this article. Investors should also consider seeking advice from a broker or financial adviser before making any investment decisions. Any material in this article should be considered general information, and not relied on as a formal investment recommendation.