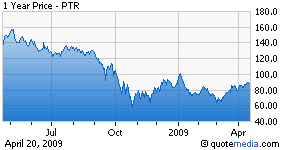 Stock price for low-debt, buy-recommended PetroChina (NYSE:PTR) has 77% appreciation potential to estimated Net Present Value (NPV) of $150 a share. Released today, half-yearly results were close to our estimates of two months ago. Predictably, lower price for crude oil leads to lower cash flow (Ebitda) for 2009.
The impact is tempered by lower excise tax on crude oil and relaxed price controls on refined oil products. At the same time, the natural gas business continues to expand rapidly in volume and offers upside potential in price. Pointing to expected oil price recovery, futures prices for the next six years averaged $72 a barrel recently. We believe PTR stock offers solid participation in the likely continued higher economic growth of China.
Originally published on March 25, 2009.