Elevator Pitch
Oversold Towerstream Corporation (NASDAQ:TWER) in the exploding wireless backhauling industry could be ready to move higher.
Company Description
Towerstream Corporation provides wireless high-speed Internet access to businesses. It also provides Wi-Fi and Small Cell Network capabilities to mobile operators, tower, Internet, and cable companies by leasing its wireless infrastructure network which consists of thousands of nodes in several major U.S. markets. Towerstream is a backhaul provider.
Thesis & Catalyst For Towerstream Corporation
Backhaul is a critical part of network operations to ensure capacity and speed as it relates to the transport of data. Backhaul demand is soaring.
In a research report released back in 2010, analysts predicted that mobile operators will spend nearly $117 billion developing last-mile backhaul by 2014, a 41% increase on their 2009 spending of $83 billion.
Backhaul demand is growing because mobile data consumption is growing. By 2017, U.S. mobile data consumption will grow by 11 times the 2012 volume and with each new generation of mobile technology (2G, 3G, 4G), the number of cell towers required to cover any area will grow. IGR forecasts the demand for U.S. mobile backhaul services will grow over 900% by 2016.
Backhaul is very costly but backhaul providers like Towerstream have a low cost solution. Leasing Towerstream's network allows mobile operators, Internet, and cable companies to increase capacity and quality without the need to make huge capital investments to build their own network infrastructure.
Valuation
Towerstream Corporation has $15 million in cash with a total debt of $3 million. I like small cap companies with a lot of cash and little debt because they are more likely to acquire assets to fuel their rapid growth and this is exactly what management has done.
In the March 18th 2013 earnings call, Joseph P. Hernon, Chief Financial Officer of Towerstream, said, "We continue to see opportunities to acquire strong single market operators who have built solid networks and customer bases. These private closely-held companies continue to have challenges raising additional capital. We expect that they will continue to be attracted to Towerstream's national presence and our status as a public company, which provides liquidity options for them that are generally not available to small private companies. We continue to believe that acquisitions represent the best strategy to grow our fixed wireless business at this time, and expect to complete 1 or 2 additional transactions in 2013."
On March 5, 2013, Towerstream completed the acquisition of Delos Internet of Houston, Texas. This acquisition puts Towerstream in 9 of the top 11 markets across the country.
Oversold Chart
The chart on Towerstream is deep into oversold territory with an RSI reading of 25.61.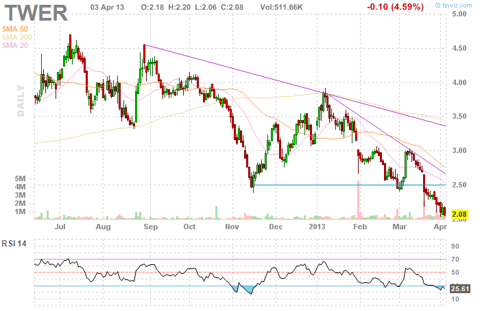 I favor putting Towerstream on a watch list and then waiting for a candle over candle to enter. We want evidence of bottom feeders stepping in and buying Towerstream and a subsequent bounce rather than trying to perfectly time a bottom. It's usually not a good idea to try and catch a falling knife.
Once we get a curl, I think a move to $2.50 resistance is reasonable. That's 18% above its current price of $2.08.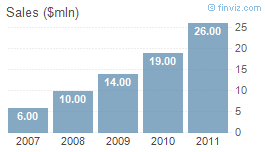 This stock is a growth play not a valuation play. Towerstream is not yet profitable and as such has no P/E. The P/B is 1.88 and the book value per share is $1.16. It currently trades at $2.11 or 82% over book value.
While sales were only $26 million in 2011, the upward sales trend over the last 5 years is beautiful.
Variant View
The backhauling and wireless communications industry is prone to constant change. Companies need to constantly change and innovate in order to survive in this industry.
Towerstream expects acquisitions to fuel their growth. They may run out of acquisition targets or make a poor acquisition and burn through cash too quickly.
Growth through acquisitions often results in companies issuing additional common shares to raise the money needed to make the acquisition. Such surprise share offerings often result in big sell offs.
Disclosure: I have no positions in any stocks mentioned, but may initiate a long position in TWER over the next 72 hours. I wrote this article myself, and it expresses my own opinions. I am not receiving compensation for it (other than from Seeking Alpha). I have no business relationship with any company whose stock is mentioned in this article.