Aerospace-related stocks have enjoyed investors' favor so far this year. iShares DJ Transportation Average ETF (BATS:IYT) has rallied 13%, while the S&P 500 has rallied only 9%. However, the ETF has declined by 6% in the last two days due to a worse-than-expected performance in March from Delta Air Lines (NYSE:DAL). The traffic report has dragged other major and regional airlines. For example, the price-per-share of United Continental Airlines (NYSE:UAL) declined by 10%, Southwest Airlines (NYSE:LUV) declined by 8%, and Alaska Airlines (NYSE:ALK) declined by 11%, Figure 1. However, Alaska Airlines, a regional airline that has received little attention, released its March traffic report two days after Delta's. A comparison between the reports should provide an overall picture on the performance of the airlines for the first quarter of 2013.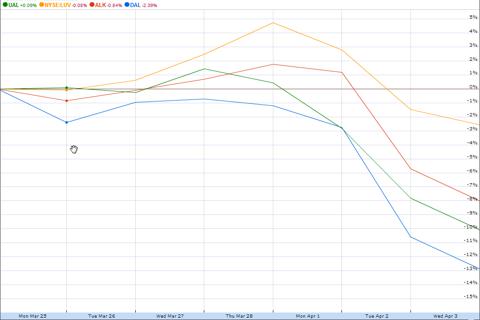 Figure 1. Performance of UAL (green), LUV (yellow), ALK, (red), DAL (blue).
According to Delta Air Lines March traffic report, the company oversaw a decline in "traffic results" for the first quarter on a year-over-year basis. Its Revenue Passenger Mile (RPM) decreased by 0.6% from $43.3 billion in 2012 to $43.0 billion in 2013 on a year-over-year basis for the first quarter. The largest decline in RPM came from regional flights, which decreased by 10% from $5.6 billion to $5.0 billion. On a monthly-traffic basis, the RPM increased by a modest 0.1% for March. However, in the same month, the regional flights' RPM decreased by 10.4%. Yet, the company increased its load factor from 79.7% in the first quarter of 2012 to 81.2% in 2013 for the same period.
On the other hand, Alaska Airlines increased its revenue passenger mile. According to its March traffic report, the company increased its 1st Quarter RPM from $5.6 billion in 2012 to $6.2 billion in 2013, for a 9.5% increase. In addition, the passenger load did not change from 2012 to 2013 on a quarter-over-quarter basis. Further, the company increased its RPM for the March period, from $2.06 billion in 2012 to 2.27 billion in 2013, representing a 10.1% increase.
Overall, Alaska Airlines reported an increase of 10% in its RPM on a quarter-over-quarter basis, while Delta Air Lines suffered a decline in its RPM by 0.6%. The improvement in Alaska's RPM reflects a strong business model. For this reason, and others described here, Alaska Airlines would be a top choice for the long markets. Further, the recent pullback of Alaska Airlines' price-per-share may prove an excellent buying opportunity.
Disclosure: I have no positions in any stocks mentioned, and no plans to initiate any positions within the next 72 hours. I wrote this article myself, and it expresses my own opinions. I am not receiving compensation for it (other than from Seeking Alpha). I have no business relationship with any company whose stock is mentioned in this article.