In the search for quality growth stocks at reasonable prices, the technology sector may be a good place to start digging. I will try to present some data in a way that allow us to better visualize the attributes of the companies of interest. In this article we will compare Apple (NASDAQ:AAPL), Google (NASDAQ:GOOG), International Business Machines (NYSE:IBM), Qualcomm (NASDAQ:QCOM) and Microsoft (NASDAQ:MSFT) by quantitative analysis.
Sector Performance
For the last 6 months, the sector proxy (NYSEARCA:XLK) had a 2% decline while the market (NYSEARCA:SPY) went up 8%, which gives the sector an underperformance of 10%. However, after a sharp drop from September to November 2012, the sector has been recovering. The internet service providers industry has gone up 51% in the same period while the semiconductors-memory chips industry went up 42%.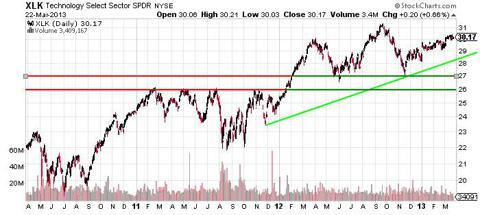 The 6-month heat map below shows how the uptrend of Google, Hewlett Packard (NYSE:HPQ), Adobe (NASDAQ:ADBE), Texas Instruments (NYSE:TXN), Cisco (NASDAQ:CSCO), Yahoo (NASDAQ:YHOO), Verizon (NYSE:VZ) and others have countered the powerful downtrend of Apple and the slow bleeding of Microsoft, Oracle (NYSE:ORCL) and Intel (NASDAQ:INTC).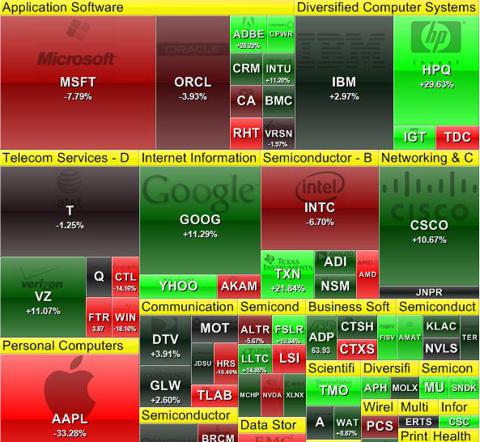 Image source: Finviz.com
Statistical Evaluation
Numbers should always have priority over any subjective analysis. The following images show a simple quantitative analysis presented in a layer or checklist-type format that I call Plan 21. It was performed for all companies to be compared in the article, but only the Apple exercise is shown below for the sake of clarity. Results for all companies will be shown later in the comparison section.
My research methodology tends to focus more on a future growth analysis rather than solely relying on pure deep-value models. The aim is to have a system that is both straightforward and comprehensive by taking into consideration key elements from the income statement, balance sheet and cash flow statement without losing attention on the business expansion for coming years.
Only companies with positive EPS (ttm) and positive growth for the current year qualify for the analysis. A glossary for the abbreviations is included at the end of Part II (second image). As a reminder, we always need to be aware that estimates are multivariable dependent forecasts that carry the inherent risk of future prediction.
Part I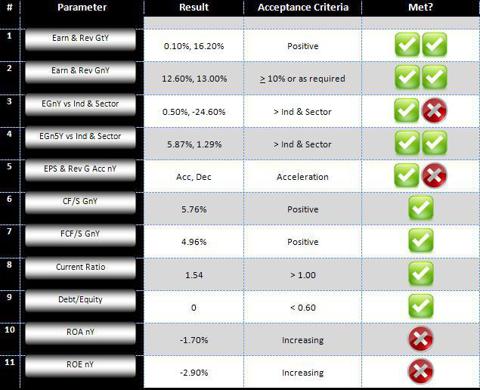 Part II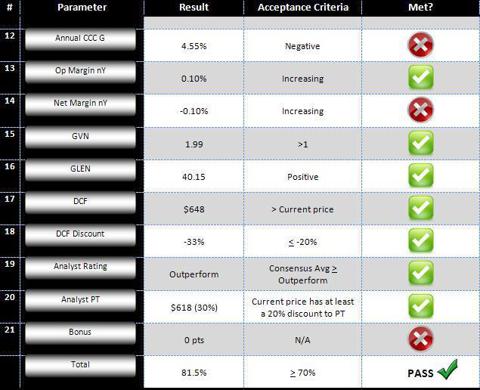 Earn=earnings, Rev=revenue, GtY=growth this year, GnY=growth next year, EGnY=earnings growth next year, Ind=industry, EGn5Y=earnings growth next 5 years, Acc=acceleration, Dec=deceleration, CF/S=cashflow per share, FCF/S=free cashflow per share, CCC G=cash conversion cycle growth, Op Margin=operating margin, GVN=growth and value number, GLEN=growth and lean equity number, DCF=discounted cash flow, PT=price target
AAPL passed the test with an 81.5% score, or a B- rating (15 layers out of 20, plus 1.3 points in parameter #18). Any company with a score greater than 70% should deserve consideration for further analysis.
Also, evaluating the individual components that failed to meet the requirements can sometimes be very relevant in determining the overall quality of the stock in question. For example, Apple failed in revenue growth acceleration, but a company with a market cap of almost half a trillion dollars cannot have earnings or revenue growth acceleration forever. Of course, this is a subjective assessment that can certainly result in a different outcome for each investor. It's also important to note that all results reported are more relevant when compared with other companies of the same industry.
Apple really shined in the DCF discount element with a 33%. The stock is currently a good combination of growth and value, to say the least.
Comparing Tech Giants
"Cheapness" is relative. It depends on how you measure it or what you use to compare a stock. I like to measure how cheap a stock is by using Plan 21. That doesn't mean that every company that does not pass the test is a weak company. It only means that, by using this system, a stock that fails the test may not be as cheap as other models show.
The same test performed for Apple was performed for Google, IBM, Microsoft and Qualcomm. I didn't use Intel given it has a negative earnings growth estimate for this year and therefore it doesn't qualify for the test. Samsung electronics (OTC:SSNLF) was not used given that it trades in the OTC board. All these companies are not necessarily on the same industry, but they are in the same sector and they also share market focus in many cases. The following images provide a summary of results.
Part I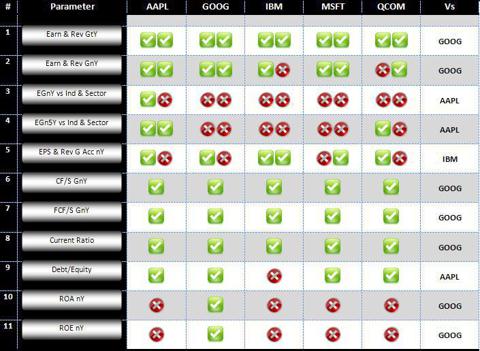 Part II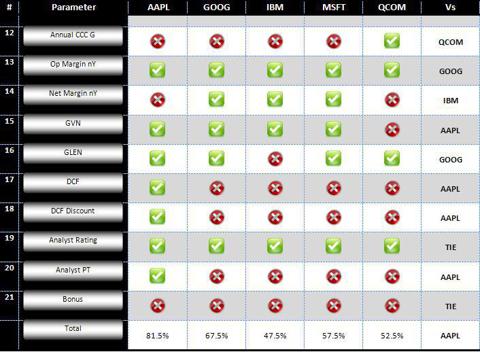 From the five companies analyzed, Apple was the only one which passed the test (70% or more). However, there is a reason why Google has been red hot in the last months. If we compare the results for these companies side by side, Google has the best numbers in many cases (9 times out of 20). Apple comes close, winning 7 out of 20. While Apple fared better in growth-value formulas, Google easily beat the competition in other growth measures. For example, it has an estimated 20% growth in free cash flow per share for next year, which is nothing short of amazing. The company also has an incredibly healthy balance sheet.
Other key observations:
IBM has an 175% debt/equity ratio

GOOG has an 89% premium over DCF analysis

EPS growth estimate for AAPL this year is almost flat

EPS growth estimate for QCOM this year is around 21%

GOOG has an estimated 41% revenue growth for 2013
We should take into consideration the huge market advance since last summer before considering any purchases at this point. It may be wise to see how the market unfolds over the next weeks/months. The question now is, if the market brings us a nice buying opportunity, which would you choose? I would buy AAPL based on being the one with the highest score and the one with a real safety margin. Let me know in the comments section which one would you choose, if any.
Until the next one.
Parameter Selection and Acceptance Criteria Rationale
There are some non-conventional metrics included in the tables:
Parameter #15 (GVN) is a growth and earnings yield hybrid that takes into consideration the company size, earnings and growth. An acceptable result must be greater than one (1) since that means a better safety margin when compared against an investment grade corporate bond benchmark. I developed the GVN in the spirit of having a more reliable growth-value metric (compared to a 5 year estimated PEG).

Parameter #16 (GLEN) is a growth and balance sheet quality measure. A positive value is required in order to separate the best balance sheets from the rest without ignoring the growth of the company. I created the GLEN in an effort to have a more practical and comprehensive measure than the net current asset value (NCAV).
Additional notes about Plan 21:
Only companies with positive EPS (ttm) and positive growth for the current year (parameter#1) qualify for the analysis.

The acceptance criteria for parameter #2 varies as a function of company size and other considerations.

Acceleration is calculated using only numbers from the previous year, estimated current year and estimated next year. Absolute differences are used, not percentages.

The results reported for ROA, ROE and margins reflect how much the measure of interest will increase or decrease based on estimates.

The annual CCC uses the past 2 years for calculation.

DCF uses a 50% safety margin for growth, a 0% long term growth and a 10% discount rate (10% is about the average of the very long term stock market return, is also about twice the current BAA corporate bond yield and more than twice the AAA yield).

Stocks receive additional credit for DCF discounts greater than 20%.

There are three possible outcomes for the bonus result: 0 points, 0.5 points or 1.0 points. These bonus points are awarded to companies that comply with specific growth and share structure requirements at the moment of evaluation.
Disclosure: I have no positions in any stocks mentioned, but may initiate a long position in AAPL over the next 72 hours. I wrote this article myself, and it expresses my own opinions. I am not receiving compensation for it (other than from Seeking Alpha). I have no business relationship with any company whose stock is mentioned in this article.
Additional disclosure: Any content in this article should not be considered as a recommendation or investment advice given that financial objectives and individual needs of the end user have not been evaluated. Suggestions or tips are for information purposes only and there is no guarantee on stock returns or market performance. All readers must use their prudence and consult their financial advisors before acting on any of the securities or suggestions mentioned or engaging into any other high risk investment. I do not hold any responsibility and can not be held liable for any losses incurred (if any) by acting on the information provided.