Nobody questions whether Freeport-McMoRan Copper & Gold (NYSE:FCX) is one of the best copper producers in the world. The company though is facing a collapsing commodity market that has already taken down the domestic iron ore and met coal producers. As a long in Freeport, the fear is that copper is about to breakdown in a similar fashion to the other commodities.
While copper currently provides the majority of revenue for Freeport, the company obtains a decent amount from gold and is in the process of purchasing two oil and natural gas producers. Oil remains strong and natural gas has shown progress leading one to begin thinking the McMoRan Exploration (NYSE:MMR) and Plains Exploration & Production Company (NYSE:PXP) deals (see Freeport Turns Cheap On Complex Purchases) were actually brilliant moves.
Soaring Copper Inventories
Copper has enjoyed a decade of strength with supplies increasingly difficult to mine and surging demand in China absorbing the entire new inventory. Due to these facts, the price of copper has soared. Recently though, China is no longer rampantly absorbing copper and the increase in domestic housing demand hasn't kept LME supplies from hitting multi-year highs. In fact, LME supplies recently hit highs not seen since October 2003. The chart below shows the 5 Year LME inventory levels: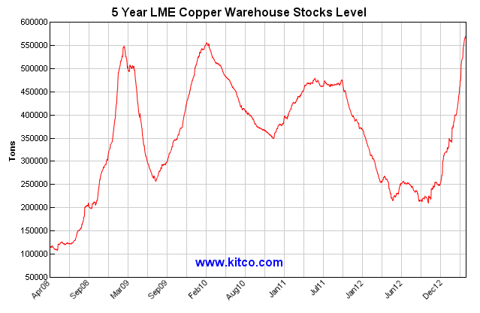 The one positive is that the inventory levels have only crept above the spring 2009/2010 levels at around 550K tons. The other bad news is that the copper spot price is close to breaking down below the 52-week lows around $3.25. Such a move would undoubtedly send Freeport lower.
1 Year Chart - Copper Price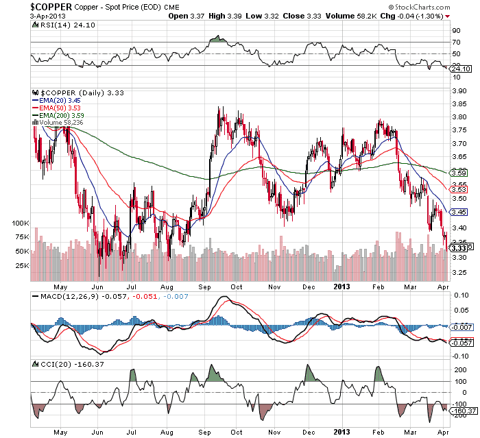 Other Commodity Leaders Banged Up
As mentioned above, some of the other domestic commodity leaders have already rolled over to new lows. Iron ore miner Cliffs Natural Resources (NYSE:CLF) has already plunged due to weak demand out of China and strong supplies in the global markets. Cliffs had a 52-week high of $71.60 and now trades below $19.
1 Year Chart - Cliffs Natural Resources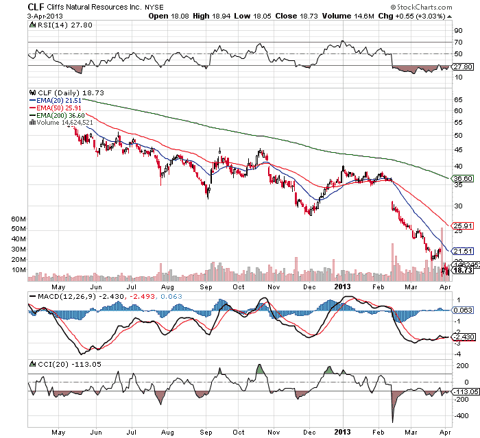 Walter Energy (NYSE:WLT) is seen as the leading domestic pure play on met coal needed for steel making and that stock is plunging to new lows as well. Walter had a 52-week high of nearly $70 and only trades for $23 now.
1 Year Chart - Walter Energy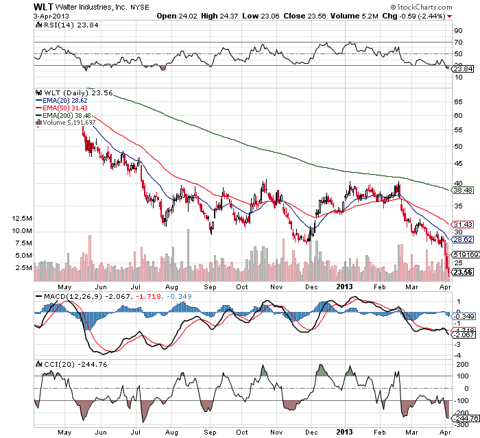 Stock Performance
No matter the strength of Freeport, the company won't be able to overcome weak copper and even gold prices. The stock has been relatively flat the last 12 months trading between a range of $31 to $43. Incredibly the stock has approached the $31 level on 8 different occasions over the last 12 months. A break below that level could be very bearish.
1 Year Chart - Freeport-McMoRan Copper & Gold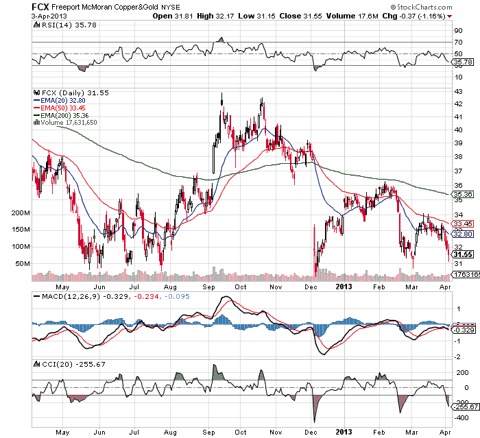 Conclusion
Even for a bull on the long-term supply/demand scenario for copper, the current inventory environment and plunging prices suggests the market could turn ugly for an industry leader such as Freeport. Now if the stock is able to miraculously bounce from the $31 level, investors will have a very solid level of support to buy a global leader. Otherwise, the game plan has to be waiting to enter the stock at lower levels and potentially much lower.
Ultimately housing demand in the US will pick up in the next couple of years and emerging markets will rebound, but the current environment doesn't appear settling for the stock of Freeport. The McMoRan deal could even pressure the stock in the short-term as financing becomes a question if future profits are hurt from lower copper and gold prices.
Either way, use the other commodity leaders as examples. Cliffs Natural Resources and Walter Energy were both presumed great investments at much higher levels that didn't work out so well for those investors.
Disclosure: I am long FCX. I wrote this article myself, and it expresses my own opinions. I am not receiving compensation for it (other than from Seeking Alpha). I have no business relationship with any company whose stock is mentioned in this article.
Additional disclosure: The information contained herein is for informational purposes only. Nothing in this article should be taken as a solicitation to purchase or sell securities. Before buying or selling any stock you should do your own research and reach your own conclusion or consult a financial advisor. Investing includes risks, including loss of principal.