As the housing market is making a strong comeback, an alternative way to invest in the residential sector is through REITs. REITs specializing in university housing have been benefiting from a long-term trend due to a number of factors, all of which contribute to basic supply and demand economics making the niche attractive to investors. States which have tight budgets, universities with a low ratio of university-owned-beds to total enrolled students, and a long-term upward trend in university enrollment results in the developers of student housing properties to fill the supply gap. While the sector is dominated by local and regional players, REITs nevertheless have managed to take advantage of the college student needs.
Investors have three companies to choose from in this sub-sector: Education Realty Trust (NYSE:EDR), Campus Crest Communities (NYSE:CCG) or American Campus Communities (NYSE:ACC), which is the largest owner and manager of student housing-- and the favorite as a result. The three REITs combined make up around 8% of the $81 billion residential REIT sector. Although stock performance has been 6.94% in 2012, thus being the laggard in the REIT sector, the long-term trend seems to be one that will continue to perform surely and steadily as seen by the performance of the student housing sector, which is more recession resistant compared to others in its cohort.
Background of the general college environment and existing opportunities:
Growing enrollment numbers: Some interesting figures from the Digest of Education Statistics 2011 published by National Center for Education Statistics (NCES): "From 2010 to 2020, NCES projects a rise of 11 percent in enrollments of students under 25, and a rise of 20 percent in enrollments of students 25 and over." While this is not as large a rise as that between 2000 and 2010 where: "enrollment increased 37 percent, from 15.3 million to 21.0 million" it is still a steady positive trend and one in which student housing provision is still required.
States lack funding to allocate towards new dormitory construction.
The existing housing stock is aging and becoming non-competitive which is widening the gap between their given facilities and the technology-oriented ones expected by both students and the safety features expected by parents.
The Millennial Generation (born 1981+) turns 18 and starts enrolling in college and according to a 2010 research paper by Pew Research. The bulk is yet to graduate from college as 44% plan to graduate from college and only 19% have already graduated.
According to a 2012 College Housing Report survey by College Planning & Management magazine, only 25% of the institutions surveyed reported they are in the process of increasing the number of available beds. So while the current supply of housing is deteriorating due to age, colleges are not fulfilling the demand. This is reinforced by Randy Churchey, CEO of Education Realty Trust in his interview with Real Estate Investment Today who stated that:
"The supply-demand dynamic is in great condition, and then on top of that, college and university housing stock is very old,", "In many cases, lots of it needs to be replaced."
The unique challenges faced by the student housing market, in addition to the more common ones faced by the conventional apartment properties such as creditworthiness of tenants are:
Concentrated cyclical leasing period.
As mentioned, it is a highly fragmented market where no single investor/firm controls greater than 100,000 beds.
The period between the end and start of the academic year creates time pressures for operators to renovate, market and rent rooms.
Being management reliant results in high operating costs as day-to-day maintenance of the property and student support services are required.
The question on how to rent the property exists: "By-the-bed" or "by-the-unit".
In the slightly dated Top 25 Student Housing Owners and Managers lists by Student Housing Business magazine, the three companies make the 'Owners' list in the following order:
1. American Campus Communities
3. Education Realty Trust
4. Campus Crest Communities
The rankings for the 'Managers' list for 2011:
1. American Campus Communities
3. Education Realty Trust
American Campus Communities, Inc.
American Campus Communities is the first publicly traded student housing REIT and is four times the size of the next largest student housing REIT. It was the top performing residential REIT in 2011 returning 37%, and returned around 11% in 2012, however after this large run it is flat year-to-date.
In an interview with Sarah Quirk, editor of REIT café, Bill Bayless, CEO and President of American Campus Communities described the company's investment diversification:
"we have a very diversified means of growth. We growth through acquisitions of core assets, we grow through acquisition of underperforming assets, we also develop off-campus properties…and also we have our unique programme called American Campus Equity where we actually invest equity and own on-campus student housing"
Reading this, a quote by Ralph L. Block's book 'Investing in REITs' comes to mind:
"The lesson here for investors is that REITs with innovative managements teams can create value for their shareholders through imaginative property refurbishing and tenant upgrade strategies."
Dividend Yield and Payout
ACC has been consistently paying $0.34 per quarter since 2005, so not only does it have the longest history from the group with the highest payout, but price appreciation has been strong due to a steady pipeline of projects which continues to exist.
Valuation
Shares of ACC currently trade at 17.60 financial year-end 2014 forward earnings and its price-to-book ratio is 1.83. Given these brief valuation measures, it trades at richer valuations than both Campus Crest and Education Realty on both ratios, however the higher multiples are assigned to it due to its higher expectations.
Geographical Exposure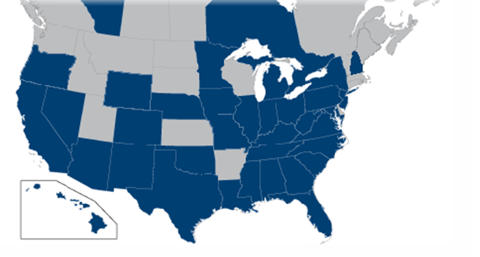 Campus Crest Communities Inc.
Eventhough Campus Crest Communities Inc. is the smallest in terms of market capitalization from the cohort, it stands as a good competitor nevertheless. Since its IPO in 2010, it has grown the bed count 86% from 13,580 to 25,298 which includes the announced developments expected for delivery later this year and 2014. The company's management have plenty of experience behind them with the CEO, CIO and COO all having over 25 years of experience in the real estate and hospitality industries. Despite the fact that insider holdings do not seem to be high at first glance, with the percentage of shares held by all insiders stands at 1%, each co-founder holds over 210,000 shares as of January 30, 2013 which is a positive indicator as their interests are tied with those of the shareholders.
Dividend Yield and Payout
CCG has a higher payout than EdR and the yield stands in the middle of the group. Its Funds from Operations payout ratio is around 90% and it has been paying a steady $0.16 per quarter since 2011 so as a more reliable investment CCG is preferred to EdR.
Geographical Exposure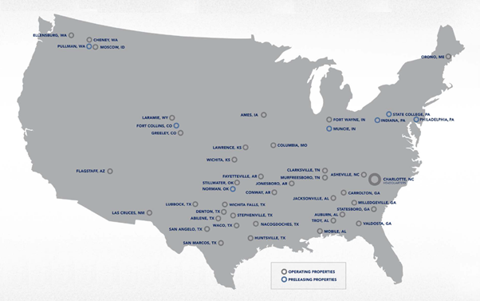 Education Realty Trust, Inc.
Education Realty Trust owns or manages 60 communities in 23 states with more than 34,200 beds. EdR is the first company outside of a public institution to negotiate a deal to operate student housing for an entire campus. The deal was struck with the University of Kentucky and the expansion of the on-campus student housing is set to reach approximately 9,000 beds in the next 5-7 years. More recently the company entered a joint-venture to own 90% and manage a new $46.1 million, 386-bed off-campus community at Duke University for completion in 2014.
As of year-ended December 31, 2012 occupancy stood at 90.6%, which was below prior year's 92.7% which was primarily attributable to 5 communities that were impacted by "local factors" according to the unamended 10-K. The company reported a positive net income figure for the year as compared to 2011Y's loss and it experienced an increase in FFO for 2012Y of 25%.
Dividend Yield and Payout
EdR has had a fluctuating dividend history, being slashed from $0.21 per quarter in 2008 to $0.05 in 2009 however it has been steadily increasing to the current payout of $0.10 each quarter. The current dividend payout to FFO (Q4 2012) is 71.43%.
Geographical Exposure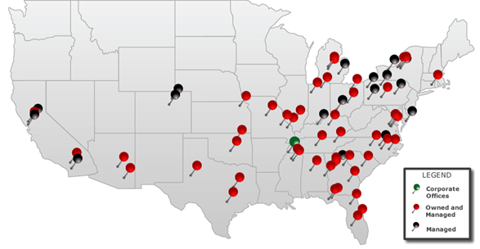 Key Statistics
| | | | | | | |
| --- | --- | --- | --- | --- | --- | --- |
| | Owned Properties | Units | Beds | Occupancy | States | Median distance to campus (miles) |
| American Campus Communities, Inc. | 187 | 31,854 | 98,840 | 95.7% | | 0.4 |
| Campus Crest Communities Inc. | 32, 7 JVs | 6,248 and 1,422 from JVs | 16,936, 3,948 from JVs | 93.0% | 18 | 0.5 |
| Education Realty Trust, Inc. | 43 communities | 8,494 | 25,003 | 90.6% | 22 | ~ 0.2 |
FFO

Price/FFO

1 year Stock Performance

Dividend Yield (%)

Market Cap

Debt/market cap

Weighted Average Cost of Capital

American Campus Communities, Inc.

1.95 diluted

3.53%

2.92

$4.85 billion

29.5%

7.70

Campus Crest Communities Inc

$25.4

$0.72 per share - diluted

55

19.81%

4.72

$543 million

35.4%

Education Realty Trust, Inc.

$0.40

26

1.75%

3.75

$1.21 billion

39.75%

4.10
Note: REITs have different methodologies for calculating FFO
Conclusion
If you have conviction in the numbers of this continuing trend in student housing and want to gain exposure in your portfolio, then invest in these REITs. I support real estate veteran Brad Thomas' view that American Campus Communities is a "Best in Class REIT Brand." His article, written July 2012, puts forward strong arguments why ACC is a stable and "sound" investment. American Campus has a combination of a strong pipeline, stable dividend, experienced management with a diversified strategy and price appreciation over time, which supports that it is the best REIT in the student housing market.
Disclosure: I have no positions in any stocks mentioned, and no plans to initiate any positions within the next 72 hours. I wrote this article myself, and it expresses my own opinions. I am not receiving compensation for it (other than from Seeking Alpha). I have no business relationship with any company whose stock is mentioned in this article.