A long time ago in a galaxy far, far away, I wrote a simple article called, "Qualcomm And Cirrus Logic: The iPhone 5 Trades". The premise was simple: go long Qualcomm (NASDAQ:QCOM) because Apple's (NASDAQ:AAPL) iPhone market share means next to nothing to Qualcomm (if Apple loses market share in the high end space, it is likely to another Qualcomm customer), and short Cirrus Logic (NASDAQ:CRUS) because >60% of its revenues were tied to Apple's iPhone success, and this heavy dependence on Apple would eventually lead to a margin squeeze.
Well, let's see how those two stocks did since my call on January 14th did: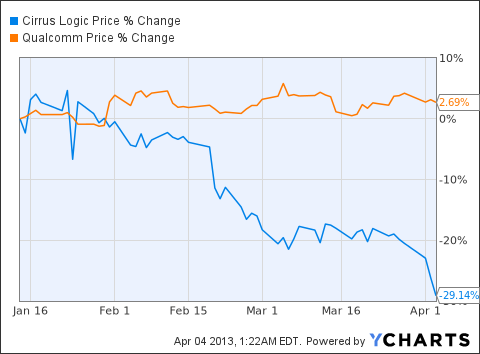 Well, Qualcomm hasn't been that exciting - but at least you're up 2.7% and the company was kind enough to give shareholders a raise. More interestingly, Cirrus Logic has cratered to new 52-week lows and is now down 29.14% since my call. Quite frankly, I did not expect Cirrus to crater so badly - my short term trade price target was $25 - $27 - but clearly I wasn't bearish enough! The problem with Cirrus is that despite its very nice historical growth rate, the Street just can't get over the fact that Cirrus' fate is directly correlated to Apple's.
Now, this isn't a bad thing in the near-term per se. Apple still sells a lot of iPhones, and Cirrus (quite rightly) makes a ton of cash riding that wave. However, the problem is that the Street is seeing that Apple's gross margin profile has been on a nose-dive over the last couple of quarters, and not surprisingly, Cirrus Logic's margins have swooned right along with Apple's: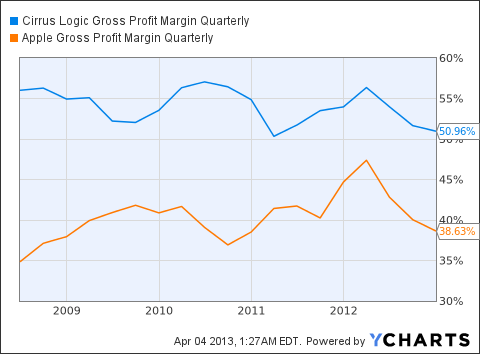 CRUS Gross Profit Margin Quarterly data by YCharts
Now, whenever a retail investor screams, "but it's trading at a super low P/E", I shake my head, knowing that when these kinds of stocks trade at low P/E ratios despite making plenty of cash, it usually means that the Street (often rightfully) sees a lot of risk to those earnings. There's plenty of risk here. As Apple's margins shrink, it will continue to pressure the margins of its suppliers - that's to be expected. The problem is that Cirrus is so incredibly concentrated at Apple that Apple has Cirrus by the neck. What can Cirrus do if it doesn't agree to lower its component prices, chop off 60%+ of its revenue base?
I do like that the company is diversifying its customer base, but I am dubious as to whether Cirrus could even come close to sustaining today's revenue levels if it weren't for the Apple contract. Further, after the share price cratered, the company decided to go and blow away >$40M (1.5M shares bought at average price of $30.96) on its newly minted share buyback program (these fallen angel component suppliers tend to always initiate buybacks when the gravy train is over) while its stock continued to drop. Not only did this prove to be a huge waste of shareholder capital, but the move in this case is done purely to beef up the bottom line numbers in order to compensate for what will likely be a much slower growing - if not eventually contracting - bottom line.
That being said, the stock is just dirt cheap. Despite the longer term margin issues and the Apple-concentration overhang, shares may be approaching "buyable" levels at the $20 mark, especially as 16% of the float is short. I could definitely see this as a short-term bottom as short sellers decide to cover, but I also wouldn't be surprised if the stock were sold heavily into strength - there are a lot of underwater longs probably looking for an exit strategy.
In short, this seems more like a trading vehicle than a legitimate investment. Sure, the profits run high now, but they are always at significant risk, which will prevent this stock from trading at any sort of "near market multiple". If you think Apple's 10x P/E is harsh, how do you think the Street will value one of its component suppliers that it's got by the neck? Cirrus' current business will not command a premium valuation, and as a result, "cheap" may not be a good enough catalyst.
I might buy this thing for a bounce, but such a transaction would be rental only - I don't want to own this long term.
Disclosure: I have no positions in any stocks mentioned, but may initiate a long position in CRUS over the next 72 hours. I wrote this article myself, and it expresses my own opinions. I am not receiving compensation for it (other than from Seeking Alpha). I have no business relationship with any company whose stock is mentioned in this article.