In this article I discuss the credit and debit card payment processing industry. I am specifically interested in companies that receive a payment every time a credit/debit card is used regardless of the issuing bank and regardless of the company that makes the processing technology. For the sake of simplicity I will refer to this industry as the credit/debit card industry.
There are two publicly traded companies that make most of their money in this way: Visa (NYSE:V) and Mastercard (NYSE:MA). Companies such as American Express (NYSE:AXP) and Discover Financial (NYSE:DFS) are both involved in a similar business, yet these companies should not be bought based solely on the arguments offered in this article: in addition to collecting a payment each time a credit card is used these two companies lend their customers money, which means that they are also banks. The only actions that I can recommend based upon the information I provide in this article are to buy Visa or to buy Mastercard.
The credit/debit card industry has two unique qualities that will ensure its success and profitability for years to come regardless of almost any economic situation. First, it has an unparalleled barrier to entry. Second, the non-cash payment industry, lead by credit/debit card payments, is experiencing a virtually unstoppable secular bull market.
1: The Barrier to Entry
The credit/debit card industry has an especially robust barrier to entry. The companies involved operate as a global oligopoly that would take extensive financial resources to disrupt. This barrier to entry is fortified by these companies' virtually universally recognizable brands. Many industries and companies have noteworthy barriers to entry that are characterized by one of these qualities, but not the other. The railroad industry lacks strong brand recognition, yet it has thrived as a result of the fact that it operates as an oligopoly. The Coca Cola Company (NYSE:KO) cannot operate as a natural oligopoly as almost anybody can create a competing soft drink, yet its universal brand recognition has profited its investors inimitably for generations.
Given the success of oligopolies such as railroads and brands such as Coca Cola, one can only imagine how bright the future will be for Visa and Mastercard. There are literally only a handful of companies involved in the credit/debit card industry: Visa, Mastercard, American Express, Discover Financial Services, and China UnionPay (the latter being a private company).
Visa and Mastercard hold especially unique positions within this oligopoly. While there are five major companies, most people get their credit/debit cards through their banks, which offer Visa and Mastercard cards to their clients (or China UnionPay in China). Businesses and consumers who wish to use American Express or Discover cards must apply for these cards separately, and they must be offered incentives to take this step such as rewards programs or small discounts for frequent purchases. Furthermore, these companies' cards are not connected to any bank account so they are only credit cards. In most of the world debit card holders are necessarily customers of either Visa or Mastercard.
This oligopoly is buttressed by the brand recognition enjoyed by the aforementioned five companies throughout the world. Global consumers are acquainted with one or several of these brands the way they are acquainted with Coca Cola or McDonald's: these brands are fundamental to our consumer and business cultures.
2: The Secular Bull Market in Non-Cash Payments
There is a secular bull trend in non-cash payments, and the credit/debit card industry is the primary beneficiary.
This bull market is evidenced in the number of transactions and in the total value of these transactions to the companies that process them relative to the size of the global economy. From 2001-2011 annual global non-cash payment transactions doubled from 150 billion to 300 billion.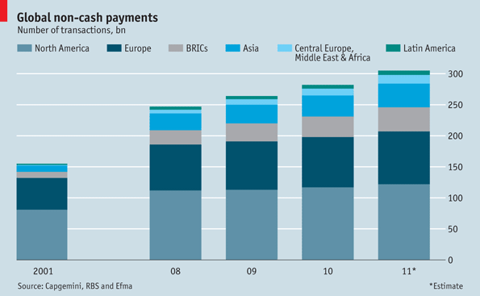 Furthermore, Visa and Mastercard, which represent a majority of credit/debit card transactions, are growing their combined sales at a faster rate than the rate at which the global economy is growing. Over the past decade, while global GDP has increased from roughly $37.6 trillion to $70 trillion, or at a 6.4% annual growth rate, Visa's and Mastercard's combined revenue has grown from $4.2 billion to $17.8 billion, or a 15.5% annual growth rate.
These trends can be explained as follows. First, more transactions are taking place over the internet, and these transactions require credit/debit cards. The following chart illustrates that online transactions are soaring, and how they will continue to soar for the foreseeable future: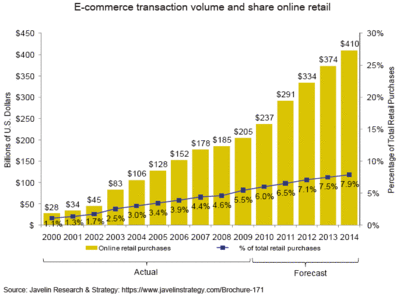 A corollary to this fact is the rise in mobile phone transactions, as evidenced by the following chart: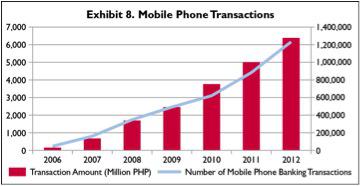 Second, credit/debit cards are convenient compared to cash. Cash can be burdensome to carry and to transact in, especially when dealing with small exact amounts. Furthermore, if cash is stolen it is almost impossible to trace. If a credit card is stolen then the credit card company knows exactly when the card was used and where. Often the card owner can be reimbursed for such illegitimate transactions if (s)he reports the card stolen.
Third, throughout the world there are restrictions on holding cash and using cash for transactions. For instance in the United States it is illegal to carry more than $10,000 cash. In France transactions large than 3,000 Euros are illegal, and according to Forbes this figure could be reduced to 1,000 Euros by the end of 2013. Similar laws exist in Spain and Italy. Regardless of the reasons that governments give to citizens for such restrictions, the fact remains that credit/debit card companies are significant beneficiaries.
3: Risks
Despite the optimism I express in this article owning Visa and/or Mastercard comes with certain risks. First, while these companies are growing much faster than the global economy, their success is highly correlated to global economic activity. These companies may be able to grow during periods of global recession, yet this growth will be mitigated relative to the current rate that is a reflection of a growing global economy. Second, while I suggested above that these companies benefit from regulations that restrict the use and hoarding of cash, they can suffer as a result of other regulations that penalize their oligopoly status: they are at risk of being subjected to anti-trust litigation.
4: Visa or Mastercard?
Both Visa and Mastercard have performed incredibly well over the past several years. Currently Mastercard is cheaper than Visa, trading at 23X 2012 earnings as opposed to 30X for Visa (using normalized data). This is seemingly justified: over the past decade Visa has outperformed Mastercard in sales growth with a CAGR of 18.2% compared to Mastercard's 12.7%.
However Mastercard has begun to catch up, and this is due to its larger international presence than Visa's--both proportionately relative to its overall sales, and in terms of the companies' overall sales. Furthermore, recently Mastercard's international growth rate of 18% last year has exceeded Visa's recent growth both internationally and domestically. This was undoubtedly helped by Mastercard's Asian presence, where its business grew by 30%.
I can safely say that the U. S. market for credit and debit cards is far closer to saturation than the international market, as evidenced by the tepid growth rates in the U. S. shown by both companies. This would also favor Mastercard assuming that investors are not concerned that Mastercard has a significant European presence while Visa does not.
Choosing one company over the other depends on investors' individual preferences for which global jurisdictions they wish to gain exposure to. Investors who want exposure to the United States, Asia, and Latin America with limited European exposure should favor Visa, while investors who want less exposure to the United States and favor European exposure instead should favor Mastercard. Ultimately, unless one is strongly opinionated on this issue, it is easiest to simply own both companies, and I have little doubt that both will perform extremely well for long term investors.
5: Conclusion
As this article's title suggests, the credit/debit card payments processing industry is almost perfect. The major players have extremely wide economic moats as a result of their oligopoly-status and their strong brand recognition. They are also benefiting as a result of the secular bull market in non-cash payments around the globe. These tailwinds, despite the risks of global economic recessions and punitive litigation against the industry, make those companies that are most exposed to this industry--Visa and Mastercard--incredibly attractive investments that should trade at a premium to other large-cap stocks.
Disclosure: I am long V, MA. I wrote this article myself, and it expresses my own opinions. I am not receiving compensation for it (other than from Seeking Alpha). I have no business relationship with any company whose stock is mentioned in this article.