On CNBC Steven Rattner proclaimed that investors should buy General Motors Company (NYSE:GM), so should the stock be placed on investor radars? First airlines have become attractive investments and now automakers. What is going on with the balances of power in the investment world if domestic airlines and automakers are now attractive investments?
The company produces vehicles in 30 countries under the well-known brands of Chevrolet, Cadillac, Buick, and GMC.
As an investor that went to college in the early '90s, the domestic automotive sector has traditionally been a major laggard avoided for the last 20 years. After decades of losses, it appears that the unions have finally lost the grasp on these companies while the financial crisis helped eliminate massive debts via bankruptcy filings.
The amazing part is that the major domestic automakers such as General Motors and Ford (NYSE:F), with $300B of combined revenue, barely surpass the $60B market valuation of Facebook (NASDAQ:FB). Not to mention Toyota Motor Corporation (NYSE:TM) has a market cap of $160B that vastly exceeds the two domestic leaders.
Steven Rattner Has A Point
Being an investor in the markets over the last 20 years, it is difficult to focus on the legacy domestic automakers. Even in the good times, the unions plunder the profits for even higher salaries and benefits. Why would investors even stick around?
The financial crisis just about ended General Motors, as without a government bailout the company would not exist in this form. The combination of reducing employee benefits and eliminating debt has made it much stronger with auto sales rebounding.
Considering Rattner led the government's rebuilding of GM, the guy should know whether the stock is a value. On CNBC's Fastmoney show he pointed towards it as the stock in the sector that investors should own.
Growing Earnings
When reviewing earnings estimates and the balance sheet, clearly Rattner has a point. The company trades at a substantially cheap 6x forward earnings. With a revenue base of nearly $160B, the company has considerable room to cut costs and improve the bottom line. Not to mention, an improving economy could really jolt the auto sector. Even with subpar growth, auto sales hit a 5-year high in March.
Overall, GM reported a 6.4% year-over-year increase in auto sales led by strong rebounds at Buick and Cadillac. The main flagship Chevrolet brand only saw 0.5% growth, but it was at least positive.
Table - GM March Auto Sales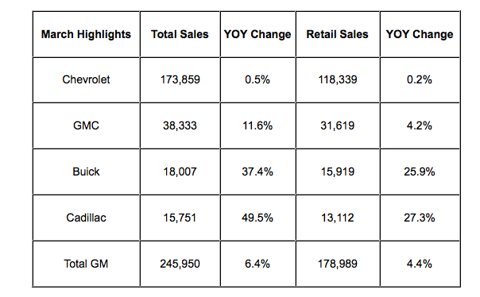 The total Q1 growth easily surpassed the strong results of March. For the three-month period, GM saw vehicle sales soar 9.3% led by strong retail sales. The main drivers were the same divisions as March, but Chevrolet also contributed with a 4.8% increase as well.
Substantially Improved Balance Sheet
While Ford should be applauded for not accepting a bailout, investors on the other hand shouldn't be as happy. The debt load at Ford is substantially higher than that at GM to the tune of nearly $90B. One lesson from American Airlines in the airline sector is that not declaring bankruptcy when all the major competitors had is a huge disadvantage. Eventually it caught up with American and the same is very possible with Ford.
The balance sheet places GM at a competitive advantage. Ford has a smaller revenue base but an enterprise value of $132B compared to only $28B for GM. Eventually GM will use the better balance sheet to its advantage. Hopefully it won't be via a price war.
Interest Payments
Sure Ford can produce better automobiles to eventually overcome the balance sheet deficiencies, but ultimately the company has a huge problem with much higher interest expenses. In Q4 alone, Ford spent roughly $733M more on interest expenses than GM and even higher compared to Toyota. This issue can only be resolved via substantially superior results or a similar restructuring. The below chart showcases the quarterly interest expenses over the last few years: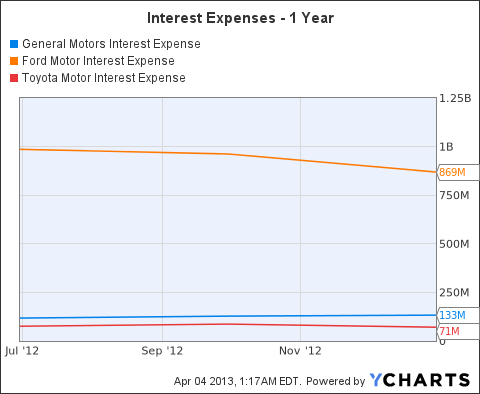 GM Interest Expense data by YCharts
Conclusion
Steven Rattner appears to be right that GM is not only an attractive stock, but it could be a huge gainer. The company has a major competitive advantage now. The only concern would be that Ford engages in a price war to where neither company wins. It would eventually have to declare bankruptcy to restructure the debt and GM would be dragged down as well. For now though, GM has plenty of runway to gain market share back from Toyota and vastly increase the market cap.
Disclosure: I have no positions in any stocks mentioned, but may initiate a long position in GM over the next 72 hours. I wrote this article myself, and it expresses my own opinions. I am not receiving compensation for it (other than from Seeking Alpha). I have no business relationship with any company whose stock is mentioned in this article.
Additional disclosure: The information contained herein is for informational purposes only. Nothing in this article should be taken as a solicitation to purchase or sell securities. Before buying or selling any stock you should do your own research and reach your own conclusion or consult a financial advisor. Investing includes risks, including loss of principal.