Introduction
In November 2011, I rolled my small IRA into a brokerage account, and after hunting around Seeking Alpha for a bit, I discovering the dividend-growth investing (aka DGI) community and David Fish's U.S. Dividend Champions, Contenders & Challengers (aka CCC) lists. I decided to invest in a modified version of the Dogs of the Dow using the combined CCC lists, a Dogs of the CCC lists. After a few months of analyzing the stocks on the CCC lists, I came up with a few rules for my DGI Lite Portfolio.
The Rules for the Dog Pack
I realized that the stocks that were in the red on the CCC lists were overdue for raising their dividends, and that around 84% of the stocks that cut their dividends went into the red zone beforehand. I also discovered that the stocks with the highest combined yields often stayed at the top of the yield heap for many months, therefore the Dogs of the CCC lists just might be worth investigating. I screened for stocks with a yield higher than 6% and added according to these Rules:
Rule #1 - Sell and replace any CCC stock that doesn't raise the dividend, the sooner the better. (Kick any Dog out of the kennel that isn't pulling its weight! )
Rule #2 - Don't buy any CCC stock while it's in the red (has red dates) on the CCC lists. (Stay away from any Dog that's in The Big Red Doghouse!)
Rule #3 - Only buy American CCC stocks that pay dividends at least quarterly. (Only buy good ole homebred Dogs that delivered dividend puppies as frequently as possible.)
Rule #4 - Add a new CCC stock when it will raise the overall yield, otherwise reinvest in the highest yielder. (Don't buy any Dogs with less working drive than the ones already in the Pack.)
Meet the Pack
The DGI Lite Portfolio consists of seven of the highest-yielding Dog (aka underdog) stocks over 6% yield chosen from the combined CCC lists back in November and December 2011, equally weighted at $5000 each, and an additional stock bought from dividends in March 2012. Foreign stocks, Master Limited Partnerships, stocks that paid less frequently than quarterly, and any stocks with red dates were screened out per the Rules. These are the current stocks.
Omega Healthcare (NYSE:OHI), Old Republic Intl (NYSE:ORI), Pitney-Bowes (NYSE:PBI), PennantPark Investments (NASDAQ:PNNT), Senior Housing Properties (NYSE:SNH), Triangle Capital (NYSE:TCAP), and Vector Group (NYSE:VGR). This assumes a starting amount of $5000 each for $35,000 and free trades to get started. The original seven buys were $34, 940.18 with the starting prices taken from the November CCC lists, and are the closing prices on 10/31/11. In March 2012 (end of Q1), a new CCC Dog, Dynex Capital Inc (NYSE:DX), was added to the pack by trading in all the warm and fuzzy dividend puppies, again in June 2012 (end of Q2) and September 2012 (end of Q3), as Dynex had a higher yield on the CCC lists than any of the current Dogs at both points in time. While this is very close to my actual portfolio, it isn't an exact match as the screening rules weren't in place until August 2012.
Time For The Annual Vet Check!
Each quarter, the Dogs were checked for fleas and given the once-over to make sure they were still producing an equal or greater amount of healthy dividend puppies than the quarter before. Any Dog that was producing less dividends would be sold per Rule #1. At the end of the year for the Annual Vet Check, they need to have raised the dividend over the past year, or be due to raise it very soon.
Here is how the Dogs of the CCC lists have checked out. Since the DGI Lite portfolio was actually begun using prices from 10/31/11, capturing the actual end-of-year on 10/31/12 would show how the Dogs fared over a full year.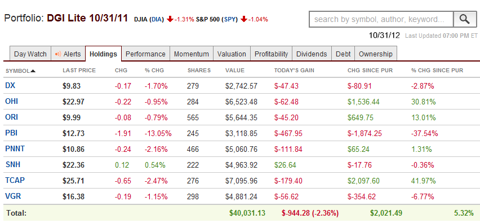 This includes the reinvested dividends at the end of the previous quarter on 9/29/12 but none of the current quarter's dividends yet. Current market value of $40,031.13 minus original 7 buys of $34,940.18, for a gain of $5090.95, or a 14.5% return for the actual year. A few of our Dogs lost a pound or two, three of our Dogs made respectable gains, and our old Dog, PBI, just keeps getting skinnier but so far keeps producing healthy dividend puppies.
Counting Our Puppies
For a thorough physical, we need to check at the very end of the year after all the dividend pups have come in. Last quarter, we anticipated $869.91 in proposed dividends for Q4, and a proposed total for the year of $3290.40. Both Senior Housing Properties and PennantPark Investments were due to raise their dividends in the 4th Quarter.
Checking on the vet chart, the dividends have exceeded expectations and given us a few extra puppies thanks to two very ambitious Dogs with additional raises in the fourth quarter - Omega Healthcare to $.44 and Triangle Capital to $.53 per share per quarter. SNH came through on time with a raise to $.39 per share, whereas PNNT has just earned a spot in the Big Red Bad Doghouse for failing to come through with an expected dividend raise. Fortunately, the other two big Dogs made up for that failing with their unexpected raises.

There was a terribly contagious influenza sweeping through the kennels that caused all the Dogs to come down with Fiscal-Cliffitis, so they ended the year looking rather puny. Fortunately, the dividend puppies came through just fine, and with one exception, managed healthy growth over the year. From the predicted $869.91 in Q4 dividends, we actually made $880.57.
The total return on 12/31/12 was respectable for a down day.

But since we're doing this for the income, it's more important how many more dividend puppies we have received over the year. We'll use the average dividend increase plus the average dividend yield to see how things have stacked up. Those DG investors who are familiar with the Chowder Rule (named after esteemed commenter Chowder) will recognize that this is a very bare bones version of his requirement that his individual investments must add up to 12%. Three Dogs are falling short in that respect, although the one in the Doghouse is holding at 10% without the expected raise that would bring it up to 12%.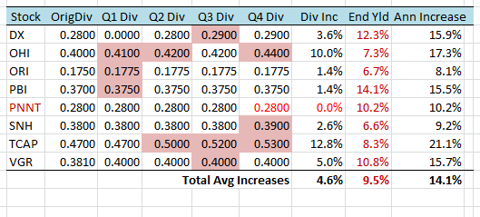 Buying Future CCC Dogs
This was an interesting experiment based in part on my real portfolio, although far from an exact match. Overall, the DGI Lite Portfolio has done a decent job of increasing income. At the end of the year, it would be time for another buy from the dividends, and the likely candidate would be PBI. Since this portfolio follows the rules stated at the beginning, and would have been evaluated at the end of December, there's no way to know whether PBI would follow through with its annual raise in February or not. Per David Fish's CCC list, PBI was priced at $10.64/share at close on 12/28/12, so 82 shares would have been added to the portfolio, which would have brought the cost basis down and the overall loss to PBI up to -22.96% instead of -40.43%, and would have bought the total return up to 15.7% instead of 13.5%.
As it turns out, it has not declared an increase yet, so they have fallen into the Big Red Doghouse along with PNNT at this time (April 2013). The next opportunity for PBI to increase the dividend will be next month, in May, and for PNNT in June.
Since this model portfolio wasn't started at the end of the year like a true Dogs portfolio would be, I'm going to let sleeping Dogs lie. I also started a true Dogs of the CCC portfolio with 10 equal buys at the end of the year that I'll share next. One last look at how these Dogs are doing right now on a modestly down day after this bull run and without buying any more shares. The projected earned dividends for next year going forward with no dividend raises and no cuts would be $3522.29. Not bad for starting with $35,000 and a pack of motley Dogs. Good Dogs!
Please note this light-hearted look at my "Adventures in Investing" is not meant as advice for anyone else, nor in any way to demean those who take investing as serious business. I am fortunate that I have a pension and can afford to indulge my adventurous little heart with my investments. Be sure to do your own due diligence, as the stocks in this portfolio may not be suited for your situation.
Disclosure: I am long DX, OHI, PBI, PNNT, TCAP, VGR. I wrote this article myself, and it expresses my own opinions. I am not receiving compensation for it (other than from Seeking Alpha). I have no business relationship with any company whose stock is mentioned in this article.