Zynga (NASDAQ:ZNGA) has entered the online, real money, gambling business in the U.K., and that is nothing to shrug off. The much anticipated foray into this money making business has finally arrived, and Zynga is center stage in more ways than one. I will not belabor the bear thesis that this is a broken company and a great short candidate. I myself believed that back in July of last year when I wrote this article.
Things have certainly changed!
As far as I am concerned, this one single event has turned the company into a strong buy. Obviously there are still risks and headwinds, but they now are being met head-on with a potential revenue and earnings stream within an industry that is all about money.
Without blowing my own horn too loudly, I have been reporting on this opportunity since September of 2012 with this article. It was not long after that I placed the stock in the Young And Restless Portfolio, and have sat back and waited for these events to unfold.
The Potential Is Real
ZNGA already has the various platforms and subscribers that has made it's social gaming site one of the most popular in the world. Between having a Facebook (NASDAQ:FB) presence, and an independent site for both PCs and smart devices, ZNGA has an edge that could prove itself rather quickly, as expressed in a company blog from Barry Cottle, Chief Revenue Officer and EVP:
Launching the download and web versions of Zynga's real money games for play in the UK is an exciting move to bring players the real money games they have been asking us for. We look forward to launching our social versions of real money games for players on Facebook and mobile in the UK throughout 2013.
As noted in this report, various analysts who have been following the unfolding events, have weighed in:
"We see the launch of these games as an important first step toward what could ultimately become an important source of revenue for Zynga and something that differentiates it from other gaming companies," Needham & Co analyst Sean McGowan wrote in a note on Wednesday.

"ZyngaPlusPoker" and "ZyngaPlusCasino" will be available to British-based gamblers on the Web and as desktop applications from Wednesday.
And this analyst:
"Given states like New Jersey recently legalized online gambling, we believe Zynga will likely wait for legalization at the national level, which will allow the company to apply a single, consistent set of rules to all US users," Jefferies & Co analysts said in a note.
Positive comments have been coming in from just about everywhere, and the market within just the U.K. itself is enormous. According to industry experts, the market in the U.K. alone is estimated to be about $30 billion in 2013.
Since Zynga already has a social gaming subscriber base of about 300 million players, I believe anyone would be hard pressed to dispute the upside potential now. To be sure, the U.K. is just the first stop, as noted in the linked article above:
Zynga has signaled to investors it could begin to make money in smaller, regulated markets while it waits for Washington lawmakers to pass federal online gambling regulations. The company is expected to expand beyond the U.K. into other European markets this year.

"Our long term vision is to offer our players the next generation of real money games on multiple platforms in regulated markets worldwide," Chief Revenue Officer Barry Cottle wrote in a blogpost Tuesday.
Even with the sharing agreement with bwin.Party (OTC:PYGMF), the details of which are unknown, Zynga now has a foothold in the gambling industry, a respected "partner", and the subscriber base to make this an extremely profitable company. The benefits to shareholders should become obvious rather soon.
Investors hope Zynga can use its near-300-million strong gamer base to its advantage as it enters a vastly lucrative global online gambling market that, according to H2 Gambling Capital, could be worth $30 billion in 2013. In September, Zynga hired Maytal Olsha, a former senior executive at 888 Holdings PLC, the online gambling powerhouse, to helm its expansion into the real-money market.
The Ease Of Use Is Also A Plus
Some of the details of how the new formats will work come directly from Barry Cottle as well:
ZyngaPlusPoker is an online poker room that offers U.K. players a wide variety of games and tournaments with buy-ins at every level.
ZyngaPlusCasino brings players more than 160 slots games and a variety of table games to choose from including Blackjack, Roulette, Baccarat and Video Poker as well as the first-ever FarmVille themed slots game.
Both ZyngaPlusPoker and ZyngaPlusCasino will offer players a host of welcome packages including real money bonuses and free cash on deposit.
No matter whether players choose to play using the download or on the web, they will use a single wallet shared across both versions.
Players simply need to visit ZyngaPlusPoker.co.uk and ZyngaPlusCasino.co.uk to register for the web or downloadable version of either offering.
Once the "doors" are open, the existing subscriber base will be the initial marketing target to generate immediate revenue and earnings. From there, expansion will come quite naturally with Maytal Olsha at the helm.
Success Is Not A Slam Dunk
The sheer size of the market has drawn in plenty of competition. Take a look at this chart from a few years back: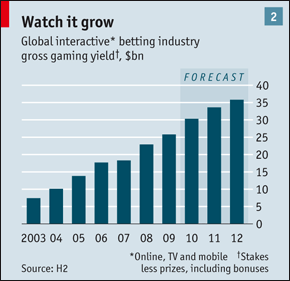 Even though the USA takes the largest share of Internet gambling, the U.K. has a sizeable portion, and there are many countries that ZNGA can move into down the road.
The opportunity for mobile gaming is vast as well: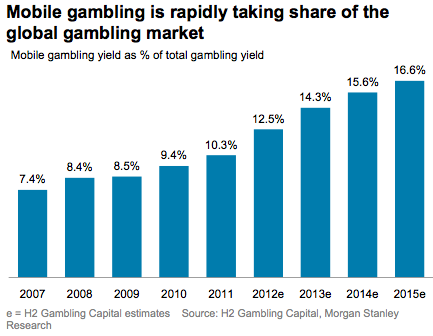 With the size of the market, is it any wonder that there are roughly 30 other companies who have invested in this segment according to this report? This Google Finance Site has a great breakdown of the various companies that are currently in the market. Zynga will obviously have to fight for position.
That being said, with a social gaming subscriber base of over 300 million folks all ready, as well as the various platforms already available, Zynga is the ONE to watch. I might as well toss out the possibility that ZNGA could be a takeover target by some of the larger players noted in the reports mentioned.
Shareholders Stand To See Strong Capital Appreciation
Keep in mind, that this is just the beginning, and while revenues and profits are just around the corner, it is unclear exactly how much will be made. The fact that ZNGA has more than $1.2 billion in cash and virtually zero debt, means that every dollar goes directly to the top and bottom line.
As more avenues open to expand the real money gambling business, I can see this stock doubling if not tripling within the next 12-24 months. Since the share price is at a slim price to book of 1.51, an actual valuation metric is hard to place on it right now, however according to Yahoo! Finance, the industry has a forward P/E of 40.32.
To me, these metrics alone offers a hint as to what the future share price might hold. I am not ready to guess that the share price will immediately return to the $14.00 level as shown by this chart:
That being said, if this business takes off, is $10.00/share (given an industry P/E of 40) out of the realm of possibility?
The risks are apparent of course, and real. The venture might not pan out, or already entrenched companies outperform Zynga on all levels, including mobile platforms. While the stock might not be a gamble, investors will still need to place their bets.
Disclosure: I am long ZNGA. I wrote this article myself, and it expresses my own opinions. I am not receiving compensation for it (other than from Seeking Alpha). I have no business relationship with any company whose stock is mentioned in this article.
Disclaimer: The opinions expressed by the author is not intended to be a recommendation to either buy or sell any security. Please do your own research and due diligence prior to making any investment decisions.