Spring is here, let's go shopping. I am not talking about apparel, but stocks of apparel stores instead. In addition to department stores in shopping malls across America, there are five major women's apparel players in the field, ANN Inc (NYSE:ANN), Gap Inc. (NYSE:GPS), Limited Brands (LTD), Ascena Retail (NASDAQ:ASNA) and Urban Outfitters (NASDAQ:URBN). Some of them exclusively focus on women's apparel business, while others concentrate more than half of their energy and resources on women's clothing. Just like customers, investors search for values and bargains, hoping to get good deals. Share prices and three common financial metrics will help us do the search.
Based on our forecasting, LTD and ASNA will enjoy high single-digit revenue growth rate in the coming quarter, while other stores' growth rates may be more moderate. The domestic growth in GPS was more or less offset by its international operations, resulting in its anemic overall growth rate. The same-store comps for ANN's Ann Taylor and LOFT segments seemed to have lost some momentum in 2012, which makes ANN less attractive if we are looking for growth in the women's apparel space. For URBN, its Free People and Urban Outfitter's growth in its sales comps was partially offset by the decrease in sales in Anthropologie. There will be no major change in the pattern and forecasting if the U.S. economy continues to heal on the current path.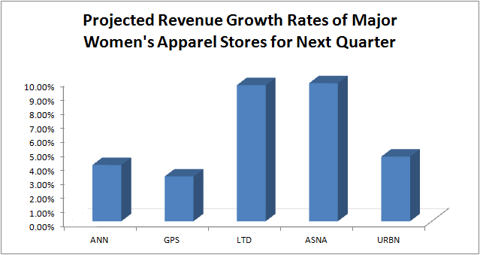 However, from a free cash flow point of view, ASNA has only generated $0.42 per share, making it pricier. Thus it should be dropped from our growth candidate selections. All other issues look normal within the historical range of apparel stocks. ANN is noticeably cheap on the cash flow basis and may be one of the best candidates for value plays.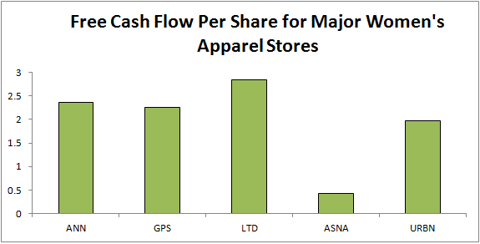 Since the 2008 financial crisis, the operating margins for these apparel stocks have displayed various patterns. ASNA and GPS have been stuck in the range for most of the years. On the bright side, ANN has improved dramatically, although the recent momentum has slowed a bit. Limited Brands' operating margin has crept from single digit to low teens with further gains in sight. Finally, URBN used to be a Wall Street darling due to its stunning operating margin, which then dwindled and slipped into low teens since 2008. The way back to its old glory has proved to be a tough one.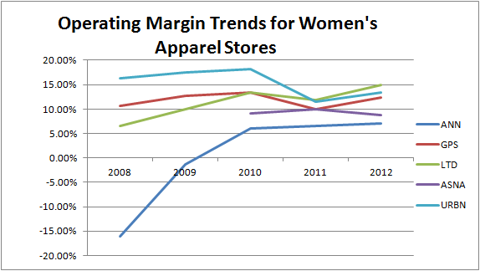 The price, however, has shown divergence, meaning at least URBN has run ahead of itself a bit at this point.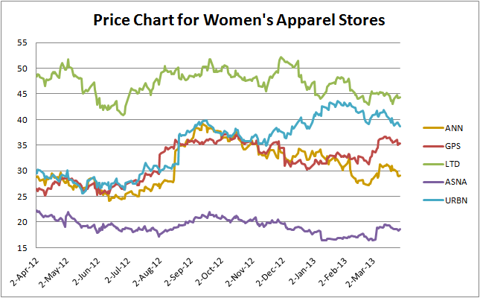 Through the initial screening, we have narrowed down to LTD as our growth story candidate and ANN as the value investing candidate. Limited Brands is in the good position to leverage its existing brands (Victoria's Secret and Bath & Body Works). Its sales comps from both segments are very healthy. The power of its branding and talent-building strategies will pay off in the long run. On the other hand, although ANN does not enjoy the vivid growth, it has nominal debt levels and excellent cash flow. Furthermore, it has been executing some dynamic initiatives to beef up its strategic position in woman's apparel. These include multi-channel strategies, improving brand aesthetic, and mobile capability enhancement. We believe the management is right on the key drivers for ANN's long-term growth.
The overall market has been overbought and is ripe to experience some major corrections, which presented us with some excellent opportunities to do more shopping of apparel stocks at a discount. Hope you will enjoy them like real apparel shopping during inventory markdown period.
Disclosure: I have no positions in any stocks mentioned, and no plans to initiate any positions within the next 72 hours. I wrote this article myself, and it expresses my own opinions. I am not receiving compensation for it (other than from Seeking Alpha). I have no business relationship with any company whose stock is mentioned in this article.