"How cruelly sweet are the echoes that start, When memory plays an old tune on the heart." - Eliza Cook
Intermarket deterioration by all metrics is currently at its worst since the year started, with various disconnects underway which I have been highlighting since the very end of January. Bond yields are falling, dividend stocks are leading, cyclical sectors are lagging, and small-caps this week have gone through a relative ratio crash against the S&P 500. Very suddenly, it appears Nouveaux Bulls are waking up to the idea that behaviorally, all things which tend to outperform during corrective environments are doing so. As I have stated numerous times, the $85 billion/month question is if QE can keep stocks elevated in the face of heavy negativity beneath the market's surface.
Could a correction occur now given that April seems to have marked turning points in risk-on sentiment for the past two years? On the one hand, it seems a little too perfect for the cycle to repeat. On the other hand, the weakness and disconnects are now glaring. Take a look below at the price ratio of the iShares Dow Jones U.S. Broker-Dealers ETF (NYSEARCA:IAI) relative to the S&P 500 (NYSEARCA:SPY). As a reminder, a rising price ratio means the numerator/IAI is outperforming (up more/down less) the denominator/SPY. A falling ratio means the opposite.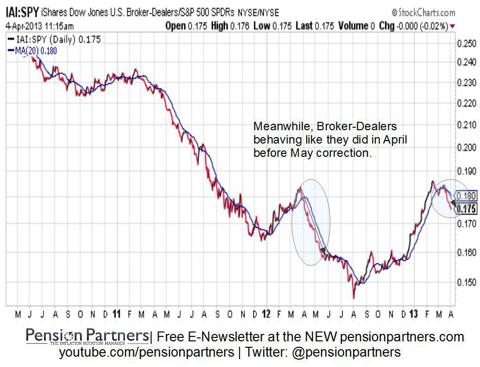 If indeed bets were rising on money flowing into stocks thanks to new all time highs hit last quarter, then why did the ratio top in mid-February? Why is the ratio falling in a way that is highly reminiscent of the April-May correction of last year? It would appear that bets on increasing economic activity and financial transactions are actually falling meaningfully. This, in turn, is yet another disconnect and warning sign for Nouveaux Bulls.
The fact is the risk-off trade has been working. Our ATAC models used for managing our mutual fund and separate accounts remains very defensively positioned as the deflation pulse beats. Either intermarket disconnects will resolve themselves through the cyclical trade coming back in a violent way, or absolute price movement will break down in a delayed way to weakness as it did during the Summer Crash of 2011.
The Spring Sync of 2013 I believe is on the way.
Disclosure: I have no positions in any stocks mentioned, and no plans to initiate any positions within the next 72 hours. I wrote this article myself, and it expresses my own opinions. I am not receiving compensation for it (other than from Seeking Alpha). I have no business relationship with any company whose stock is mentioned in this article.
Additional disclosure: This writing is for informational purposes only and does not constitute an offer to sell, a solicitation to buy, or a recommendation regarding any securities transaction, or as an offer to provide advisory or other services by Pension Partners, LLC in any jurisdiction in which such offer, solicitation, purchase or sale would be unlawful under the securities laws of such jurisdiction. The information contained in this writing should not be construed as financial or investment advice on any subject matter. Pension Partners, LLC expressly disclaims all liability in respect to actions taken based on any or all of the information on this writing.