To paraphrase Warren Buffett, "today's low-interest rate environment has a sort of reverse gravitational impact on stocks," and nowhere is this more prevalent than on consumer staples companies with strong dividend track records. Johnson & Johnson (NYSE:JNJ) is a wonderful business that possesses tremendous durable competitive advantages, but due to the stock's strong run to $82.08 from its 52-week low of $61.71, I no longer believe the stock provides an adequate margin of safety. There are quite a few stocks that have similar characteristics to JNJ, which now seem to be a bit too pricey, as market participants are understandably searching for yield in an environment where most bonds offer very little value. I believe that long-term investors would be better-served to either exit JNJ, or sell covered calls on their position to maximize the income, and to instill a disciplined selling process. I certainly wouldn't recommend shorting the stock because it is a wonderful business, with excellent long-term prospects, but I'd much rather own a WellPoint (WLP) or financial stocks, which trade at discounts to book value, and extremely low multiples on normalized earnings with comparable EPS growth prospects.
As of December 31st, 2012, Johnson & Johnson had roughly 2.813 billion shares outstanding, so at a recent price of $82.07, the company has a market capitalization of approximately $230 billion. JNJ ended the year with $11.489 billion in long-term debt and $21.089 billion in cash and investments, so the enterprise value is approximately $220.4 billion. In 2012, JNJ earned $10.853 billion or $3.86 per diluted share, which was up from $9.672 billion or $3.49 per diluted share in 2011. Both years' earnings reflected the negative impact of production problems, which if the company can get back on track, should provide ample room for increased earnings power. In 2012, JNJ generated $12.462 billion in free cash flow, which equates to $4.43 per diluted share, so the free cash flow yield is approximately 5.4%. While free cash flow should grow by 5-7% per annum over the next few years, I don't believe the investor at these prices is being compensated for the equity and operational risk. Let's not forget that it wasn't that long ago that JNJ was involved in a bidding war with Boston Scientific (NYSE:BSX) on the disastrous acquisition of Guidant, where JNJ's "loss" preserved a great deal of shareholder value. This is always a risk for acquisitive companies like JNJ, but I'm much more positive on recent capital allocation decisions, and overall I believe management is solid.
JNJ increased its dividend for the 50th consecutive year to $0.61 per quarter, so the dividend yield is just under 3% at recent prices. Adjusted earnings, which exclude the impact of currency and certain restructuring initiatives, have increased 29 straight years. The company consistently achieved returns on invested capital and equity greater than 20% and 25%, respectively, until 2009 when operational problems began taking a toll on the bottom line. I don't believe these issues are permanent, so I believe that a high-teens return on invested capital is achievable on a more normalized basis. JNJ has massive scale and distribution advantages, which will become increasingly important with the faster growth rates in developing economies. The company breaks its operations into three primary units listed below.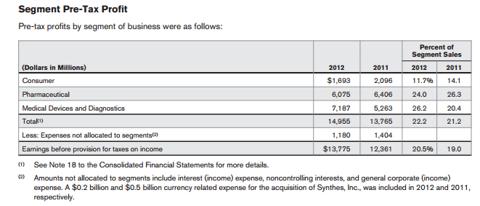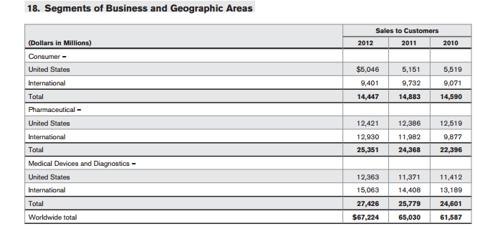 Source: JNJ 2012 Annual Report
JNJ's pharmaceuticals division grew revenue by 4% from 2011 to $25.4 billion in 2012, which would make it the eighth largest pharmaceuticals business in the world and the sixth-largest biotech business. Excluding the impact of currency changes, revenues grew by 6.8%. The company has released several very successful drugs recently, which should propel growth into the future including REMICADE, VALCADE and PREZISTA. REMICADE (infliximab) is a biologic approved for the treatment of a number of immune-mediated inflammatory diseases, VELCADE (bortezomib) is a treatment for multiple myeloma, and PREZISTA (darunavir) is a treatment for HIV. These drugs represent just a portion of JNJ's deep product pipeline. Like other large pharmaceutical companies, JNJ has been hit by generic competition including its LEVAQUIN (levofloxacin) drug, which is a treatment for bacterial infections. This negatively hurts sales but relative to other competitors, JNJ doesn't face nearly the same patent cliff and it also has an extremely robust pipeline that should continue to bear fruit.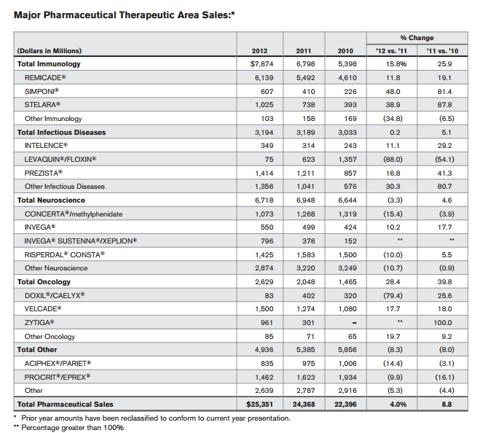 The medical devices and diagnostics division grew revenue by 6.4% to $27.4 billion in 2012. Excluding currency changes, revenue grew by 8.7%. JNJ possesses the largest medical technology business in the world and the recent acquisition of Synthes, Inc., contributed 7.9% of the growth in constant currency, net of the divestiture of the DePuy trauma business. JNJ holds the number 1 or 2 market share positions in 80% of its key platforms in the medical devices and diagnostics division. The unit has comprehensive products, services and programs in the areas of joint reconstruction, trauma, spine, sports medicine, neurological, craniomaxillofacial, power tools and biomaterials. With the aging of the population in the United States and other large countries, the MD&D business should continue to grow at an attractive rate. JNJ's strength as a global distributor should allow it to increase market share in emerging markets, where increasing wealth is fostering higher spending on the healthcare initiatives.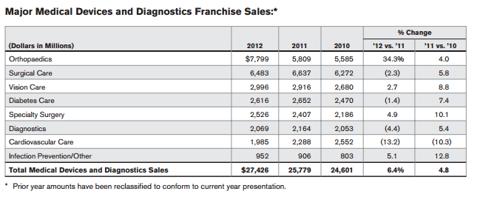 The consumer division saw a 2.9% sales decrease in 2012 to $14.4 billion. Excluding the impact of currency changes, sales grew by a slight 0.5%. JNJ's consumer business is the sixth-largest consumer healthcare business in the world. This division was hit by production problems in its McNeil over-the-counter products in the U.S. market. This is just the most recent production issue that JNJ has faced which has been extremely disappointing to the company, and has been a poor reflection on management. With a company as large as JNJ is, production issues are likely to happen from time to time, but management of course will be evaluated by the response to these issues. The consumer division possesses many staple brands such as LISTERINE, NEUTROGENA, JOHNSON'S Baby, and it also has specific brands targeting emerging markets such as DOKTOR MOM in Russia, and Shanghai Elsker Mother & Baby Co. Ltd in China.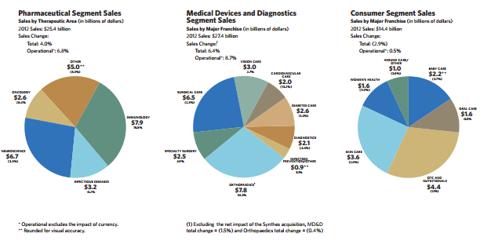 JNJ is truly a business that is managed for the long-term, which is exemplified by its huge R&D budget. In 2012, JNJ spent 11.4% of sales on R&D and these costs are expensed, as opposed to being capitalized, so the balance sheet and income statement do not capture the full value of these initiatives. JNJ has invested extremely aggressively in R&D for its pharmaceuticals division, spending over 21% of sales in 2011 and 2012. This has helped to fund an attractive growth platform, while the MD&D division was bolstered by the approximately $21.3 billion acquisition of Synthes. This acquisition also increased the percentage of sales and profits that the company earns outside the United States.

Johnson & Johnson is a business that we have bought regularly and sold puts on in times of distress, but at current prices there is just not enough of a margin of safety. The company's earnings growth rate has declined markedly in the last decade, and the numerous manufacturing issues have been too recurring in nature to be excused as one-off events. Assuming JNJ grows diluted earnings per share by 7% per annum over the next 5 years, using 2012 EPS of $3.86 as a base, would put 2018 earnings per share at about $5.79. The current price would be make the price to earnings multiple approximately 14.3, which I view as being reasonable on a forward earnings basis. Free cash flow is probably a better metric to evaluate JNJ with, so using 2012 free cash flow per share of $4.43 and applying the same 7% growth rate, would put 2018 free cash flow per share at approximately $6.65. This would represent only an 8% free cash flow yield at current prices, and if interest rates are higher in 2018, which seems quite likely, so it is very possible market participants will demand a greater risk premium for JNJ's equity. Currently the January 2014 $85 calls are selling for around $2.05 per contract, which would add another 2.5% to the dividend yield, while allowing upside of roughly 3.5% from current prices. Because volatility is so low on JNJ options, I'd prefer to take advantage of Mr. Market's optimism on the stock to take profits, and move on to greener pastures.
Disclosure: I am long WLP. I wrote this article myself, and it expresses my own opinions. I am not receiving compensation for it (other than from Seeking Alpha). I have no business relationship with any company whose stock is mentioned in this article.