Initial jobless claims came out this morning and they were a big disappointment. There were 385,000 initial claims last week, 40,000 more than was expected and 28,000 more than the previous week. This throws a wrench in the argument that the labor market is improving.
More important numbers come out tomorrow, when the Labor Department announces March nonfarm payrolls and the widely quoted unemployment rate. In October 2009, the unemployment rate hit 10%, its highest level since the 1980s. Last month's figure was down to 7.7%. That's a significant improvement that might lead one to conclude that a lot more people are working.
That would be a wrong conclusion. Examine the data more carefully and you begin to realize that the improvement in the unemployment rate has little to do with job creation. It is more the result of a declining proportion of the population in the workforce.
The graph below shows why the U.S. employment market is still very sick. Since the Great Recession began in December 2007, the civilian non-institutional population (excluding children) has increased by 5%, but the labor force (i.e., those working or seeking work) has increased by just 1%. That's 5% more people, but only 1% more people willing to work. In other words, the participation rate (an indicator that Pollyannas prefer to ignore) has plummeted.
Click to enlarge image.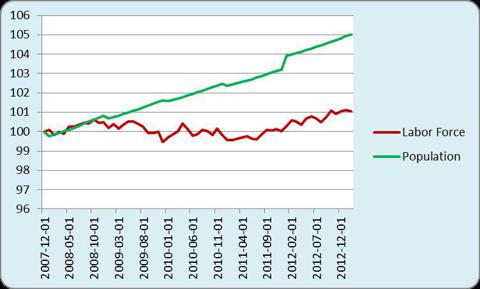 Each month when it is announced, the unemployment rate is considered big news. But don't get too excited about it. Only a small portion of the recent improvement is due to job creation. The bigger story is that proportionally fewer Americans are in the labor force.