1. The Morgan Stanley Capital International (MSCI) Real Estate Investment Trust (REIT) Index is trading today above 980 for the first time since Nov. 1, 2007 (see chart below, data here).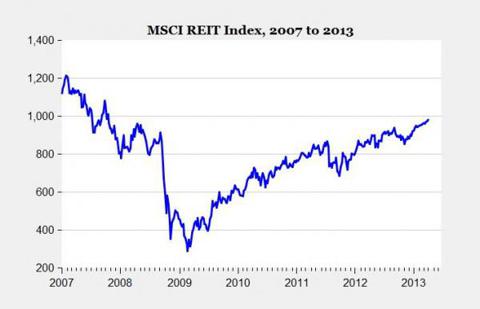 2. Trulia's monthly report on Asking Prices was released today with data for March:
In March, asking home prices rose 1.1% month over month, seasonally adjusted. That's an annualized growth rate of 14%. Quarter over quarter, prices are up 3.5%, seasonally adjusted. Year over year, prices are up 7.2% nationally and are higher than one year ago in 91 of the 100 largest metros. Because asking prices lead sales prices by approximately two or more months, they reveal trends before other home price indexes do.
In comparison, asking prices in February increased 1.4% month over month -- the highest monthly gain since the home price recovery began. Year over year, February asking prices rose 7.0% and quarter-over-quarter prices rose 3.0%, also a post-recession high. The top five metro areas with the largest annual gains in asking prices through March were Las Vegas (26.4%), Phoenix (23.6%), Oakland (22.5), Sacramento (21.7%), and San Jose (20.1%).
3. According to DataQuick's latest "National Home Sales Snapshot" based on actual real estate transactions in 98 of the largest 100 U.S. metro areas, home sales increased by 5.5% for the 30-day sales period ending April 4 compared to a year ago, and the median sales price increased year over year by 13.5%.