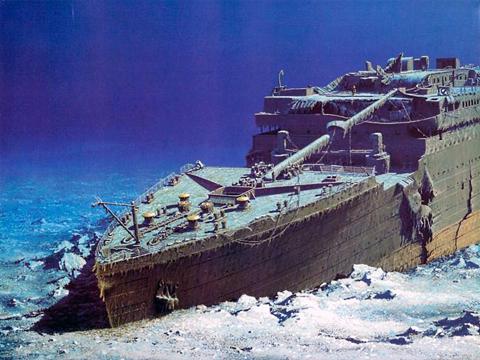 Here I present a rebuttal to contributor Chris DeMuth Jr's article that Premier Exhibitions (NASDAQ:PRXI) is worth over $4.00 per share. There are arguments however that Premier Exhibitions is worth at most $2.69 per share and possibly less - slightly below market price as of this writing. The valuation in Chris's article rests on two separate appraisals: 1) a claim Premier Exhibitions' ownership of the Titanic wreck and the loot from the wreck will sell - soon - for $189 million minus taxes, etc and 2) that the rest of the company is worth at least $0.50 per share. Chris gives an excellent accounting of a recent turn around in Premier Exhibitions management and operations. So let's accept that $0.50 valuation of the company without the wreck - it's the minority of the claimed value anyway, most of the claimed value is in the loot.
The legal history of ownership over Titanic artifacts is long and convoluted. However, as of 2011 the questions have been mostly settled. RMS Titanic Inc (aka RMST), a wholly owned subsidiary of Premier Exhibitions is salvor-in-possession of both the already salvaged artifacts and future recoveries. Currently that amounts to about 5,500 artifacts recovered from 1987, 1988 and 1998 dive operations, including one large section of hull. The court's judgment, granting RMST possession, came with some critical covenants:
The collections can only be sold together, in their entirety and the buyer will be subject to the covenants.
RMST must establish a reserve fund for the preservation of the collection. The company must pay $100,000 per year into the fund until it reaches $5 million.
The collections can only be sold to a "qualified institution" who will ensure the artifacts are available for "for public display and exhibition, historical review, scientific and scholarly research, and educational purposes." (The National Oceanic and Atmospheric Administration (NOAA) has established legal guidelines for salvage activity and would likely be the determiner of whether an institution was 'qualified'.)
In April 2012, coinciding with the 100th Anniversary of the doomed voyage, Guernsey's held an auction of the RMST collections. Guernsey and RMST claimed a 2007 appraisal of the artifacts of $189 million. Try as I might, I can find no records of where this appraisal comes from. As best I can tell, it's just an asking price. Despite coverage by major news sites, widespread public attention, the fanfare of a 100th anniversary, no announcement of sale came out of the auction. In short - it sank.
In Premier Exhibitions' October 2012 10-Q filing (and subsequent filings) they include note of a Letter of Intent. The company has entered a non-binding letter of intent with a 'group of individuals' to purchase RMST for $189 million. There is no further information about who the group is nor where the price figure comes from.
Who could buy the Titanic and how much would they really pay?
Because the Titanic artifacts must be kept on display for public and scholarly usage, the buyer will not be a private anonymous purchaser making his home prettier. A qualified institution, with the resources and expertise to manage the collection would have to be a museum, maritime university, government, or professional exhibition company. I think the likely candidates would the British National Maritime Museum, Ireland, or just maybe the Luxor Hotel in Las Vegas (current home to much of the collection).
While I find no support for the $189 million price, I found considerable support for a $110 million price. According to the Aug 2010 opinion for "RMS Titanic, Inc. v. The Wrecked and Abandoned Vessel", RMST hired experts Paul Zerler and Stephen Rogers to appraisal the collections. The appraisers spent three and a half years examining almost every artifact individually. The assessed against comparable objects - including other Titanic objects not part of the collections - multiplied by 150%, and marked up for the collection as a whole rather than split up. In 2009 they released an updated appraisal of $110.8 million. They note that this value is probably conservative, however Zerler assessed items typically sell within 12% of his appraisal. This does not include much of the mapping, video and photography stock. The appraisers claim this could be worth up to $44 million. Thus we have a conservative collection estimate with a maximal IP estimate totaling $155 million.
We should note a few more minor points. The Titanic is not a significant archeological find - there are plenty of objects and records from 1912 for scholars to study, even about the Titanic itself. The items are certainly luxurious, but few are unique to our knowledge. The maritime interest - in terms of ship construction - has been largely satisfied already. The proximate and distant causes of the sinking are generally well known. There is considerable biological interest in the microbes literally eating the steel of the hull, but these can only be studied on site, and not through the retrieved artifacts. The Titanic is a cultural icon but not a scientific imperative.
Timing
My first question about this impending sale to a as-yet unknown group was "why now and not last year?" A purchase on the anniversary would have generated significant public awareness for the new owner and ticket sales. Further, the heightened public awareness around the anniversary would normally mean more bidders and better prices. Since even that failed to deliver a price worth selling at, I'm skeptical that a real superior bid has arrived so soon after. However, there is one more wrinkle about the timing. The previous Premier Exhibitions president had a bonus agreement that if a sale was achieved before April 2013, he would receive a $5 million payment. Could it be that the buyer has negotiated a $5 million reduced price by waiting for a year? Additionally, curators at museums and governments strike me as patient people with significant constraints on collecting large sums. Perhaps they likely buyers simply aren't concerned with rushing into a purchase.
Conclusions and stock pricing
The $189 million appraisal / asking price seems to come from nowhere. Expecting to get this amount in a sale, when that sale has failed once already, strikes me as extraordinarily optimistic. The asking price wasn't achieved in 2012, I don't think it'll be achieved now. The $110 million figure is grounded, though it may be conservative. Further, whoever buys the collections is taking on the $5 million reserve fund liability.
Let's take three prices for the collections and work out the per share asset value for each, neglecting any concerns about likelihood or timing of a sale. At the highly optimistic end, we have the $189 million asking price, at the low end, the $110 million valuation minus $5 million for the reserve fund, and in the middle, the $110.8 million plus $44 million for IP. We'll also add in a $0.50 per share value of the rest of the company.
| | | | |
| --- | --- | --- | --- |
| Assumed Titanic sale price (millions): | 189 | 155 | 105 |
| Per share value of sale: | 3.94 | 3.23 | 2.19 |
| Remaining company value: | 0.50 | 0.50 | 0.50 |
| Price per Share: | 4.44 | 3.73 | 2.69 |
Interestingly the share price valuation in the conservative case is nearly exactly the market price for Premier Exhibitions as this is written. More concretely, all three of these omit any risk factor. It is by no means certain that the collections will sell at all. I remain skeptical about the timing. Failing to achieve a good price at a highly publicized auction, then six months later getting a quiet offer from a major institution for the originally desired (but unattainable) price sounds like a sailor's tall tales. And if that sale is nothing more than a sailor's tale then the share price may not even float.
Disclosure: I have no positions in any stocks mentioned, and no plans to initiate any positions within the next 72 hours. I wrote this article myself, and it expresses my own opinions. I am not receiving compensation for it (other than from Seeking Alpha). I have no business relationship with any company whose stock is mentioned in this article.