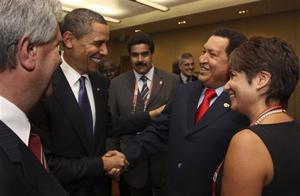 When we saw the picture of President Obama shaking hands with Hugo Chavez last weekend, with Chavez reportedly saying he wanted to be our "friend," another picture came to mind -- that of U.S. oil company Harvest Natural Resources (NYSE:HNR) perhaps deriving some value from its large Venezuelan oil and gas producing assets.
We discuss HNR in the new issue of Downside Protection Report:
Harvest Natural Resources is an oil production and exploration company based in Houston, Texas, with producing assets in Venezuela and exploration properties worldwide. Harvest is one of those stocks that are a bit uncomfortable to own because shareholders are seemingly at the mercy of a higher power—in this case the government of Hugo Chavez. Paradoxically, therein lies the opportunity for those "brave" enough to invest in Harvest. We put "brave" in quotation marks because we do not consider Harvest a particularly risky investment at the recent price, as investors appear to be mistakenly associating discomfort with risk (we could, of course, be wrong and, as always, do your own work prior to investing).
More Discomfort Than Risk

While the specter of Hugo Chavez is an uneasy one for us American capitalists, 84% of Harvest's recent market value sits in cold, hard cash deposited with U.S. banks—out of Chavez's reach. In addition, Harvest has a world-class engineering team and exploration properties in the U.S., Indonesia and Gabon. If Harvest owned no assets in Venezuela, one could still justify the company's current stock price. As a result, Chavez may spoil the upside for Harvest investors, but there is not much he can do to create fundamental downside from the current stock price.
Chavez Wants Money, Too—and Harvest Can Help

We've shown why the downside risk for Harvest investors is lower than one might assume initially. Now we will argue that the upside is actually quite large, and that the Venezuelan government is unlikely to stand in the way.
For one, there is no nationalization risk because—you guessed it—Harvest's Venezuelan operations have already been nationalized. Over the past year, the government forced Harvest into restructuring the operations to give state-owned oil company PDVSA a majority stake in the operating assets. Harvest has essentially become a service provider to PDVSA. However, instead of being paid by the hour, Harvest owns 32% of the operating assets. This gives Harvest net proved reserves of 43 million barrels of oil equivalents ("2P" reserves of 70 million boe).
Harvest Natural Resources — Cash Margin of Production Operations
The company has a low-cost production base in Venezuela and is profitable even at low oil prices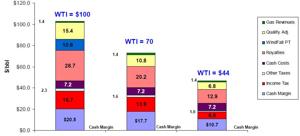 Source: Company, March 26, 2009.

Harvest has a history of using its world-class engineering resources to increase the amount of oil that can be recovered from Venezuelan oil fields. This is probably why the government awarded Harvest new fields during the recent conversion to majority ownership by PDVSA. Hugo Chavez needs proceeds from oil sales to fund his socialist agenda, and Harvest can maximize production.
Harvest is a low-cost producer. As the chart on the previous page shows, if oil prices are $100 per barrel, the Venezuelan operations (Petrodelta) achieve a cash margin of $20.50 per barrel. If oil prices fall to $44 per barrel, Petrodelta still earns a cash margin of $10.70 per barrel. The reason is that Petrodelta has cash operating costs of only $7.20 per barrel. Virtually all of the other costs are various taxes and royalties, which are variable. As a result, Petrodelta is solidly profitable even in the current environment of low oil prices.
Quantifying the Upside

A Ryder Scott report as of yearend 2008 values Harvest's share of Petrodelta's proved reserves at $111 million, based on a world oil price of $41 per barrel and a Venezuela price of $34 per barrel. Under the same assumptions, the present value of Harvest's 70 million boe of proved and probable (2P) reserves is $139 million, while the proved, probable and possible (3P) reserves are worth $290 million. Obviously, these figures rise accordingly with increasing oil price assumptions. Finally, there is some value to Harvest's worldwide exploration properties, though the number is impossible to quantify.
Harvest Natural Resources — What Is The Company Worth?
Net asset value per share exceeds recent stock price at various assumed crude oil prices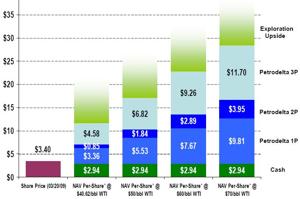 Source: Company, March 26, 2009.

We judge Harvest shares to have strong downside protection due to (1) net cash equal to 84% of market value, (2) demonstrated willingness and ability to repurchase stock at depressed prices, (3) capable management and skilled engineering teams, (4) low-cost Venezuelan producing assets that are profitable even at low oil prices, and (5) proven ability to boost reserves and production in Venezuela, thereby delivering strong value to its government partner PDVSA.

Harvest Q&A

Q: Having nationalized Harvest's Venezuelan operations, why does the Chavez government keep Harvest around at all?

A: Harvest's engineering teams have shown that they can boost reserves and production significantly beyond levels achievable by the government-owned company PDVSA. It makes economic sense for the Chavez government to compensate Harvest for delivering incremental value. The fact that Venezuela recently awarded Harvest additional fields bodes well for the company's future role in Venezuelan oil production.

Q: Harvest's GAAP financials look scary, with no revenue and large losses. What is going on?

A: Since Harvest owns only 32% of the Venezuelan company that owns the Petrodelta oil-producing assets, GAAP requires Harvest to record Petrodelta income on one line of the income statement as "net income from unconsolidated equity affiliates." As a result, Harvest shows no revenue from oil sales. The GAAP income statement makes Harvest look like an oil exploration company even though Harvest owns highly profitable producing assets.

Q: OPEC recently announced reductions in producing quotas for its member states, and Harvest was forced to limit production as a result. What impact will this have on results going forward?

A: Harvest's Q4 production increased slightly from Q3 levels despite the OPEC quota cuts, so it does not appear that the impact will be significant. Harvest may have to wait before ramping up production from new oil fields in a big way.

Q: Paint a scenario that would result in significant downside for Harvest shareholders.

A: Shareholders would likely suffer permanent impairment of capital if both of the following events came to pass: (1) Venezuela strips Harvest of its 32% stake in the Petrodelta operating assets; and (2) Harvest's exploration projects burn cash but ultimately fail. We consider the likelihood of both of these scenarios playing out at the same time as extremely unlikely.
Disclosure: Long HNR