No doubt you have played the game of 'what would you bring to an island if you could only bring one item' and heard answers ranging from a good book to a fishing pole or a rocket ship. But what set of trading rules would you choose if you could only pick one set?
Would you buy and sell based on dividend yield? Trailing Sharpe ratios? Market outperformance? Earnings, revenue or dividend growth?
My first choice would be to buy and sell based on a change in earnings forecasts.
Upgraded Earnings Forecast
If you look at the American Association of Individual Investors model performance page, you will notice that the highest average annual returning system buys stocks with earnings revised upwards by 5% or more. I use a similar rule to create my simple portfolio.
My rules are as follows (all simulations are run compliments of Portfolio123):
Buy Rules: Current EPS estimate for the current year is up at least 5 percent from last week's estimate
Selling Rules: Current EPS mean estimate for current year dropped from last week's estimate
I run this simple two rule system in the Nasdaq exchange since 1999 and my compound annual growth rate clocks in at 31 percent (6.06 percent average return in 78.83 days average hold time - stats taken over 31,824 sample trades) - which is a few percentage points higher than AAII.com although still ballpark.
But what if I was allowed to add just one more tool to refine my selection from hundreds of stocks down to just a portfolio that I could actually buy...20 or so stocks? If allowed, what one other tool would I add?
Ranking Systems
Upgraded earnings forecasts seem to produce more predictable returns on smaller stocks with less than average analyst coverage. In line with this, if I had to pick just one other tool to trade the upgraded earnings forecast strategy with, it would be a microcap ranking system (Portfolio123). Asking for a ranking system is kind of like saying for my last wish I would like 100 more wishes...but this is my financial island so I make up the rules.
The ranking system is called Microcaps and looks for value metrics with price strength (in addition to favoring small stocks). This ranking system analyzes hundreds of 'upgraded earnings' stocks and selects the top 20 ranked companies. Below is a backtest in the Nasdaq using the one buy and one sell rule with the top 20 ranked Microcaps rankings being held in a portfolio.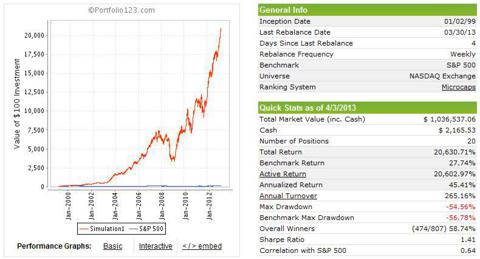 These stats are good but it does not account for price slippage, which is significant in smaller stocks. I re-run the test using 'variable slippage' - which is a setting on the Portfolio123 platform that adds a more realistic slippage based on the trading volume (from 0.15 to 5 percent).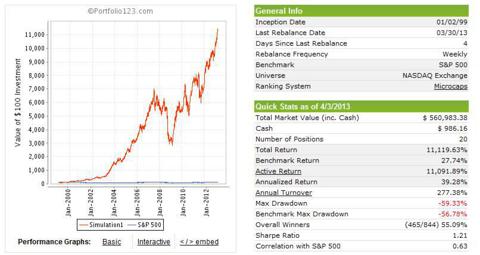 Price slippage reduces our annualized return by 16% - although it still remains well above the market average.
Let's quickly look at a few stocks in the portfolio to see what is being recommended.
Smith & Wesson Holding Corp.
The first is Smith & Wesson Holding Corp. (SWHC). This stock has rose hard from $3 near the end of 2011 to $11 last year and a pull-back to $8.50.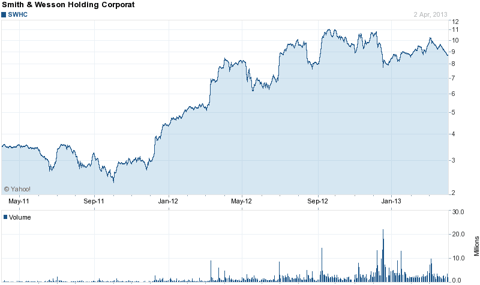 What might give this stock some upside room to run? First consider the percentage of the float that is short - over 20. Put this in the context of a low trailing P/E ratio of 8.79. The last 3 of 4 quarters had earnings surprises and 2 of the quarters had surprises more than 50%. Next year's earnings estimates are climbing from 92 cents (90 days ago) up to $1.09 now - although this is still less than what is expected to be earned this year.
Of course, some potential investors fear regulatory risk while others fear the durability of guns, meaning that a person who buys a gun today will not need a replacement for a long time.
Joe's Jeans Inc
Joe's Jeans (NASDAQ:JOEZ) looks expensive according to the trailing P/E ratio of 21 but the forward P/E is little more than half of that at 12. Price to sales is under 1 with book value just over 1. There is some good value metrics here even though the price compared to annual profit might seem a bit steep.
The chart below clearly shows how fast share prices have accumulated this past 4 months.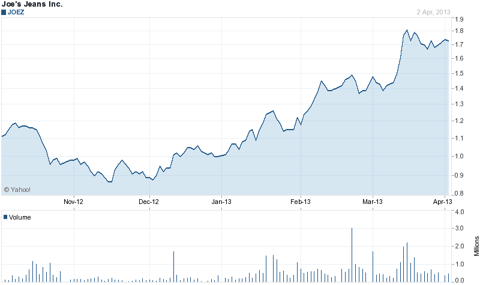 Earnings estimates have risen from 0.08 (90 days ago) to 0.12 for this year and from 0.09 (90 days ago) to 0.14 for next year's EPS. The mean recommendation is a buy and they have delivered three very large earnings surprises in 3 of the last 4 quarters...although the percentage looks abnormally big when earnings are estimated around a penny (one .02 EPS when you expect .01 is a 100 percent surprise).
Micron Technology Inc.
I ran the set of upgrade rules on the S&P 500 with a value ranking system (microcaps would be meaningless in that context). The returns were not nearly as high with an average CAGR of 17.44%. The drawdown was much higher than the index as well. If you are to use this earnings upgrade system with the S&P 500, consider using some form of risk management or market-timing.
Micron (NASDAQ:MU) has recently been revised from a forecast of -0.54 this year to -0.44, with next year climbing from 0.49 (90 days ago) to 0.69. Analysts still rate this as a buy although an 8.2% float short seems to indicate that not everyone agrees. There has been a pullback recently but considering the share price almost doubled over the last 6 months I would say it is pretty normal.
NRG Energy
Another S&P 500 (NYSEARCA:SPY) pick I would keep an eye on is NRG (NYSE:NRG). Over the last 90 days the earnings revisions have been great with the current year EPS forecast going from 0.46 to 0.94 and next year from 0.24 up to 1.32.
This has good value when considering the price to sales of 1 and price to book of 0.86 with high cash per share of 6.46. But the earnings when compared to share price needs to play a little catch-up when looking at the forward P/E ratio of 20.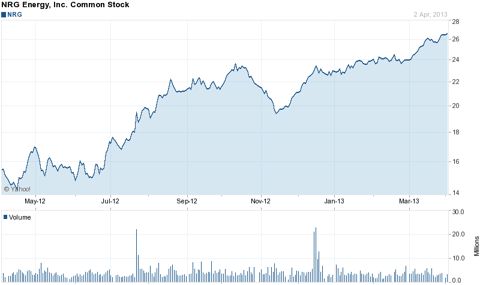 Summary
Getting back to my initial premise, if I could only pick one set of rules it would be to trade based on upgraded earnings forecasts. Of course, value would be my next tool to determine if the shares were already over-valued from a big momentum run and then possibly short interest would be my third to see if a buying frenzy was possible once the value stock started to rise with a sunnier forecast.
What is your top investing or trading rules? Please comment below.
Disclosure: I have no positions in any stocks mentioned, and no plans to initiate any positions within the next 72 hours. I wrote this article myself, and it expresses my own opinions. I am not receiving compensation for it (other than from Seeking Alpha). I have no business relationship with any company whose stock is mentioned in this article.