There has been a great deal of change in the make-up of U.S. power generation over the last several years. This kind of change, and the rapidity with which it has occurred, raises some fundamental questions. Will natural gas be the base load supply of the future? Will renewable sources finally start making a dent in power generation? Will the nuclear and coal power plant fleets be allowed to retire into oblivion? Will new coal-fired plants even be allowed to be built after 2015? Will a LNG export terminal or northwest coal terminal be built in the near future?
This article can't hope to tackle all of those topics. Instead, I'll take them one at a time and, hopefully, drum up an interesting dialogue in the comments section along the way.
Coal-to-Gas Switching
Anyone who has paid attention to the electrical generation markets over the last couple years has been watching the coal-to-gas phenomenon. As natural gas prices bottomed out below $2/MMBtu last year we saw, for the first time, coal and natural gas share the same percentage of U.S. electrical power generation. You would think that this would be good news to some of the major U.S. natural gas producers such as Exxon (NYSE:XOM), Chesapeake Energy (NYSE:CHK), Anadarko (NYSE:APC), Devon Energy (NYSE:DVN), and BP (NYSE:BP); however, the increased volumes have not been able to offset losses caused by low prices -- particularly for NG-only producers (that is, those producers that produce NG as their primary product rather than as a byproduct of oil).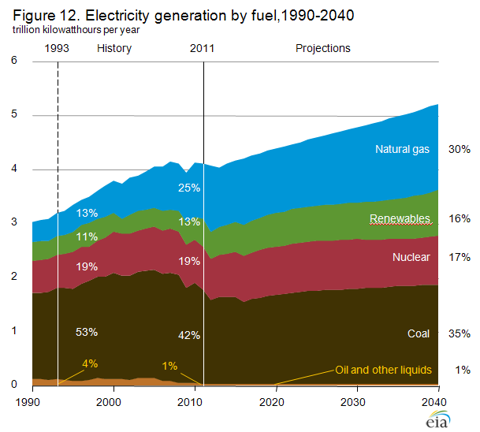 This trend has reversed itself in recent months as gas prices have risen and coal producers such as Alpha Natural Resources (ANR), Arch Coal (ACI), and Peabody (NYSE:BTU) have been able to maintain near-record low prices by cutting higher cost production (other factors play a role as well, such as decreases in transportation costs due to cuts in rail rates). However, the writing seems to be on the wall in terms of coal loosing its long-held position as the primary base load power producer in the U.S.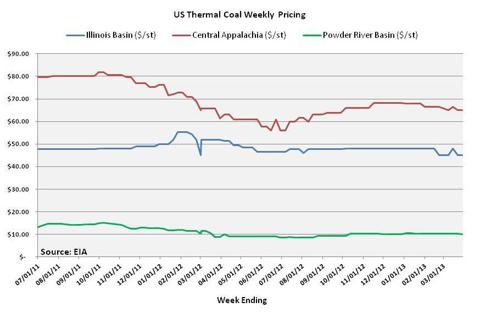 "If you want to see the price of natural gas rise … replace the entire fleet - all coal and all nuclear over the next 20 or 30 years - with gas. You are going to regret it," - Thomas Farrell, CEO of Dominion Resources (NYSE:D) at a recent conference
Mr. Farrell's comment is an interesting one. It cautions moderation in regards to rapidly switching to gas and allowing the U.S. coal-fired power plant fleet to retire (granted, this will not completely occur until 2050; however, new plants will need to come on line to offset those losses). The below graph (based on EIA data) seems to support the broader trends implied by Mr. Farrell's comment. As the U.S. is forecast to become increasingly dependent on natural gas for power generation, we see a corresponding increase in NG prices. There are numerous other factors, aside from increased domestic demand, that can have an impact on prices (environmental regulation, the potential of an LNG export terminal in the U.S. or Canada, increasing CAPEX expenditures as NG is more heavily relied upon -- just to name a few). However, market demand is the impetus behind this increase.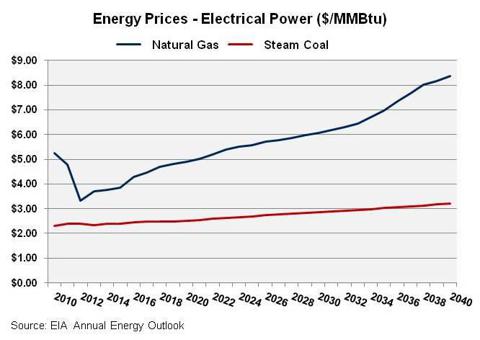 At the recent Wall Street Journal conference, David Crane, the CEO of NRG Energy (NYSE:NRG), stated, "Natural gas is in the process of wiping out the coal industry. The big shock is that it is wiping out the nuclear industry faster than we thought." If you've read either of my recent articles on natural gas or Powder River Basin coal, then you know that I don't necessarily 100% agree with this statement, but it's probably closer to the truth than many would like to admit. Nevertheless, the overzealousness of coal-to-gas switching has, in my opinion, been somewhat overblown.
I've used the below graph before because it does a great job of illustrating the comparative cost of natural gas and the various U.S. coal regions. As you can see, at current natural gas prices we should be seeing PRB and ILB coal being more heavily relied upon.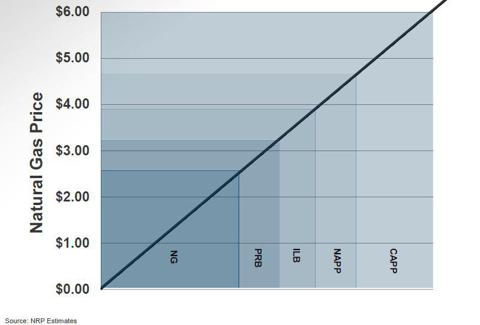 There is a huge caveat to this analysis; namely, the cost of transporting coal long distances. The cheapest coal from the Powder River Basin (with the latest EIA delivered price at $2.06/MMBtu for the cheapest producers), must travel from the remote areas of northern Wyoming and southern Montana to reach population centers. In the below map, you can see just where that coal is being delivered. Despite these high transportation costs, I believe PRB and ILB coal will continue to take market share from Central Appalachia (with the latest EIA delivered price of the cheapest producers at $3.70/MMBtu) and hold their ground relative to natural gas. One of the primary reasons is that production costs should not increase significantly in the next few years. One of the most important factors in terms of production costs, strip ratios, are expected to remain flat for some of the larger mines in the region well into 2015 (Absaloka, Caballo, Coal Creek, Cordero Rojo, Eagle Butte, etc). This should positively impact companies such as Westmoreland (NASDAQ:WLB), Cloud Peak (NYSE:CLD), Peabody, Arch, and Alpha. The thick seam should allow for PRB coal to maintain, and most probably grow, market share until which time the conflicts surrounding export terminals will be settled (a topic for another day). ILB costs are expected to decrease over the next several years. Increasingly, coal from the two Basins is being blended to provide a cheap, lower sulfur, moderate BTU product.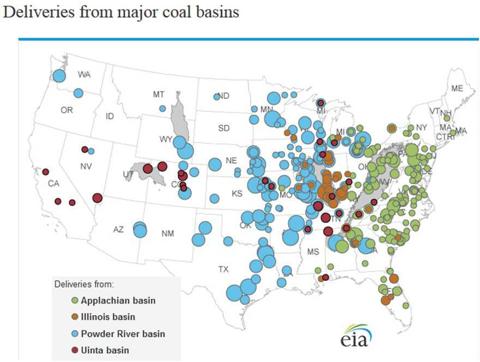 Conclusion
Will natural gas, for a myriad of reasons, continue to eat away at coal's market share in the long-run? Almost certainly the answer is yes. However, I believe the worst is behind us in terms of immediate, significant changes in U.S. power generation. The shift will revert to a slow march towards natural gas. Consequently, some of the coal companies I've mentioned have brighter prospects than their recent share price performance would indicate. While Appalachia will most likely never recover (aside from Met production, PCI coal, limited exports to Europe), the ILB and PRB regions still have a lot of potential for solid return on their U.S. business with potential upside for future exports.
As I look back over this article, I realize that I've lightly touched on many topics that could be entire articles in their own right. I look forward to your comments.
Disclosure: I am long CLD. I wrote this article myself, and it expresses my own opinions. I am not receiving compensation for it (other than from Seeking Alpha). I have no business relationship with any company whose stock is mentioned in this article.