The health care sector with a year-to-date total return of 15.67% (according to NAREIT) has been one of the best performing REIT property sectors so far this year. The growth in that sector has been in large part due to the mid and small cap REITs that have managed to ride on the coattails of the sector's attractive necessity-driven fundamentals and durable earnings growth.

The returns for the health care REITs continue to outperform the broader market as the asset class has muted risks due to the more defensive investment characteristics. Namely, health care structured investments are non-cyclical meaning that people don't tend to change their healthcare spending pattern frequently. That stability is the driving force behind the REITs that make up the NAREIT health care index (note Aviv REIT was added on March 26th):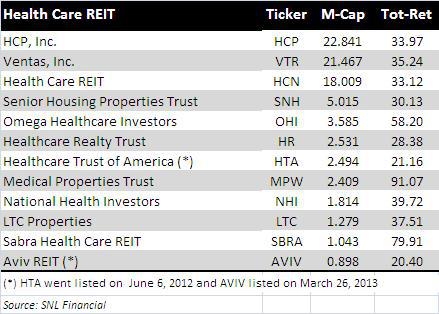 Health care REITs indirectly participate in the defensive nature of their tenants through their lease payments and many of the leases are long duration and triple-net, meaning that the tenant is responsible for taxes, insurance, and maintenance.
Accordingly, the triple net lease feature allows for a more predictable cash flow stream because the building owner is not responsible for the variable costs. Many triple net leases contain contractual annual rent escalations, providing REIT investors with steady cash flow growth over time.
It's clear that non-cyclical health care demand as well as long-term lease fundamentals has made health care REITs one of the most predictable sources of dividend income. Conversely, Mr. Market has driving the success of some of the top REIT performers this year, including Medical Properties Trust (NYSE:MPW), Omega Healthcare Investors (NYSE:OHI), and Sabra Health Care REIT (NASDAQ:SBRA). These three REITs have returned an average of 76% so far this year.

Recently Dane Bowler explained (in an article) his desire to invest in health care REITs. As he wrote:
Healthcare REITs provide a nice counterbalance to the cyclical hoteliers as the medical industry is somewhat recession-proof. One of the driving forces of outperformance that I mentioned above was the ability to make accretive acquisitions despite the general spread compression.
Of course we all know that with higher returns comes higher risk. REIT Investors are becoming increasingly sensitive to the pursuit of higher yielding assets, sometimes without recognizing the risks that abound.
High Risk, Means High Returns
Today the greatest risk to health care REITs are the economic and regulatory trends including, but not limited to, employment growth, availability and cost of capital, potential cuts to government-funded programs, and increased regulations that could place pressure on the profitability of health. Additional risks include seniors' unwillingness to move and family members' willingness and ability to offer free care.
Collectively these risks, whether muted or not, have been discussed in a number of previous articles that I wrote on Seeking Alpha. In an article I wrote back in April (2012) I recommended OHI at $21.44 per share, and since that time, shares have climbed to $32.03 -- or just over 46%.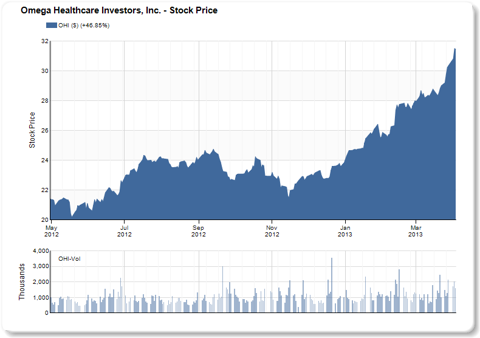 Also, back in November (2012), I wrote an article recommending Medical Property Trust when shares traded at $11.62. Since that time, MPW shares have soared to $16.40 -- over 40% in just five months.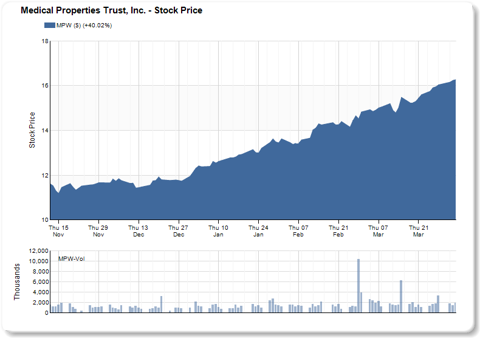 One of the new REITs on the block, Aviv REIT, recently entered the publicly-traded market with an IPO that opened up at $20.00. In just 15 days, the shares have climbed over 20% to a recent close of $24.00.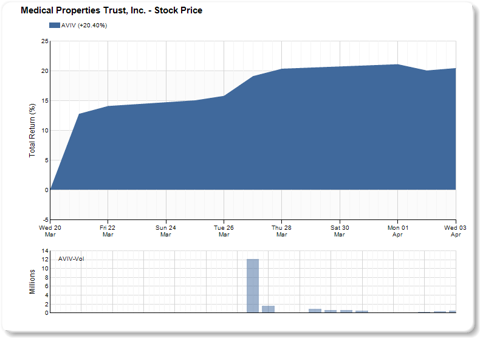 Driving the growth for these three REITs are the investment characteristics of acquiring low quality credit leased properties at higher cap rates. As Dane Bowler wrote:
In the past year Aviv has made over $128mm of acquisitions at cap rates averaging around 10%. Omega landed $206mm of 10.96% cap rate acquisitions. For both companies the lease durations are equal to or greater than 10 years and come with built in escalators.

A vast majority of healthcare properties are still owned by the operators. This creates a vast pool of sale-leaseback opportunities to fuel acquisitions going forward and both AVIV and OHI are well positioned to take advantage.
Bowler went on to explain:
Healthcare REITs in general are not cheap as the sector's securities trade at an average multiple of 16.8. OHI and AVIV, however, remain a fair deal at only 12.7X and 12.0X FFO, respectively.
It's clear to see that these "higher risk" assets are also driving the returns, and it's important for investors to understand the risks and the value proposition of investing in lower quality vs. higher quality assets. Simply said, OHI, MPW, and AVIV have all turned in outstanding total returns in recent months; however, there is reason to believe there is a lower margin of safety when there is mispriced risk.
What Is Mispriced Risk?
Earlier today I was responding to a question from a Seeking Alpha reader. The comment in that article was framed around the notion that I was a "trader" and not a long-term "holder." Here is the comment:
His (referring to me) initial 'take" on ARCP going back to last Sept. 23 was negative, and when they broadened their portfolio, his opinions turned more and more positive, and now with a potential Cole purchase, he is again negative. That's fine if you are a trader, but not for a long term buy and hold investor, which I am. I purchased at the IPO and still own the shares.
My reply was:
As Ben Graham believed, "selecting securities with a significant margin of safety remains that value investor's definitive precautionary measure" and "the wider the margin of safety, the lower the risk and the greater potential for gain".

On Sept 23rd I was "negative" on ARCP because there was NO diversification with most of the REIT's portfolio consisting of legacy bank branches. Later, ARCP increased its asset base and rounded its diversification in tenant, type, geography, etc...

Now, I see less "margin of safety" in ARCP and specifically the management team that has little experience in shopping centers and office buildings. In short, I see "mispriced" risk....regardless of whether you are a "trader" or "hold" investor, it's critical to recognize "mispriced" risk"
I really liked the following quote that followed (from another reader).
"When the facts change, I change my mind. What do you do, sir?" - John Maynard Keynes
I'm not a trader. I'm an investor and I claim to be an "Intelligent REIT Investor." I have written detailed articles on both MPW and OHI and I have loved watching the performance records of both REITs. However, I am feeling like the risk of owning lower quality assets (that means higher cap rates) does not adequately reflect the premium of the risk-adjusted shares, especially when compared with the higher quality peers.
Let's compare some of the higher-quality portfolio returns: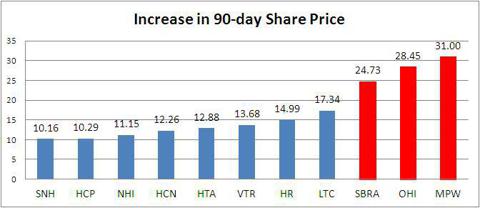 It's clear that the REITs with the lower quality asset portfolios (higher cap rates) have been on a run. Alternatively, cap rates have continued to compress for high-quality portfolios and that has created a potential rally in the overall sector. Hence, the concept of mispriced risk.
David Schawel, CFA, wrote about mispriced risk on the Pragmatic Capitalism website:
I am firmly in the camp that both credit and duration is being dramatically mispriced due to the actions of the Fed. They've created a reckless chase for yield that is being driven not so much by greed, but rather by needs based investing. The yield piñata has burst and participants far and wide are scurrying to accumulate what they can across all sectors of the fixed income markets: IG corporates, CMBS, Non-Agency MBS, High Yield, Levered Loans, Munis, and others.
I love these examples of misplaced risk that Steve Roth described on the Angry Bear website:
Having to tell your six-year-old son that you don't have a birthday present for him because you didn't have any money left after buying food for the week.

Telling your daughter she has to attend the semi-shitty local community college instead of the awesome out-of-state school where she was accepted and is dying to go.

Shutting down your small business and taking a shitty wage job because your customers evaporated, due to financial forces utterly beyond your ken and control.

Ending up $900,000 in debt for your dead husband's terminal cancer treatment, because you didn't have a spare $12,000 a year to spend on health insurance.

Being forced from your family home, even from your whole community of decades- or generations-long friends and family, because you made the foolish and irresponsible decision to get married and buy a house in 2006 instead of 2003.
But wait. It gets better. Roth provides great insight into those that price the risk:
The money managers and financial prestidigitators who "price" "risk" don't face any risk. If they blow it they'll be fine, (maybe) just somewhat less prosperous. They and their kids will go to nice schools, live in nice houses, and have good health care.

If they blow it, even to the point of blowing up their companies or the whole financial system, they'll be fine, (maybe) just somewhat less prosperous. Even if their (firms') behavior was deceptive and fraudulent by any reasonable measure, they face (statistically) approximately zero risk of going to jail.

They (we) have offloaded all the risk onto the people whose money those managers are managing, on the low-level employees of their own firms, and on the employees of the firms whose finances they're arbitraging with sophisticated, high-risk, leveraged machinations.

Is it any surprise that the cost of insuring against so-called "risk" in the world of money management turned out to be so wildly underpriced? It's because the people buying and selling that insurance weren't facing, and don't current face, any actual risk.

They've found a way to get real insurance against real risk, from real people, and they don't even have to pay those people any premiums.
OK friends. Consider this article my second "harbinger" warning. My first warning (article link here) was on cap rate compression, as I explained:
Given the hunger for yield, REITs have been able to fund acquisitions quite easily, and that continues to drive down capitalization rates (cap rates) - or the income generated from a property divided by its value. Accordingly, the driving force behind cap rate compression - strong demand for stable income-producing investments - has made it much easier for REITs to access low-cost debt (or ease of raising equity), and that, in turn, has led to a scarcity of good-quality properties on the market.
I went on to say:
I have provided you with a measure of risk control and an outlook that is perhaps the "calm before the storm.
Now, fellow investors, I am feeling somewhat nervous and the purpose for this article is to provide you with one important and increasingly dangerous risk: be careful when buying lower quality (health care) REITs that pay higher dividends. This is not say that I would immediately unload all of your shares in OHI, MPW, or AVIV. I simply want to make the case that in the long run, high quality always wins. It is important to consider your rotation strategy, especially when owning non blue-chip securities.
Ralph Block recently explained the concept in an article, "Dialing Back Stress" (in SNL article):
Emphasize blue-chip REITs, particularly those with strong balance sheets (including low debt leverage) and a track record of smart capital allocation. These REITs are less likely to make mistakes - and, when they do, the damage is likely to be minimal. High-quality property profiles also help, even though they may, in some markets, be a bit more cyclical over the short term. Many of these stocks can, with reasonable safety, be bought and put on auto-pilot (but we need to be mindful of changes in top management).
Here are some health care REITs that I would recommend with better risk-aligned models:

Healthcare Trust of America (NYSE:HTA) (closed at $11.61 per share) appears to be the most attractive risk-aligned healthcare REIT. The Scottsdale-based REIT owns 266 properties (12.7 million square feet) with a market cap of around $2.5 billion. Shares have increased by around 12.8% this year and I expect to see more growth as the company unlocks its 3rd tranche of non-listed shares in June (and the final tranche in December). As more shares are unlocked, there will be more institutional ownership further building momentum for the stock to climb (my new target is $13.50).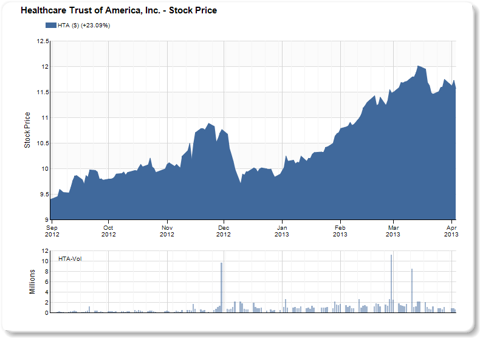 Here is a recent Seeking Alpha article link on HTA, and here is a video link (an interview) with the CEO, Scott Peters, on The Street.
Source: SNL Financial, NAREIT
Disclosure: I have no positions in any stocks mentioned, and no plans to initiate any positions within the next 72 hours. I wrote this article myself, and it expresses my own opinions. I am not receiving compensation for it (other than from Seeking Alpha). I have no business relationship with any company whose stock is mentioned in this article.