Courtesy of Economist.com, here is a graphical look at unemployment rates around the globe: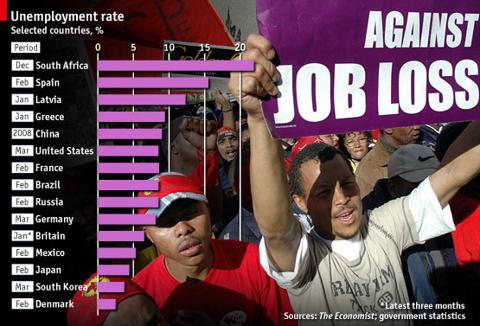 Graphic courtesy of the Economist.com
(From Economist.com): "UNEMPLOYMENT is accelerating in many countries as companies shed jobs in an attempt to survive the global recession. On Tuesday April 14th, Russia's president Dmitry Medvedev said he was "deeply alarmed" that unemployment levels were rising more rapidly than forecast, to reach 8.5% in February. This week Greece announced that unemployment had risen from 8.9% in December to 9.4% in January. Spain's economy has crashed since its housing and construction boom ended. In four months unemployment rose nearly three percentage points to stand at 15.5% in February. Countries in severe financial trouble, such as Latvia, Iceland and Estonia have also seen rates rise rapidly."
One the things that concerns me most about rising unemployment in the U.S is that many of the people who've lost their jobs are going to find themselves underemployed in the future. Many high-paying manufacturing jobs are gone for good, white collar workers may find themselves dealing with a lower pay scale on an on-going basis, and many employers aren't going to "give back" the mandatory pay cuts imposed on many workers. As a result I anticipate lower consumer spending, consumer confidence, etc, even after the official unemployment rate returns to pre-crisis levels.
To be sure we saw some of this after the last recession and it was one of the factors that led to the increased use of consumer credit, as more and more consumers used credit as an income supplement. In a post credit bubble world credit will be harder to come by even after the financial sector recovers, which should only serve to exasperate the declines in consumer spending the pain felt by the retail sector.
Either way the true pain caused by rising employment will continue to be felt even after the economy recovers.
Sources:
Economist.com: "How the recession hurts" -- April 15, 2009
Disclosure: at the time of publishing the author didn't own a position in any of the companies mentioned in this article; the ideas expressed are solely the opinions of the author and shouldn't be viewed as financial or investment advice.