The EIA Weekly Natural Gas Storage Report for the week ending March 29, 2013, finally showed natural gas storage has fallen below the all important 5 year average. Overall, natural gas storage was reported to be 1,687 Bcf versus the five year average of 1,724 Bcf. Natural gas storage was reported to be 10.3% below average in the East Region and 4% below average in the Producing Region, but still 25.5% above average in the West Region.
At the end of February there were still no analysts predicting natural gas storage would fall below the 5 year average by the end of March. The colder than normal temperatures in the first week of April should lead to another bullish draw of natural gas next week placing the East Region and the Producing Region even further below the 5 year average for the week ending April 5, 2013. Because this event has only recently been anticipated, the real implications on the impact of natural gas storage and natural gas pricing have not been thoroughly analyzed by most analysts. Since no one knows if a major hurricane will enter the Gulf of Mexico or what the temperatures will be this summer, a strong case can be made that all coal to gas switching needs to be priced out of the market immediately.
Assuming the draws of natural gas will end and the injection season will begin after this week, then according to the EIA Storage Report 2.3 Tcf will have been withdrawn from storage this winter. Since storage started at 3.95 Tcf, and unlike last year the winter has ended with a couple of cold shots, the assumption may be that 3.9 Tcf is too much storage in the first place. That assumption would be wrong. A simple analysis of this winter shows that overall the temperatures in the U.S. lower 48 states were slightly above normal. According to the NOAA December and January were above normal and February was normal: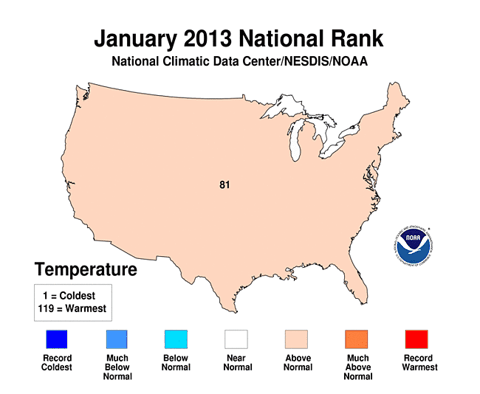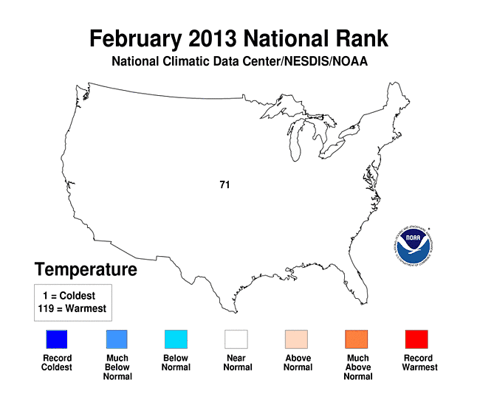 The data is not yet available for March 2013. But initial indications of average temperature place March 2013 at .2 degrees warmer than March of 2002, which ranked as the 33rd coldest March on record: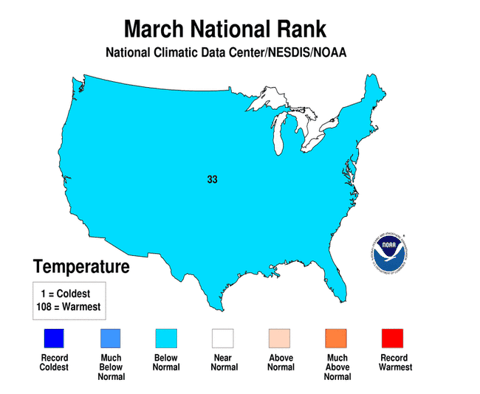 The point the market has yet to absorb is 2.3 Tcf is a lot of natural gas to burn through in a winter with overall temperatures a little above normal. Storage has to be prepared for one of the coldest winters on record. Only last year we had the warmest winter on record teaching us that extreme temperature anomalies can occur at anytime. This year the United Kingdom is having a very cold winter compared to normal and natural gas storage has fallen below 5% of capacity requiring emergency shipments of liquid natural gas from Qatar. According to the EIA Storage Report in 2008 to 2011 between 2.186 Tcf to 2.273 Tcf of natural gas was injected into storage. Because of the warm winter leading to significant coal to gas switching only 1.56 Tcf was added to storage in 2012 and that is not indicative of a normal injection season in the current era. There was virtually no coal to gas switching during the injection season between 2008 and 2011.
In order to inject 2.3 Tcf this year we will also need to end coal to gas switching. Some would argue that production in 2013 is higher than in 2011, which is the last year of the non coal to gas switching comparison. But industrial demand in 2013 is higher than in 2011, over 50 coal plants were retired in 2012 due to EPA regulations and were replaced primarily with new natural gas power generation plants, and imports of natural gas from Canada will be down from 2011 levels.
According to the EIA Energy in Brief Appalachian coal represents 30% of the nations coal supply. Over 90% of the nations coal usage is for electrical power generation. Almost all of the Appalachian coal plants are in the East Region and Producing Region that are running the largest natural gas storage deficits. Unless there is an end to coal to gas switching in those Regions they will not be able to replace their share of the 2.3 Tcf drawn from storage this winter without very very favorable weather. Central Appalachian coal currently requires a price of $4.50 per mcf of natural gas before power companies would switch back to coal. But coal prices are also depressed and would likely rise in tandem with any rise in natural gas prices. Therefore, it will probably take an average price of $5 per mcf of natural gas to end almost all coal to gas switching.
Investors looking to take advantage of a potential rise in NYMEX natural gas futures based on the need to end coal to gas switching in order to erase the storage deficit should consider the United States Natural Gas Fund (NYSEARCA:UNG). Those looking for a longer term investment in an exploration and production company with an overweighted exposure to natural gas production should consider Chesapeake (NYSE:CHK), EOG Resources (NYSE:EOG), Devon Energy (NYSE:DVN), Ultra Petroleum (NASDAQ:UPL), Crimson Exploration (NASDAQ:CXPO), and Comstock Resources (NYSE:CRK).
Disclosure: I have no positions in any stocks mentioned, and no plans to initiate any positions within the next 72 hours. I wrote this article myself, and it expresses my own opinions. I am not receiving compensation for it (other than from Seeking Alpha). I have no business relationship with any company whose stock is mentioned in this article.