Jaguar Mining Inc. (NYSE:JAG) continues to grow at an impressive rate and dollar for dollar offers investors a great opportunity, says Blackmont analyst Richard Gray.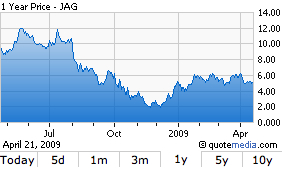 Mr. Gray maintained his "buy" rating on the stock and left his price target of C$12 unchanged after a tour of Jaguar's operations down in Brazil.
"Unlike certain emerging producers with one mine and one start-up, Jaguar's growth is more gradual and more sustained, and in our view, lower risk," he wrote in a report.
The analyst said Jaguar provides the sector's best combination of growth and valuation and continues to benefit from "excellent infrastructure and a stable workforce and is increasing its focus on a plethora of brownfield targets,"
He added that he expects the gold producer to increase production in each of the next seven quarters.