INVESTMENT THESIS SUMMARY:
A detailed analysis of Pfizer's (NYSE:PFE) operations, research and development pipeline as well as M&A history provide little encouragement that a period of extended earnings expansion will precede the current period of significant portfolio turnover. 2013 will prove to be a pivotal year as the company continues to face notable headwinds while finding itself in the unenviable position of having an industry leading debt obligation coupled with falling sales and eroding cash flows.
Through our analysis, we fail to witness the same degree of enthusiasm from recent approvals that underpin current consensus estimates for Pfizer and have spurred the price surge in the company's outstanding shares over the past 18 months. That said, we are assigning a $24 price target for Pfizer's outstanding common shares based on the current makeup of the company though we anticipate additional business unit divestitures over the next 24 months that would further impact company valuations.
COMPANY SUMMARY:
Pfizer is a leader in the biopharmaceutical industry and has been a stalwart in the healthcare sector for decades. 2012 revenue totaled $59.5 billion with the company reporting earnings of $2.19 on an adjusted diluted per share basis. Pfizer currently segments its business across; Primary Care, Specialty & Oncology, Established Products & Emerging Markets, Consumer Health and other areas of operation.
The company has been besieged by the loss of patent exclusivity within its product portfolio, and ongoing research and development shortcomings and spotty M&A success over the past decade greatly eroded shareholder value in recent years. The debate that has come into focus, initiated by a string of recent FDA approvals, centers on the ability of the company to acquire and/or bring new products to market that will foster revenue growth and favorably impact company valuations.
PRODUCT PORTFOLIO: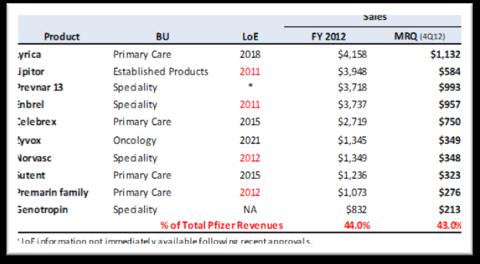 The evolution of Pfizer's portfolio of patent-protected drugs has been significantly altered in recent years. Looking at the status of the company's top 10 selling drugs as of the most recent reported quarter, nearly one-half have already reach patent expiry in the past 24 months. The remaining patent protected therapies include Lyrica, a treatment for nerve pain with nearly $4 billion of annual revenue. Vaccines Prevnar and Prevnar 13 contribute approximately $3.7 billion of sales per year. The cancer medication Sutent and infection fighting antibiotic drug Zyvox each have annual sales of over $1 billion. Pfizer was also awarded an unexpected reissue of the primary patent for Celebrex that will extend the protection period for the pain reliever until December 2015.
The list does not take into account Pfizer's share of co-promoted sales for drugs such as Spiriva, Aricept and Enbrel that in total contributed $3.4 billion (5.9% of total revenue) for fiscal 2012 and $915 million (6.1% of total revenue) in fiscal 4Q12 results respectively.
The ranking and top selling drugs also does not reflect recent FDA approvals and product launches such as the Johnson & Johnson (NYSE:JNJ) co-promoted arthritis drug Xeljanz, Bristol-Myers Squibb (NYSE:BMY) co-promoted Eliquis/apixiban or the expanded use for the Prevnar vaccines that we will highlight in greater detail later in the report.
Future State:
The patent expiry challenges faced by the company are well documented. 2013 offers somewhat of an opportunity for the company to realign its focus as no drugs are scheduled to reach expiry though the co-promoted drug Spiriva is scheduled to reach patent expiry in 2014.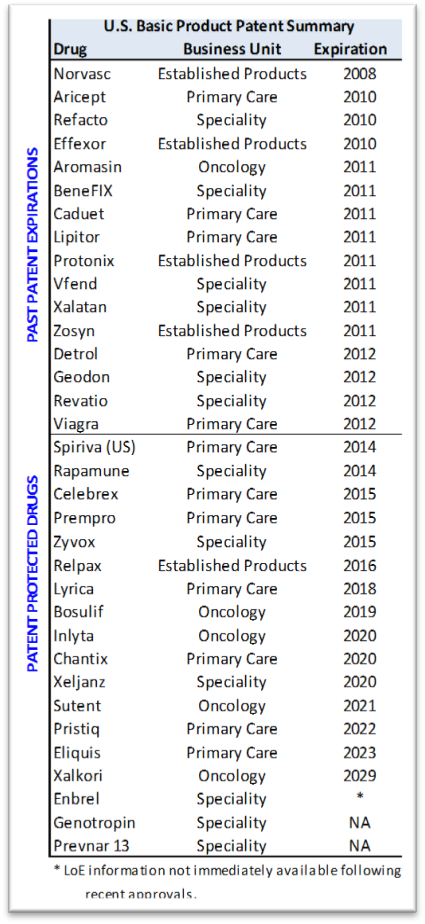 The replenishment of revenue for drugs lost to patent expiry is one of the core responsibilities of pharmaceutical executive teams. This can be achieved by some combination of; developing new compounds through R&D efforts, acquiring other pharmaceutical companies with existing inline portfolios or promising research pipelines or entering into co-promotional agreements with other pharmaceutical companies.
Research and Development:
An analysis of Pfizer's research capabilities is critical to evaluating its ability to discover and bring new products to market. Pfizer had long been recognized as a research leader in the pharmaceutical space and has continued to traditionally place among the leaders in annual research expenditures with the company spending over $7.8 billion in fiscal 2012 alone.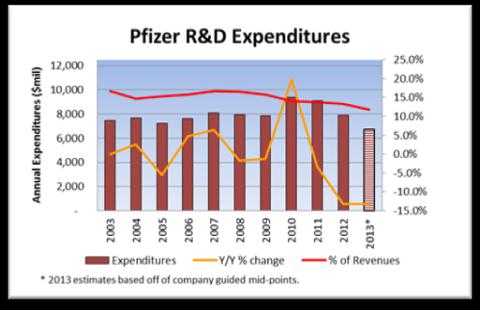 Despite allocating over $87.0 billion to R&D from 2003-2012, the company's research efforts had largely failed to produce any significant advancements through mid-2011. Through that period several high-profile compounds that had been viewed as potential blockbusters each failed late state testing following the disappointing FDA ruling on Torcetrapib (Atorvastatin) in 2006.
Pfizer's research performance has since become a source of heightened concern given the lack of new therapies brought to market through either the organic development of in-house compounds or through acquisition. The end result is that in addition to not developing a continuous revenue source needed to offset revenue lost to patent expirations, these failures endeavors have further strained company resources given the previously noted level of R&D expenditures coupled with an additional $8.0 billion in restructuring charges since 2010 alone.
Further analysis reveals that Pfizer's financial commitment to research and development efforts has demonstrated a significant decline in recent years. The company has announced several attempts to narrow its focus areas of research and the overall R&D spend has followed. Since the recent high in 2007, R&D expenditures expressed as a percentage of revenue, has fallen from 16.5% to an estimated 11.8% in 2013. On a total dollar basis the amount that Pfizer dedicated to research has declined by 27.7% from roughly $9.4 billion in 2010, a figure partially distorted by the late 2009 Wyeth acquisition, to an estimated $6.8 billion in 2013. The company's 2013 guidance came as somewhat of a surprise given that the projected $6.5 - $7.0 billion outlay represents a $900 million to $1.3 billion cut from reported 2012 data and $6.760 billion range mid-point would represent the lowest total since the pre-Pharmacia acquisition in 2003 $5.6 billion.
Cuts over the period have resulted in the closing or selling off of industry renowned research facilities in Kalamazoo, MI, Sandwich in the UK, and Cork, Ireland as well as Singapore with the company's primary research facility count falling from 20 to 14.
The recent reductions may initially appear to be overly aggressive but they are not unique to the industry. In reviewing the operating expenses of several leading pharmaceutical companies, Merck (NYSE:MRK) has slashed its R&D platform over the three-year period in a more pronounced manner by cutting expenditures by 26.5% from 2010-2012. On a relative basis, Pfizer has fallen to #4 in total R&D spend in 2012 and the mid-point of the company guided 2013 estimate would rank the company #7 in total spend for that year.

Despite the cuts, Pfizer has been moving to advance its presence in China to gain favor in the expanding market and to initially capitalize on the lower operating costs associated with the country. In addition to the Shanghai R&D center, where antibiotic research is now headquartered, the company has announced the establishment of a Wuhan Research & Development Center and research partnerships with two additional Chinese institutions over the period; Shanghai Institutes for Biological Sciences and Fudan University. Pfizer further tapped into the developing market early last year with the announced joint venture with its manufacturing partner, Zhejiang Hisun Pharmaceuticals to establish a dedicated research center to develop branded generic drugs for the Chinese market with a $250 million commitment.
It appears that the company is beginning to adapt a minimalist approach to research efforts with a heightened focus on development. We believe that this will allow the company sufficient bandwidth to progress acquired compounds rather than originating the research. We view a continuation of this trend to be the most likely scenario with Pfizer falling to the middle tier of the major pharmaceutical companies in terms of research spend through the end of the decade. Our projections for R&D spending are detailed in the financial forecast section of the report.
Pipeline:
The following pipeline analysis is based on the status provided by Pfizer as of November 2012. The pipeline as currently configured is segmented across five therapeutic areas. The company divides its development efforts into; cardiovascular and metabolic, inflammation and immunology, neuroscience and pain as well as vaccines and 'other areas of focus.'
Despite the significant research cutbacks, the R&D pipeline has produced several recent notable graduates and several compounds of interest have advanced over the last 18 months. The major benefactors of the company's recent success have been the vaccine and oncology franchises. Though the number of recent approvals has served to at least partially re-establish Pfizer's reputation for developing new therapies, several of the recent approvals will only marginally add to the company's revenue trajectory and others face potentially significant market acceptance hurdles.
RECENT APPROVALS:
Provided below are the investment thesis for several of the more notable recent approvals;
PREVNAR 13:

December 2011 and January 2013/Vaccines/The Wyeth acquisition - Prevnar was initially approved in 2010 for use in children age 6 weeks to 5 years old. The pneumococcal 13-valent conjugate vaccine was approved for the expanded use in individual over the age of 50 in December 2011. Testing proved that results from Prevnar 13 matched or exceeded Merck's Pneumovax 23 in a study of over 6,000 patients.
In January 2013, the vaccine was granted use in patients ages 6 -17 as anticipated. The expanded patient population greatly enhanced our projected demand for the vaccine that protects against 13 strands of strept bacteria that can lead to pneumonia and ear infections. Though neither approval should be viewed as an overwhelming surprise, the vaccine will clearly be an area of close monitoring in coming quarters.
We are forecasting Prevnar sales to total approximately $4.1 billion in 2013, up 9.6% from the $3.7 billion recorded in fiscal 2012 total sales expanding to over $5.2 billion in 2017.
ELIQUIS (APIXIBAN):

December 2012/Primary Care/Co-promotion agreement with Bristol-Myers Squibb - The Xa inhibitor was approved for the prevention of strokes and systemic embolism in patients with nonvalvular atrial fibrillation.
Eliquis represents a true modeling challenge. Clinical testing revealed an unexpectedly exceptional profile for Eliquis that has clearly distinguished it from competing therapies such as Johnson & Johnson/Bayer's Xarelto and Boehringer Ingelheim's Pradaxa. Specifically, the drug tested 21% superior to the current standard of care, Warfarin, in reducing the risk of stroke or systemic embolism and offers a superior safety profile versus the group as demonstrated by the 31% improvement in reducing the risk of major bleeding in patients experiencing atrial fibrillation, that increases the risk of stroke.
The significant opportunity that Eliquis represents is somewhat dampened by what we believe is unfavorable co-promotional contracting terms with BMY. This concern arises from an observed weakening of the Pfizer field force, marketing capabilities and lack of a compelling payer contacting theme to bundle the new therapy with at this time. Additionally, the upside of the new therapy was not fully realized until the completion of the ARISTOTLE study, at which time the agreement had been in place for over 5 years.
While we view the opportunity for Eliquis to be significant and the potential of additional indications to hold the possibility of doubling sales we are currently forecasting Pfizer's stake in the co-promoted product to be in the 35%-40% range versus the traditional 50%/50% co-promote revenue split. We are projecting a modest 2013 impact with revenue totaling approximately $150 million with the total expanding to approximately $1.4 billion in 2017.
XELJANZ (TOFACITINIB):

November 2012/Specialty/ Discovered and developed by Pfizer - Tofacitinib was approved as a second line treatment for adult patients that have been diagnosed with rheumatoid arthritis (RA). The unique characteristic of the treatment is that it comes in an oral form and represents the first in a new class of treatments known as JAK inhibitors that act by inhibiting the immune response signals within the cell that cause the inflammation response. Patients in clinical trials experienced an improvement in RA symptoms when compared against those receiving a placebo and a greater improvement in physical functioning.
International growth will be modestly inhibited as Tofacitinib will be introduced in Japan as a co-promoted product with Takeda Pharmaceutical Company Limited. We believe that the added convenience of an oral therapy coupled with the favorable efficacy profile will allow for Tofacitinib to reach the $1 billion annual sales milestone in fiscal 2015 despite lingering safety concerns related to patient infections. Overall, we are forecasting that the drug will have a modest impact on Pfizer's fiscal 2H13 results and generate sales of $575 million in fiscal 2014, reaching approximately $2.2 billion by fiscal 2017.
In addition to the above-provided projections, Xeljanz is currently in late stage testing for additional indications related to Psoriasis and Ulcerative Colitis (Phase III) as well as five additional Phase II trials. Any additional favorable trial data could serve to increase our revenue trajectory for the drug.
XALKORI (CRIZOTINIB):

August 2011/Oncology/ Discovered and developed by Pfizer - We view the approval of Xalkori as the first true pipeline successes in several years and a therapy that offer the potential for a degree of revenue upside. Xalkori has already garnered a high degree of interest among Oncologists for the treatment of lung cancer given the strong clinical performance of the therapy where tumor shrinkage or elimination was witnessed in patients at approximately 42 weeks of treatment.
Our primary points of hesitation largely involve the pricing of Xalkori as well as the testing requirements. In the current environment, the $9,600 a month price point may be met with payer and government resistance though Pfizer is offering patient subsidies to assist with offsetting the cost. Additionally, the need of patient screening for the ALK mutation via an Abbott Laboratories' (NYSE:ABT) diagnostic adds an additional $1,500 to the total cost of therapy as well as the potential need for multiple biopsies could serve as an additional hurdle to broad market acceptance.
We believe that Xalkori will contribute modestly to 2013 results with sales totaling $275 million. Our forecast also projects that sales will reach approximately $1.1 billion by 2017 though the figure could be at risk should pricing objections emerge.
VYNDAQEL (TAFAMIDIS):

November 2011/Specialty/Discovered and developed by Pfizer - Vyndaqel was approved for the treatment of Transthyretin Familial Amyloid Polyneuropathy (TTR-FAP) in stage 1 adults. TTR-FAP is a rare genetic disease that increasingly affects the neurological function in patients as it advanced. Vyndaqel is the first approved treatment of TTR-FAP and it works by slowing the progression of the disease by preventing the formation of mutated proteins and their deposits.
We believe that Vyndaqel will provide a modest impact on Pfizer's fiscal 2013 results with sales totaling approximately $125 million. We are projecting a sales increase in fiscal 2014 to $325 million and slow incremental growth through the remainder of our forecasted period with sales totaling $500 million by fiscal 2017.
INLYTA (AXITINIB):

January 2012/Oncology/Discovered and developed by Pfizer - Inlyta was approved for treatment of advanced renal cell carcinoma (RCC) following treatment of a prior therapy. There are approximately 30,000 cases diagnosed in the United States and approximately 250,000 cases of kidney cancer each year.
Pfizer currently markets both the current market leader for RCC, Sutent (2012 sales of $1.2 billion) as well as Torisel though Inlyta offered a slightly longer progression-free survival period than Bayer's Nexavar. GlaxoSmithKline's (NYSE:GSK) Votrient which was approved for the same indication in October 2009 appears to be well positioned to emerge as the standard of care for advanced RCC.
Given the considerably large number of clinically relevant alternatives and modest end-point enhancements, we feel that Inlyta will offer a modest acceptance in the market with annual sales reaching $325 million by the end of our forecasted period in fiscal 2017. However, our projections could be revised upward when additional data becomes available for trials related to a liver cancer indication that is currently being pursued.
BOSULIF (BOSUTINIB):

September 2012/Oncology/ The Wyeth acquisition - Bosulif was approved for the treatment of chronic myelogenous leukemia (CML) with the Philadelphia mutation and for patients who cannot tolerate or have stopped responding to other medicines.
Given the relatively small current patient population that the drug is currently approved for, we are taking a cautious approach to our forecasting. We believe that Bosulif will have a marginal impact on Pfizer's 2013 results and we are forecasting a modest 2014 sales figure of approximately $75 million in 2014 and reach $325 million by fiscal 2017.
CURRENT DEVELOPMENTAL COMPOUNDS:
Pharmaceutical drug development pipelines are largely a function of the research commitments of prior years. As previously noted, the success of the most recent 18 months has served to at least partially re-establish the ability of Pfizer to discover, develop and bring to market new compounds.
The impact of the aggressive cuts to Pfizer's research capabilities can be partially witnessed in the performance of the company's pipeline. Pfizer provides regular updates on the status of its pipeline and it is largely viewed as the primary catalysts for the company's recent favorable stock performance. The table below offers a summary of related information provided by the company each quarter;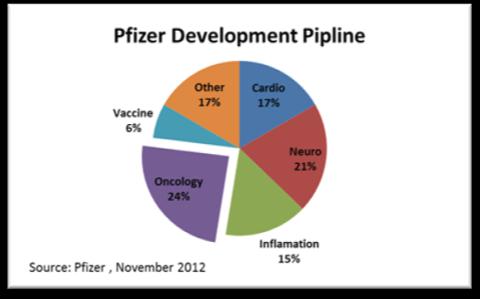 The total composition of the Pfizer's pipeline is currently led by oncology-related initiatives that represent 24% of the 78 listed therapies followed by neurology (21%), cardiovascular and metabolic (17%), other (17%), inflammation and immunology (15%) and vaccines (6%) respectively.
The breakdown by drug approval phase offers limited forecasting benefits but clear therapeutic areas of focus emerge. The registration phase is currently led by neuroscience (37%) compounds, Phase III is led by oncology (35%), Phase II is led by inflammation and other with 25% each, and Phase I by oncology (28%) and neuroscience (24%) respectively.
The current pipeline also includes a number of well-established drugs such as Celebrex, Lyrica, Sutent and Zithromax that continue to be evaluated for additional indications and/or dosage levels.
In reviewing the current pipeline by developmental phase, several additional concerns and points of interest emerge. A detailed review of each stage as well as the FDA description of each phase for those unaware, is provided below;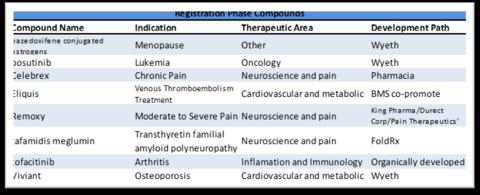 REGISTRATION: Drugs that are considered to be in registration have completed the initial three phases of the FDA testing process and the NDA is being reviewed. Drug applications can still be withdrawn at this point and the FDA again require additional data or reject the compound.
ELIQUIS - Pfizer and BMY are seeking an additional indication for the treatment of Venous Thromboembolism. The market is currently being led by Bayer/Ortho-McNeil's Xarelto though the drug's safety profile may allow for it to be supplanted. That aside, we believe that the additional indication represents a $250 million to $500 million opportunity to Pfizer.
REMOXY is an abuse-resistant controlled-release form of oxycodone that has received several setbacks since the initial NDA in 2008 and has been twice rejected. Oxecta, a short-acting opioid pain reliever that is another co-development effort acquired via the King Pharmaceutical takeover, was approved in June 2011 though it has had challenges achieving traction given the high generic intrusion rate within the market.
VIVIANT - was initially received a letter of approval in 2007 (pre-Wyeth acquisition) and has yet to receive final approval for the treatment of postmenopausal osteoporosis and is being explored for the treatment of dyspareunia.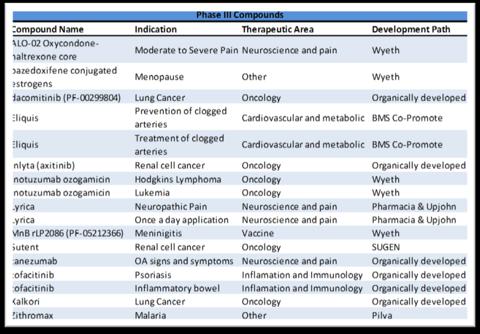 PHASE III: Phase III testing is characterized by the administration of a new drug to a larger number of patients in different clinical settings to determine its safety, effectiveness, and appropriate dosage. Phase III studies are initiated if evidence of effectiveness is demonstrated in Phase II.
This phase of testing is intended to gather necessary additional information about effectiveness and safety for evaluating the overall benefit-risk relationship of the drug, and to provide an adequate basis for physician labeling. Phase III studies are administered to large patient groups ranging from several hundred to about 3,000 people where the drug is used the way it would be administered when marketed. Following this phase, the FDA can request additional information or allow the drug to move into a registration phase.
LYRICA - Lyrica is seeking additional indications, having failed in early 2012 for painful diabetic peripheral neuropathy (pDPN) and in a late-stage epilepsy trial in November 2012. The controlled release once-a-day dosing trial results appear to be clinically significant but will not greatly enhance the drug's overall performance should the FDA grant approval.
XELJANZ - Pfizer is currently pursuing two additional indications that are both in Phase III studies. The pursuit of a psoriasis indication for Tofacitinib would serve to partially offset lost Enbrel sales in the space; however, the market is becoming increasingly crowded with a number of highly attractive alternatives such as; Janssen's Stelara, Novartis's (NYSE:NVS) secukinumab, as well as Humira from Abbott Labs and Eisai. Given the expected expansion in the market size in coming years, we are projecting that the psoriasis indication could increase annual sales by $350 million to $500 million per year.
The inflammatory bowel indication also represents an interesting opportunity that could also generate an additional $300 million to $500 million per year.
XALKORI is currently being evaluated for full approval in the treatment of ALK-Positive Non-Small Cell Lung Cancer patients following the accelerated program approval in August 2011.
TANEZUMAB - Tanezumab is a part of a new anti-nerve growth factor (anti-NGF) drug class. The FDA has already voiced concern over the side effects of the drug and suspended an earlier phase III study due in large part to rapid joint destruction being observed in patients. At this time, we are not modeling Tanezumab.
DACOMITINIB (PF-00299804) - Pfizer is progressing through testing for its locally advanced or metastatic non-small cell lung cancer (NSCLC) treatment dacomitinib. Dacomitinib is an oral, once-daily, small molecule inhibitor of HER-1 (EGFR), HER-2 and HER-4 tyrosine kinases. Treatment will require an initial biopsy test that is being developed with German diagnostic company Qiagen.
The NSCLC market continues to evolve with a number of new therapies on the horizon and new entrants being approved in recent years including; Pfizer's Xalkori as well as Genentech/Roche/Chugai's MetMAb (onartuzumab), Bristol-Myers Squibb/Ono Pharmaceutical's nivolumab, and the NDA for Boehringer Ingelheim's afatinib is currently under FDA priority review. That said based on the current market dynamics our preliminary sales estimates are for dacomitinib to research annual sales of $750 million to $1 billion.
PHASE II:
The FDA explains as such, "Phase II studies begin if Phase I studies don't reveal unacceptable toxicity. While the emphasis in Phase I is on safety, the emphasis in Phase II is on effectiveness. This phase aims to obtain preliminary data on whether the drug works in people who have a certain disease or condition. For controlled trials, patients receiving the drug are compared with similar patients receiving a different treatment - usually an inactive substance (placebo), or a different drug. Safety continues to be evaluated, and short-term side effects are studied. Typically, the number of subjects in Phase II studies ranges from a few dozen to about 300."
Among the 28 Phase II studies being conducted by Pfizer, breast cancer compound, palbociclib (PD-0332991) has gained the greatest interest given positive Phase II results that were disclosed last December that demonstrated average progression-free survival nearly 4x that of Letrozole. Given the strength of this study, we believe that the drug could reach blockbuster status within 4-5 years of launch.
Additionally, Pfizer has indicated that it will stop development of filibuvir (PF-00868554), their hepatitis C treatment in early March following a strategic review.
PHASE I: Is considered to be the first stage of human testing. The FDA characterizes this testing cycle as such, "Phase I studies are usually conducted in healthy volunteers. The goal here is to determine what the drug's most frequent side effects are and, often, how the drug is metabolized and excreted. The number of subjects typically ranges from 20 to 80.'
MERGERS AND ACQUISITIONS:
Pfizer has historically depended on an aggressive merger and acquisition strategy to enter in therapeutic areas and develop new revenue sources. The approach is easily observed through the acquisition of Warner Lambert in 2000 to acquire Lipitor for $90 billion followed by the acquisition of its then co-promote partner Pharmacia in 2002 to acquire Celebrex for $60 billion.
In 2009, the company again moved to acquire another firm when it identified Wyeth as a target for approximately $68 billion. The acquisition allowed Pfizer to expand its women's health, consumer, vaccine and animal health portfolios. However, the move did not fully address the exclusivity issue that Pfizer was facing as the Wyeth portfolio patent expiration dates overlapped considerably with that of Pfizer.
In February 2011, Pfizer acquired King Pharmaceuticals for approximately $3.6 billion in a deal that has yet to provide significant tangible benefits. The move was to have enhanced Pfizer's pain portfolio at a relatively attractive price point; however, the deal has been marred by launch delays, product recalls as well as slow product sales.
Of interest from the table below is the number of new market segments that Pfizer has moved into in recent years. Of prominence are the number of generic-related and OTC deals that the company has pursued in recent years as well as the interest in drug delivery technologies that are also a focus within Pfizer's venture capital efforts.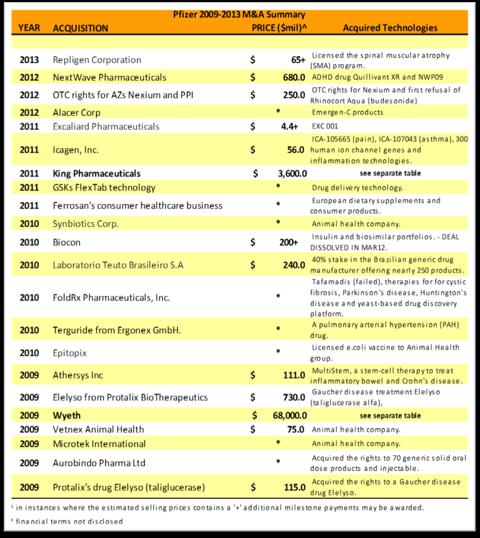 COMPANY PROJECTIONS:
Revenue:
Pfizer's revenue have been in a steady state of decline for several years and the company offered fairly soft guidance for 2013 in our opinion. In a year where the company is facing no major exclusivity losses coupled with the apparent absence of any contributions resulting from the December 2011 approval of Prevnar and expected partial year contributions of Eliquis, the guided range of $56.2-$58.2 billion with earnings of $2.20-$2.30 on an adjusted diluted per share basis was widely viewed as a disappointment.
Prior to the 2013 update, we held a fairly negative view on Pfizer's near-term performance prospects and our $56.3 billion estimate is at the low end of the company-provided revenue guidance with our adjusted diluted per share earnings estimate standing at $2.22. Our moderately pessimistic view is largely based on our belief that the preliminary stocking of Prevnar has already occurred and current consensus estimates are overstating the 2013 opportunity, though the 2014 consensus view appears to be in line with our expectations.
Pricing considerations also had an impact on our model. We have taken into account the bi-annual price increases that Pfizer has adopted for inline products that provide a modest boost to second quarter results and we harbor concerns over the aggressive pricing of several newly approved drugs, given the heightened scrutiny placed on pharmaceuticals by government, insurers and patients in the current environment.
Further, we believe that current Eliquis forecasts are currently overstated. The traditional co-promote agreement between pharmaceutical companies call for a 50%/50% split of revenue with the developing company making the drug available and a second company offering sales and promotional support for the product. We are projecting that Pfizer's ability to negotiate standard co-promote agreements has been impaired by the significant salesforce reductions and operational expense cuts of recent years.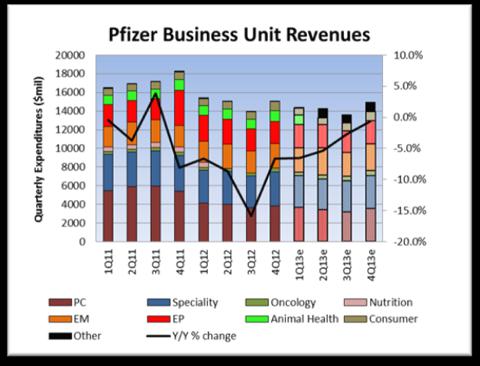 Our longer-term view projects revenue will continue to decline in the low to mid-single digits through 2015 with the company's growth stabilizing in 2016 followed by a period of low-single digit growth through the remainder of the forecasted period. Our estimates have been revised to reflect the recent patent reissue that was awarded to Celebrex.
We will provide additional detail on our revenue forecast by providing business unit projections and individual inline product projections.
BUSINESS UNIT FORECASTS:
Pfizer currently segments its business into seven reporting units; primary care, specialty, oncology, emerging markets, established products, consumer and other. The overall topography of the company's BU portfolio has been significantly altered in recent years with the spinoff of the Animal Health BU (now called Zoetis - ZTS) earlier this year, the selling of the Nutritional business to Nestle in 2012 and the selling of its Cagsugel unit to private-equity firm Kohlberg Kravis Roberts & Co. in 2011.
Pfizer operationally combines the specialty and oncology units and emerging markets and established products business units into single entities while primary care and consumer operate independently.
Business drivers for the biopharmaceutical-related units vary by area of focus aside from the traditional sales, marketing and promotional support as well as payer contracting. Biopharmaceutical-focused business units; primary care, specialty and oncology are almost similar and are driven by; new drug approvals, the approval of new indications for inline therapies, the licensing or co-promotion of drugs developed by other companies and the loss of drugs to patent expiry. The established products business unit is largely driven by the addition of new drugs to its portfolio of patent expired therapies. Emerging markets revenue are driven by regional performance and macro events that leave the company susceptible to steep forced priced reductions and restrictions in countries that have some variation of national health care.
Primary Care:

The primary care (PC) business unit drugs are defined as those therapies being primarily prescribed by primary-care physicians, to address the following therapeutic and disease areas: Alzheimer's disease, cardiovascular (excluding pulmonary arterial hypertension), erectile dysfunction, genitourinary, depression, pain, respiratory and smoking cessation.
Business unit revenue, in particular those of Lipitor, have been a steady decline since the loss of patent exclusivity for Merck & Co.'s Zocor and the introduction of generic simvastatin in mid-2006. Since the point, the business unit has been beset by a string of pipeline failures initiating with the torcetrapib setback in December 2006 coupled with a series of key failed Alzheimer attempts including Bapineuzumab (2012). The rate of revenue decline has further accelerated in recent years with the business unit absorbing the patent expiration of previous blockbuster drugs including; Aricept (2010), Lipitor (2011) and Viagra (2012) in addition to Caduet (2011) and Detrol (2012). 2012 revenue fell by nearly one-third to $15.5 billion which continued to account for approximately 26% of total company revenue.
The list of current patent protected drugs includes Celebrex, Chantix, Lyrica, the Premarin family, Pristiq and the newly approved co-promoted blood thinner and preventative stroke therapy Eliquis. Pfizer will experience a brief period of continuity, if not expansion, within the primary care portfolio as Spiriva is not scheduled to lose patent protection until 2014 and Celebrex was just awarded a 'patent reissue' which effectively extends the period of patent protection until December 2015 from May 2014.
We feel that the PC unit will continue to experience an erosion of sales through the forecasted period though at a decreasing rate. In the absence of any new portfolio editions, the group will continue to be negatively impacted by the continuing attacks on inline brands through the prescribing of 'medically similar' therapies, increasingly challenging payer contracting agreements, continued moves to restrict physician access and by a decreasing sales organization, that is increasingly supplanted by 'temporary' sales agents, which no longer has a Lipitor to rely on in its bag and must now diffuse its focus to a larger number of smaller drugs. Though the above stated concerns will impact each of the biopharmaceutical business units, we believe that the effect will be most pronounced in primary care.
Though the performance of Lyrica (+13.4% Y/Y) was cited as a standout performance in the company's fiscal 4Q12, this was expected as it becomes the primary focus of the remaining sales representatives. We expect Lyrica to remain a primary care catalyst in 2013 growing to $4.8 billion (+16.0% Y/Y) as will Celebrex with forecasted sales of $2.7 billion (+6.8% Y/Y) which in addition to the Premarin family that we are forecasting to grow to $1.1 billion (+4.8% Y/Y). The loss of Viagra to patent expiry in 2012 will further hamper the unit's performance in 2013 while the anticipated impact of Eliquis will be greatly understated in 2013 largely to the co-promotion agreement with Bristol-Myers Squibb & Company that we previously highlighted.
As such we are forecasting 2013 revenue of $13.7 billion for primary care that represents a -12.0% change in year-over-year performance and a decline in the business unit's share of total company revenue to 24.0% from 26.1% in fiscal 2012. Our longer-term view of PC performance within Pfizer received an unexpected catalyst with the FDA extension of the Celebrex exclusivity period that added approximately $5.3 billion in sales. In total, we are forecasting sales to further erode to $11.8 billion by 2017 and comprise 20.4% of Pfizer's total revenue in that year.
Primary care does hold the potential of expanding its portfolio over the intermediate term as several pain and women's health therapies from the King and Wyeth acquisitions are currently in late stage testing.
Specialty:

The specialty business unit is characterized by therapies prescribed by physicians who are specialists, and may include products in the following therapeutic and disease areas: anti-infection, endocrine disorders, hemophilia, inflammation, ophthalmology, pulmonary arterial hypertension, specialty neuroscience and vaccines.
The specialty business unit performance has largely been in a slow decline for several years with revenue ranging from $3.4 billion to $4.0 billion per quarter since fiscal 2010. Business unit performance is largely driven by the performance of Prevnar, co-promoted product Enbrel and Zyvox with Genotropin, Xalatan, Vfend and Benefix also contributing to overall performance. Similar to the primary care business unit, specialty has been greatly impacted by patent losses in recent year with; Refacto (2010), Xalatan, Benefix and Vfend (2011) and Revatio (2012) all reaching expiry. However, the BU does not face any additional patent losses until 2015 (Zyvox) and recent FDA approvals Vyndaqel (Nov-2011) and Xeljanz (Nov-2012) have yet to significantly impact business unit results.
The pipeline does also not appear to hold any major near-term catalysts but we were very encouraged by the opportunity presented by the November 2012 approval of Xeljanz. We believe that the unique approval status of the RA drug offers significant upside in that Xeljanz is the first Janus kindase (JAK) inhibitor to be approved which came with a degree of concern over the safety profile and black box warning may suppress prescribing patterns.
Overall we believe that Xeljanz will offer a modest contribution to 2013 results but will be a major driver by 2015 when we are forecasting sales to exceed $1 billion and reach $2.1 billion by 2017. Prevnar also represents a significant opportunity following the expanded populations for which approvals were granted in late 2011. While fiscal 2012 Prevnar sales expanded by a modest 1.2% to $3.7 billion, we expect that this figure will climb to nearly $4.1 billion in fiscal 2013 and reach over $5.2 billion by 2017. In forecasting the specialty unit, we have estimated 2013 sales will total $13.6 billion, represents a decline of 4.2% from fiscal 2012 results or 23.7% of total Pfizer sales.
Our longer-term projections for the specialty business unit are heavily contingent upon the renewal of the Enbrel co-promote agreement with Amgen Inc. that is currently scheduled to end in October 2013. Though Enbrel represented approximately $3.7 billion in fiscal 2012 sales and we have forecast a flat growth estimate for 2013, we are not forecasting beyond that point at this time. This potential significant event is the primary consideration behind our sales 24% year-over-year sales decline in 2014 to $10.3 billion. However, we have forecast specialty sales to rebound to $12.3 billion in 2017 and comprise 5.9% of total company revenue largely due to the uptake of Xeljanz and Prevnar.
Oncology:

The oncology business unit is focused on addressing oncology and oncology-related illnesses. This Business unit performance has been predominately influenced by sales of Sutent which accounted for over 87% of fiscal 4Q12 sales. The business unit's fiscal 2012 revenue totaled $1.3 billion, a 1% decline from fiscal 2011.
The oncology unit has experienced significant research setbacks in their effort to bring additional therapies to market. In addition to pipeline failures such as; tremelimumab (lung cancer), figitumumab (lung cancer), and the Roche Holding co-developed compound Torisel (renal cell), Sutent has been unable to gain additional indications for the treatment of liver, prostate, colorectal and breast cancers in recent years.
Pfizer has been awarded pipeline approvals that will positively influence business unit revenue. In our opinion, the most notable advancement revolves around the Xalikori (Aug-2011) opportunity though Inlyta (Jan-2012) and Bosulif (Sept-2012) will each contribute to business unit results through the forecasted period.
We have projected that Xalikori will achieved fiscal 2013 sales of approximately $400 million and Inlyta an additional $200 million with Bosulif sales being evident in 2014. We are somewhat concerned over Xalikori pricing and have projected that sales will reach approximately $1 billion by 2017 which is somewhat below consensus projections with Bosulif and Inlyta each posting sales over $300 million by that year.
From a total BU perspective, the impact of the newly approved drugs will lift the oncology growth rate to nearly 40%, with total fiscal 2013 revenue being projected at approximately $1.8 billion. We believe that the growth will continue through the forecasted period with BU sales totaling $3.4 billion in fiscal 2017.
Emerging Markets:

The emerging markets business unit encompasses business derived from the sale of patent-protected and off patent drugs in; Africa, Asia (excluding Japan and South Korea), Central Europe, Eastern Europe, Latin America and the Middle East. Several of the more notable developing markets include; Brazil, China, India, Mexico, Turkey and Russia.

As indicated earlier, Pfizer has invested heavily in these regions through the establishment of co-sponsored research initiatives and joint ventures. That said, we are projecting that this business unit will serve as an increasing suppressor of corporate margins going forward. The continued selectivity of the drugs that various countries are willing to make available to populations coupled with perpetual pricing requirement and still needed initial investments, each have a negative impact on near-term profitability.
We are projecting that emerging market revenue will be approximately $10.9 billion in fiscal 2013, an increase of nearly 10% over the $9.9 billion reported for fiscal 2012. We expect the trend to continue in fiscal 2014 when our revenue projection of $12.5 billion represents a 14.2% year-over-year increase followed by a period of high single-digit growth through 2017.
Established Products:
The established products (EP) business unit houses a portfolio of drugs that have reached patent expiry. The business unit attempts to extend and maximize a product's lifecycle through a combination of contracting, promotional and co-production efforts. Products introduced to the EPBU are typically transferred from their traditional business unit to the established product unit in the year following their reaching patent expiry.
EP revenue will continue to be highly variable as newly transferred drugs continue to witness an erosion in their post-patent prescription count and new drugs are added to the EP portfolio. The EPBU reported $10.2 billion in fiscal 2012 revenue representing a -4% decline over fiscal 2011 and 17.2% of total Pfizer revenue. Additionally, the established product group has been linked to possible divestiture discussions.
2012 unit revenue benefited from the inclusion of Lipitor and in the absence of any additional catalysts or intra-BU product movements, we are forecasting 2013 revenue to decline by -5% to $9.7 billion. Our forecast takes into consideration the current patent expiration cycle facing Pfizer and we are forecasting a deceleration in established products revenue through fiscal 2015 when Celebrex, Prematin and Zyvox all reach the end of their patent lives. Our 2016 projection is for revenue to total $8.5 billion, a 26.4% increase over fiscal 2015 and then recede again in 2017.
Consumer:

The consumer business unit consists of non-prescription products targeting: pain management (Advil), dietary supplements (Centrum and Caltrate), personal care (Preparation H and ChapStick) and respiratory (Robitussin). The original consumer business unit that include brands such as Benadryl, Listerine, Lubriderm, Neosporin, Nicorette, Rogaine, Sudafed and Visine was sold to Johnson & Johnson in 2006 for $16.6 billion but was revitalized following the 2009 Wyeth acquisition. The business unit was further bolstered in 2012 with the acquisition of Alacer Corp (Emergen-C product family) and has been discussed as one of the primary divisions that Pfizer could sell-off should it continue with a divestiture strategy.
Consumer revenue are greatly influenced by environmental factor and marketing support. The 2011-2012 US influenza outbreak served as a positive catalyst for Robitussin sales as well as Emergency and Chapstick to a lesser extent in our opinion and represented one of the primary drivers behind the strong 14.6% revenue growth recorded in fiscal Q4 2012.
We are forecasting fiscal 2013 revenue of approximately $3.3 billion, a 1.8% increase over fiscal 2012 for the business unit. Our out year projections suggest continued annual growth throughout the forecasted period with segment revenue reaching $3.9 billion in fiscal 2017 with the 5-year CAGR totaling a modest 0.51%.
Other Income:
Pfizer's other income line will be greatly impacted on a going-forward basis to reflect the company's remaining 81.2% interest in Zoetis. The former animal health business unit will now be housed here. minority interest in 2013 will include 20% of Zoetis's net income that Pfizer does not own.
COST OF SALES:

Pfizer's cost of sales has been a target of multiple containment initiatives for a period extending to the pre-Wyeth period. The number of manufacturing facilities reached 79 with the acquisition of Wyeth and currently totals 75. The company has been moving to gain supply chain efficiencies and scale operations to more fully align to the reduced Rx count facing the company following its patent protection losses.
The total number of manufacturing facilities has been slowly rising in recent years as the company moves to establish a greater presence in China where it now possesses 8 plants in Dalian, Suzhou, Wuxi, Yantai and Shenzhou in addition to the additional capacity gained through the 2012 Zhejiang Hisun Pharmaceuticals joint venture.
The company has provided fiscal 2013 guidance that cost of sales would be in the range of 19%-20% of revenues which is inline with the 19.4% recorded in the prior year. Over the last three years, CoS has ranged from 18% - 25% of revenues on a quarterly basis with the company's fiscal fourth quarter increasing approximately 2% sequentially from the company's fiscal third quarter.
Our fiscal 2013 estimate is for Pfizer's cost of sales to total $10.9 billion or 19.3% of revenues. Our out year forecast calls for flat cost of sales expenditures ranging between $10.3 - $10.7 through the forecasted period with 18.8% to 18.2% on a percentage of revenue basis through 2017.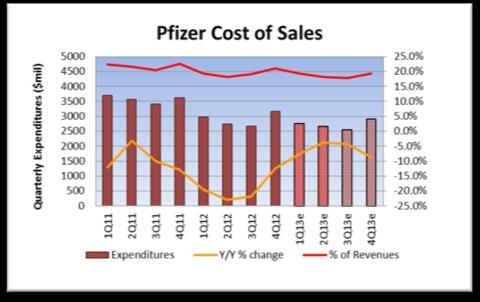 SELLING, INFORMATIONAL AND ADMINISTRATIVE (SI&A):
Pfizer has also moved to curb selling, informational and administrative (SI&A) to align with the organization's smaller sales base. The company will continue to reduce the size of the domestic sales organization and increase its reliance on temporary sales representatives while expanding the number of emerging markets sales representatives, with a heightened focus on China.
On the informational component of Pfizer's SI&A line, Pfizer has moved to reduce expenditures for third-party data and external consulting services which is consistent with recent industry trends. The overall headcount reductions that Pfizer has undertaken post-Wyeth will also be reflected in a lower SI&A line. We are projecting that while there is a clear need to raise the level of operational assets dedicated to the support of new product launches, these expenses will largely be offset by the corresponding cost containment initiatives of Pfizer.
In total, we are projecting that fiscal 2013 SI&A expenses will total $15.4 billion or 26.5% of forecasted revenues. This figure is slightly below the company guided range of $15.6 - $16.6 billion largely due to efficiencies gained through the ongoing outsourcing of several SI&A related functions and the new product launch timings. Over the long-term, we are projecting that SI&A will largely remain at approximately 27% of revenues through the forecasted period.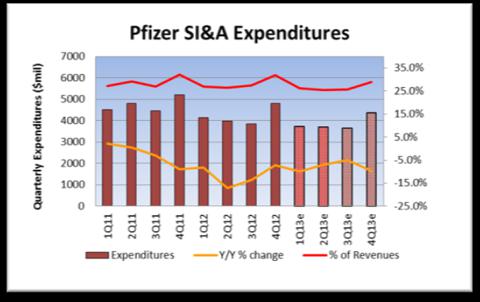 RESEARCH AND DEVELOPMENT (R&D):

Our view of Pfizer's R&D expenditures follows the earlier outlined scenario. The company will continue to trim domestic capabilities while expanding China operations for this function. Our 2013 research and development figure falls at the low end of the company-guided range of $6.5 billion to $7.0 billion. Our $6.7 billion dollar projection represents 11.4% of our fiscal 2013 revenue estimate, which is nearly 2% below the 13.3% recorded in fiscal 2012 and reflects a continued drop-off from 2011 (13.8% of revenues) and 2010 (14.0% of revenues) respectively.
Our longer-term view does not vary significantly from the previously discussed thesis as we are projecting R&D expenditures to remain in the 11.1% - 11.4% range through 2017. This projection suggests that Pfizer will begin witnessing an uptick in research expenditures for fiscal 2016 in the low-single digit range with 2017 offering the same level of growth.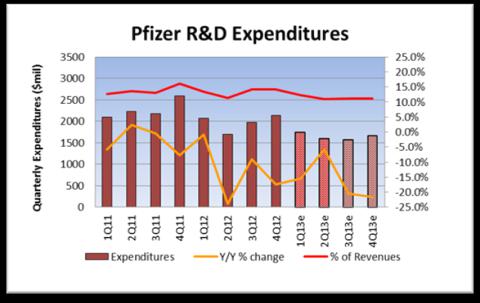 SHARES OUTSTANDING:
Pfizer currently has approximately 7.319 billion basic and 7.395 billion fully diluted shares outstanding as of the company's fiscal fourth quarter 2012.
The number of share outstanding has been trending downward under the current $10 billion share repurchase program that was authorized in November 2011. The current program follows a $5 billion initiative that was announced in February 2011 and a string of additional programs.
Pfizer has been relatively aggressive with share repurchases and has used the timing of their transactions to assist with earnings management. CFO, Frank D'Amelio indicated during the Pfizer's fiscal fourth quarter 2012 earnings call that existing share repurchase programs had approximately $11.8 billion in remaining capacity. We believe that the trend will continue and are forecasting shares to continue falling through the forecasted period though at a decelerated rate.
EARNINGS PER SHARE (EPS):
Based on the above provided analysis, we are forecasting Pfizer's diluted and adjusted earnings per share for the following years of; 2013 ($1.34 / $2.22), 2014 ($1.39 / $2.23), 2015 ($1.40 / $2.31), 2016 ($1.57 / $2.44) and 2016 ($1.61 / $2.49).
Our fiscal 2013 adjusted diluted earnings per share is in line with the lower end of company's guided range of $2.20 - $2.30.
BALANCE SHEET HIGHLIGHTS:
Cash and Equivalents:
Pfizer has been aggressively building cash and equivalent reserves in recent periods. Through the company's fiscal 2012 Q4, Pfizer had $10.4 billion in cash coupled with an additional $22.3 billion in short-term investments which is among the highest totals in the healthcare industry. The combined total represents $4.42 on a per share basis and is the largest amount that the company has maintained since fiscal Q3 2009, just prior to the Wyeth acquisition.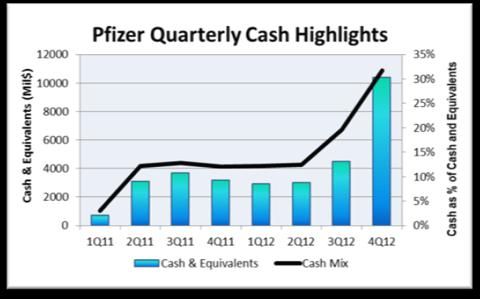 The total was in part funded by the Zoetis IPO, which raised an estimated $6.1 billion for Pfizer, with $2.5 billion restricted to debt repayment, dividends and/or stock buybacks that need to be fulfilled by mid-2014. Pfizer continues to hold a remaining 82.9% stake in Zoetis A-shares and 100% of Zoetis B-shares which we are anticipating a further draw down of the position within the next 6 months.
Pfizer also gained recent considerable capital infusions from the sell-off of the Capsugel unit for $2.4 billion in fiscal Q2 2011 as well as the nutritional business in fiscal Q2 2012 for $11.8 billion. Further, liquid assets have also benefited from strong operating cash flows that totaled $5.3 billion in fiscal Q4 2012 and $17.1 billion for fiscal 2012.
Debt Obligations: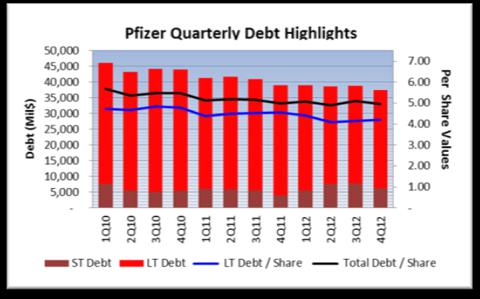 Pfizer has accumulated a significant debt position as a result of its M&A activity and initial funding of Zoetis. The current long-term debt of Pfizer totals $31.0 billion coupled with an additional $6.4 billion in short-term borrowings as of the company's fiscal Q4 2012. Though Pfizer's debt position has trended downward in recent quarters, the $37.5 billion in combined debt, or $4.97 on a per share basis, represents the greatest total among all large-cap pharmaceutical companies and all healthcare companies aside from highly diversified conglomerates such as General Electric and Mitsubishi. Further, following the acquisition of Wyeth, all three leading rating agencies lowered Pfizer's debt rating.
As of release of Pfizer's 2012 10K, the current portion of long-term debt totaled slightly less than $2.5 billion, representing less than one-half of fiscal Q4 2012 operating cash flows or 7.5% of the company's cash and equivalents.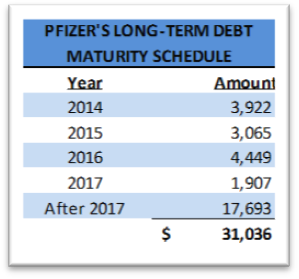 Pfizer currently has an additional $3.9 billion that is scheduled to mature in 2014 and $3.1 billion in fiscal 2015 respectively.
One point of interest is that despite the ongoing period of low interest rates, Pfizer does not appear to have been able to capture the most beneficial rates. In reviewing the company's long-term debt schedule, the terms of a few notes do stand out as highlighted by the 7.2% rate for the $2.9 billion 2039 note, the 6.5% 2038 British pound note as well as the weighted average 6.51% rate indicated for the 2021-2036 period.
From a ratio analysis perspective, Pfizer's debt-to-equity ratio has remained under 0.50 for the last 8 quarters with fiscal Q4 2012 be calculated at 0.46. The company's debt ratio has largely hovered in the mid-0.50 range over the past 12 quarters with fiscal Q4 2012 being calculated as 0.56 which should continued to be monitored.
Pfizer's interest payments totaled $1.8 billion in 2013. This figure appears to be a manageable total based on the company's liquid assets and operational cash flows which represented approximately 5.7% of cash and equivalents and 35.6% of fiscal Q4 2012 operating cash flows respectively. The company also currently has scheduled interest payments due of $1.5 billion in 2013, $2.7 billion for the 2014-2015 period and $2.1 billion for the 2016-2017 period respectively.
Despite the heavy debt obligations, Pfizer appears to be adequately resourced to manage the level of debt. The company's current ratio has been actively managed to a consistent range of 1.9-2.1 over the past 12 quarters while its quick ratio has averaged 1.38 over the same three-year period and was calculated to be 1.58 in fiscal Q4 2012. Pfizer's debt-to-equity has recently hovered between 0.51 and 0.46 over the most recent 12 quarters which appears to be consistent with industry peers. Further, the interest coverage ratio appears to be a very strong 9.1x for fiscal 2012 and debt coverage 6.5x respectively.
Dividends:
Pfizer has been an extremely consistent issuer of dividends with the company approving shareholder disbursements for the past 297 quarters. The company had approved dividend increases for 41 years prior to the 2009 50% from $0.32 to $0.16 per share dividend cut that was announced in conjunction with the acquisition of Wyeth Pharmaceuticals.
Since the cut, Pfizer has approved dividend increases in 2010 (+$0.02), 2011 (+$0.02), 2012 (+$0.02) and 2013 (+$0.02) to now total $0.24 on a quarterly per share basis. In fiscal 2012, the company returned $6.5 billion to shareholders through dividends with fiscal Q4 totaling nearly $1.6 billion. The amount is easily covered by operating cash flows that totaled approximately $17.1 billion for fiscal 2012 and nearly $5.3 billion in Q4 of the year.
In reviewing the sustainability of the company's dividend policy, in the absence of another major acquisition, Pfizer should be able to maintain the recent two-cent per year increase without issue. In raising the quarterly dividend to $0.24 per share, the company effectively increased the total to be distributed to shareholders by approximately $450 million to nearly $7.0 billion annually in fiscal 2013.
We do believe that Pfizer maintains the capacity to further increase quarterly dividends without impairing operational and financial performance. The recent accumulation of cash and equivalents on the company's balance sheet activity, as noted earlier, appears to indicate that the company is preparing to engage in some type of near-term M&A or total shareholder return activity.
Should the company focus its entire efforts on enhancing corporate dividends, which we believe to be the least likely of the three scenarios, it could offer a special one-time $1.50 per share dividend and maintain a cash and equivalent position of $23.1 billion, or a figure that is roughly in line with the reported fiscal Q1 2012 total.
Pfizer has the capacity to re-establish the dividend at the pre-Wyeth reported level, or $0.32 per share, in our opinion. Such a determination would cost Pfizer approximately $1.7 billion for the remainder of fiscal 2013 and $7.8 billion over the next five years (2013-2017).
Cash Flow Highlights:
Pfizer has been able to maintain its ability to generate strong cash flows to-date largely through the selling off of business units in recent years. Despite the company's large debt position and eroding revenues, fiscal 2012 cash flows were $7.2 billion, representing an increase of $5.8 billion over fiscal 2011, though the company experienced a decline in operating cash flows in 2012.
Operating cash flows totaled $5.3 billion in fiscal Q4 2012 and $17.1 billion for fiscal 2012. As noted above, these totals reflect a decline from fiscal 2011 results that totaled $5.3 billion and $20.2 billion respectively. 2012 operating cash flows were significantly impacted by the selling of the nutritional business during the years and were the primary driver behind the 16% decline in annual results with a $1.3 billion decrease in depreciation and amortization and unfavorable changes on top of other liabilities and inventory further contributing to the year-over-year decline being partially offset by an increase in deferred taxes and accounts payable.
Fiscal 2012 investing cash flows of $6.2 billion were $4.4 billion above that reported in fiscal 2011. The increase in finance related cash flows was largely attributed to $11.9 billion in proceeds from the sale of businesses versus the fiscal 2011 total of $2.4 billion. The 2012 investment proceeds were also partially offset by a net increase in the purchase of long-term investments of $6.1 billion during the year.
Pfizer's fiscal 2012 financing cash flows were -$16.0 billion. The 2012 total represents a $4.6 billion improvement over fiscal 2011. Financing cash flows were favorably impacted by lower principal payments on long-term debt for the year being partially offset by lower proceeds being received from short-term borrowings.
Free cash flows have remained strong over the past 12 quarters. Free cash flows totaled $15.7 billion in fiscal 2012 a decrease of $900 million or 15.4% from the $18.6 billion recorded in fiscal 2011. Fiscal Q4 2012 FCF were $4.8 billion representing a $0.1 billion increase over the $4.7 billion in fiscal Q4 2011.
Company Valuations:
The impact of our more conservative revenue forecast can be immediately witnessed on our earnings estimates and company valuations. Our 5-year earnings CAGR of 2.61% is the primary driver behind our projected price target and are currently placing a valuation of $24 per share based on an analysis of several valuation methodologies which represents a 16.3% discount to the current $28.86 trading price (close, 03/27/2012).
Looking at the company valuation on the most general level, Pfizer's 3-year historical average diluted P/E was approximately 15.7 times earnings while the adjusted diluted based P/E has averaged 9.9x. These multiples would suggest a current price of between $21 and $22 per share.
When applying more sophisticated valuation techniques, all of the corresponding price estimates for Pfizer's outstanding shares continue to fall below the current market price. Our constant growth model analysis generates the most aggressive price target of $27 while a Gordon Growth Model projected the lowest price estimate at $19. However, our preferred valuation methodology, the intrinsic value technique, derives the current price projections of $24.
Disclosure: I have no positions in any stocks mentioned, and no plans to initiate any positions within the next 72 hours. I wrote this article myself, and it expresses my own opinions. I am not receiving compensation for it (other than from Seeking Alpha). I have no business relationship with any company whose stock is mentioned in this article.