We discussed yesterday the Bank of Japan and their intentions to use Bernanke-style moves to pump money into the economy. The market reacted today and it was impressive, as the Nikkei 225 opened up over 4% on the news and well above the 13,000 mark. The past few months have really changed the trend for the market over there and if the current leadership can vanquish the deflation and get the country growing again, then this could most certainly be good news for the world economy. Japan could serve as the Germany of Asia until China is ready to fully take over that role (we still view China as a kid going through its own growing pains and not quite yet ready to lead).
Chart of the Day:
These Japanese traders have to be loving the past few months...its like the 1980s all over again! Check out the past few days.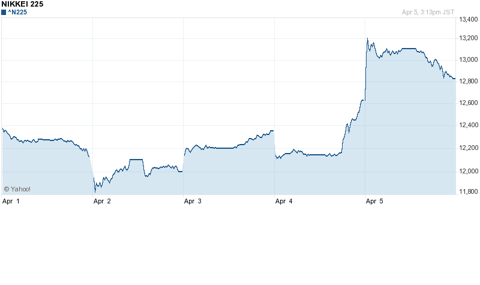 Chart courtesy of Yahoo Finance.
We have economic news due out today, and it is as follows:
Nonfarm Payrolls (8:30 a.m. ET): 192k
Nonfarm Private Payrolls (8:30 a.m. ET): 210k
Unemployment Rate (8:30 a.m. ET): 7.7%
Hourly Earnings (8:30 a.m. ET): 0.2%
Average Workweek (8:30 a.m. ET): 34.5
Trade Balance (8:30 a.m. ET): -$44.7 Billion
Consumer Credit (3:00 p.m. ET): $14.0 Billion
Asian markets finished mixed today:
All Ordinaries -- down 0.41%
Shanghai Composite -- CLOSED
Nikkei 225 -- up 1.58%
NZSE 50 -- up 0.06%
Seoul Composite -- down 1.64%
In Europe markets are lower this morning:
CAC 40 -- down 1.75%
DAX -- down 1.70%
FTSE 100 -- down 1.35%
OSE -- down 1.40%
Retail
Best Buy (NYSE:BBY) was one of the bright spots in yesterday's market with shares rising $3.48 (16.07%) to close at $25.13/share. In what could be a boost for Samsung and a real problem for Apple, the retailer announced that it will open up Samsung Kiosks near the front of its retail outlets to offer consumers an experience which they hope will be comparable to the Apple stores as far as experts on the products and a designated retail footprint. Samsung has been gaining share in the smartphone market and although they use the Android operating software from Google they have managed to differentiate their products from the rest of the crowded field. If this works out, we could see Best Buy employ a boutique idea with various brands and essentially become a mini-mall of sorts, which sounds eerily similar to what Ron Johnson was attempting at JC Penney (NYSE:JCP).
You hardly ever see a V-shaped recovery...but it sure looks like one is taking place at Best Buy. We like the idea, but maybe shares have gotten a bit ahead of themselves at this time...remember when the founder could not get financing for loans to take the company private when it was at $13-18/share? Takeover premium probably would have been around these levels...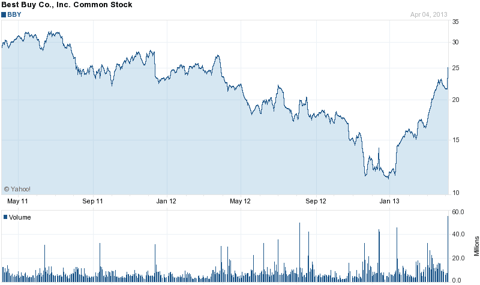 Chart courtesy of Yahoo Finance.
Speaking of JC Penney, the stock hit another fresh 52-week low yesterday, but in a sign of hope for investors it was simply an intraday move as the shares rebounded to finish the day up $0.65 (4.50%) after closing at $15.08/share. The time is running out on this little experiment, but one way which the company could help to pay for their remodeling and implementation of this new plan would be to sell the prime real estate near their entrances to partners for their boutique shopping experience. Sign partners up for 5 years at a time and make them pay for the remodeling expenses while using whatever premium is paid for further capital expenditures elsewhere. Complicated, yes, but at this point the company needs to find something to help with cash flow and show that they have some way of monetizing their retail space and increasing revenue per square foot.
Financials
One of the financial stocks we purchased during the 'Great Recession' was The Hartford Financial Services Group (NYSE:HIG), which we have since sold. We liked the company at the time because it was one of the better companies out there with a nice risk/return ratio in our minds. Since those dark days for the financials (banks, insurers, etc) many companies have undergone major changes by closing margin business segments and selling others off. Hartford has not been the exception and we think that today it is a far better company than it was then. We do think that the stock has probably reached its upper limits right now and would look to reallocate this capital elsewhere, either in the industry or outside of it, in order to lock in gains and hopefully find another big winner. Like we said, we have been out of the stock, but were we still in it, we would look to take profits at these levels.
It has been a nice run off of the lows from a few years ago, and even the recent lows, but $30 has served as solid resistance and it seems to us that there are better opportunities out there.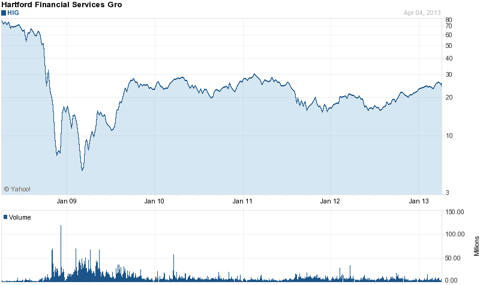 Chart courtesy of Yahoo Finance.
Gold
Two of our favorite gold plays had nice days yesterday as the entire precious metals sector saw a nice bounce after recent selling. AuRico Gold (NYSE:AUQ) saw shares rise almost 6% yesterday while Yamana Gold (NYSE:AUY) saw their shares rise just over 3.5%. A few days ago we discussed booking profits in AuRico and moving on, although it is still our belief that there is value here. Either management turns the company around and begins to execute and deliver on the promises to shareholders or the shareholders will sell the company right out from underneath them at the first offer. It is all about value creation and right now management has done a fair job at value destruction.
They could take a page out of the Yamana playbook, and act more like them. Which would not be a bad thing. If one wants to own gold equities right now, that is the name we would play. An excellent portfolio, solid management team and a bright future. The geopolitical risks are not exorbitant and we think that any rebound in gold prices shall surely boost shares.
Disclosure: I have no positions in any stocks mentioned, and no plans to initiate any positions within the next 72 hours. I wrote this article myself, and it expresses my own opinions. I am not receiving compensation for it (other than from Seeking Alpha). I have no business relationship with any company whose stock is mentioned in this article.