Agilent Technologies (NYSE:A), with a market cap of $14.38B, is a provider of core bio-analytical and electronic measurement solutions. Agilent has four businesses: chemical analysis, life sciences, diagnostics and genomics, and electronic measurement. For investors looking for a quality, undervalued stock with an economic moat, Agilent is worth to take a look at.
Management Update
Despite the slow economy, Agilent grew 4% in revenue with an operating cash flow of $1.2 billion for 2012. With the acquisition of Dako, the overall measurement market was expanded to $54 billion. Lastly, the dividend was increased by 20% to $0.12 a share, and a stock repurchase plan (up to $500 million for the remainder of FY 2013) was authorized.
Breakdowns
| | | |
| --- | --- | --- |
| | Revenue/Market Share | Market Opportunity |
| Diagnostics & Genomics Group | $400 million Revenue; Expecting $700 million for 2013; Growth at 8-10% range | Market opportunity in anatomical pathology, molecular diagnostics is about $7 billion |
| Life Science | $1.6 billion market share | $21 billion of measurement tools in the life science market |
| Chemical Analysis | #1 in food testing, #1 in environmental testing, #2 in forensics testing and #1 in chemical and energy | $13 billion |
| Electronic Measurement Group | #1 in communications; #1 in industrial and computations, semiconductors; and #1 in aerospace and defense; Growth slower than chemical analysis or life science | $13 billion |
Exciting developments
Combination of Dako allows Agilent to bring advanced care for cancer victims by providing the antibodies, reagents and instruments, enabling physicians to choose the right form of treatment, the first time. Dako sees 1/3 of all of the cancer tissues in the world.
Agilent also works with the large pharmaceutical companies of what's called companion diagnostics and has recently announced 2 collaborations, one with Pfizer (NYSE:PFE) and the other one with Lilly (NYSE:LLY).
Management Strategy
The management has chosen not to outsource the manufacturing. As a result, Agilent can drive technology across the company and control the whole supply chain. The management will continue to focus on the manufacturing with a plan to reduce the manufacturing costs by $180 million over the next 3 to 4 years. It is now about 1/3 completed. The management is also planning for a slow economic time this year, which should pick up in the second half. Strategically, the company will continue to invest aggressively in organic growth, developing markets, as well as in R&D.
Analysts' Estimates and Calls
Analysts are estimating an EPS of $0.68 with revenue of $1.76B for the current quarter ending in April, 2013. For 2013, analysts are projecting an EPS of $2.92 with revenue of $7.03B, which is 2.50% higher than 2012. Analysts currently have a mean target price of $48.60 for Agilent.
On April 4, 2013, ISI Group analyst, Ross Muken, commented that Agilent should consider divesting some of its underperforming assets. He thinks Agilent should explore a split of the business between its EMG and LST units.
Fundamentally, a quick comparison between Agilent and its competitors, including Life Technologies Corp (NASDAQ:LIFE) and Thermo Fisher Scientific Inc. (NYSE:TMO), as well as the industry average, will be reviewed below to see where Agilent stands.
| | | | | |
| --- | --- | --- | --- | --- |
| | Agilent | Life Technologies | Thermo Fisher Scientific | Industry Average |
| Market Cap | $14.38B | $11.17B | $27.85B | N/A |
| Revenue Growth (3 year average) | 15.2 | 5.0 | 7.4 | 5.0 |
| Operating Margin, %, ttm | 15.4% | 17.5% | 11.8% | 12.0% |
| Net Margin, %, ttm | 16.0% | 11.3% | 9.4% | 4.9% |
| ROE | 22.4 | 9.3 | 7.7 | 7.1 |
| Debt/Equity | 0.4 | 0.5 | 0.5 | 0.7 |
| P/E | 13.0 | 27.2 | 22.9 | 32.9 |
| P/B | 2.6 | 2.4 | 1.8 | 2.6 |
Agilent stands out with its higher net margin and stronger ROE with a lower debt/equity comparing to LIFE and TMO as well as the industry average. Agilent also achieved higher revenue growth in the past 3 years. Yet, Agilent only has a low P/E of 13.0. Agilent should deserve a better valuation.
Technically, Agilent was on the long-term upside trend since July 2012 and started to pull back in mid-March, 2013. More technical analysis can be reviewed here.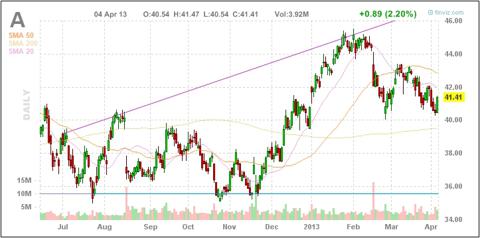 Source: Finviz.com
Bottom Line
Agilent's economic moat comes from its higher barriers-to-entry for competitors with a fortress of intangible assets. With the acquisition of Dako, stronger long-term growth is expected. Based on current valuation, Agilent still has lots of upside potential with its higher than the industry average growth, margins, and ROE. Agilent is a strong hold for long term. Investors can also review the following ETF to gain exposure to Agilent: ISE Water Index Fund (NYSEARCA:FIW), 3.99% weighting.
Note: Investors and traders are recommended to do their own due diligence and research before making any trading/investing decisions.
Disclosure: I have no positions in any stocks mentioned, but may initiate a long position in A over the next 72 hours. I wrote this article myself, and it expresses my own opinions. I am not receiving compensation for it (other than from Seeking Alpha). I have no business relationship with any company whose stock is mentioned in this article.