Chile, Peru and Colombia represent the major investable markets in South America ex-Brazil. All three countries are seeing fairly optimal macro-economic conditions. Inflation is under control, interest rates are low and GDPs are growing around 4-6% per year. Governments run low fiscal deficits (or surpluses in the case of Peru) and are mostly pro-investment. Populations are young and aspiring. Surely a recipe for strong market performance one would think?
Someone stole the porridge
Unfortunately for investors in the country ETFs, returns have been disappointing recently with all three markets under-performing global emerging market benchmark iShares MSCI Emerging Markets (NYSEARCA:EEM).
One-year total return chart: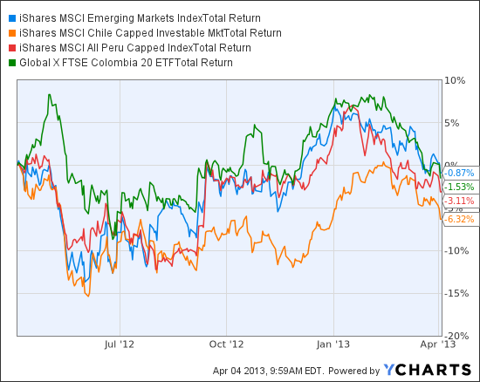 Slowed by a 'Bearish' global economy and market structure
Chile, Peru and Colombia ETFs all have large holdings in resource exporters. Muted global growth and stagnant commodity prices have led to a de-rating of these holdings. Chile's equity market has been further slowed by its uniquely high exposure to power utilities, which have faced regulatory and 'natural' pressures. Domestic demand driven holdings like banks and consumer-related companies have performed well alongside the broader economy.
The dilemma, or opportunity, facing ETF investors is due to the market's reliance on global commodity demand and prices (which do not look likely to turn anytime soon) and a compelling investment case based on their strong domestic fundamentals.
South America ex- Brazil ETFs
iShares MSCI Chile Capped (BATS:ECH) has more utility sector exposure (25% of its portfolio) than any single emerging market. Chilean-listed utilities are mainly involved in electricity generation and distribution in both Chile and regionally. The sector is subject to regulatory and hydrological risks relating to uncertain water levels at its hydro-powered facilities. High water levels result in abundant, cheap power, yet recently low water levels have resulted in higher cost power procurement and lower margins. ECH still has fairly broad sector exposure outside of utilities, holding companies active in financial services, retail, forestry, mining and chemicals for example. The fund's second-largest holding is Cencosud (NYSE:CNCO), a large pan-South American retailer. The fund is also the deepest of the group with 42 holdings.
Chile has seen good macro-economic conditions growing 4-5% and modest inflation (3-4%). The invest-able market, however, faces uncertainty relating to utility sector risks highlighted above and some policy uncertainty surrounding credit extension. ECH's trailing dividend yield is a relatively low 1.6% despite its high utilities exposure. Chile has the smallest population of this group (17m) yet many of its companies have regional operations.
iShares MSCI Peru Capped (NYSEARCA:EPU) is a concentrated fund with heavy exposure to Peru's mining and financial sectors. Around 44% of EPU's holdings are in companies active in copper, gold, zinc and silver mining. A further 25% of the fund is Credicorp (NYSE:BAP), the largest financial services company in the country. Other holdings in the fund include infrastructure developers, consumer staples and other financial services companies. The fund has 26 holdings in total.
Despite sluggish global growth, Peru's economy has been growing 6-7% in the past few years and its fiscal situation has been steadily improving. The public sector has been reducing its debt burden and Peru maintains a solid balance of trade and fiscal surpluses.
The country's internal demand picture is favorable and has been supported by low interest rates (4.25%) and moderate inflation (3%). Mining is a big driver for the economy and market, yet stagnant global commodity prices pose company-specific risks to cash flow. New development projects in the materials sector are also uncertain due to local government lobbies and environmental risks.
EPU pays a good trailing dividend yield (3.7%) with much of this payout driven by the generous yields from its resource holdings. Peru is also the youngest country of this group with over 56% of its 30m population 30 years old or younger.
EPU is 'capped out'
ECH and EPU follow the MSCI Capped index methodology designed to limit any single issuer to a 25% weight in the fund and limit the sum of all issuers representing more than 5% of the fund to not exceed 50% of the fund's total assets. This is to protect the fund from being too concentrated in a few holdings. Credicorp's 25% position in EPU and the fund's other top holdings - Southern Copper (NYSE:SCCO) and Buenaventura Mining (NYSE:BVN) - together represent 46% of the fund. The fund is close to achieving its index methodology limits.
Global X FTSE Colombia (NYSEARCA:GXG) is the largest Colombian ETF. Colombia is a materials, energy, financials, consumer and utilities market. No single sector dominates GXG's portfolio but two large companies - Ecopetrol (NYSE:EC) and Bancolombia (NYSE:CIB) - together represent 27% of the fund's total holdings. The fund is also concentrated with a total 23 holdings.
In the past Colombia has struggled with underinvestment due to security and governance issues. This has been improving thanks to the leadership of President Juan Manuel Santos who has sought to reach a lasting ceasefire with the country's guerilla group FARC. Otherwise the country is relatively young and well-educated. Colombia has a total population over 45m with 54% of its citizens 30-years old or younger.
Colombia lacks efficient institutions and infrastructure but it has great energy production potential. Execution on a large pipeline of investment projects will be crucial for further development. Colombia, like Chile and Peru, enjoys a favorable macroeconomic backdrop with solid GDP growth and low interest rates and inflation.
GXG's largest holding is state-controlled oil company Ecopetrol. Management initiatives have led to restructuring at the company resulting in good returns relative to global energy peers on a two-year basis. The stock has given back some of its gains recently however.
Two-year total return - Ecopetrol, EEM and XLE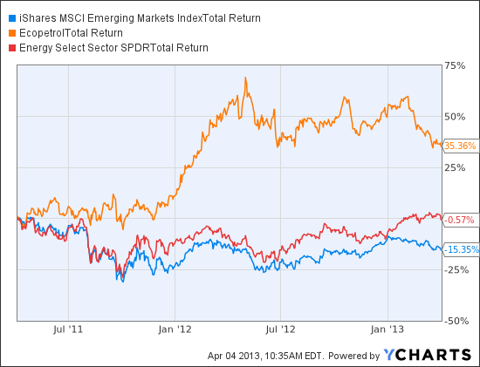 Other ETFs
Guggenheim Frontier Markets (NYSEARCA:FRN) is primarily a South America ex-Brazil fund with Chile (42% of holdings), Colombia and Peru together making up around 67% of the fund. A further 8% is represented by exposure to Argentinian equities. The fund invests primarily in ADRs and GDRs (global depository receipts), which drives its high South American 'frontier' exposure since many large companies in South America issue ADRs.
There are three other small ETFs in this region. Global X FTSE Andean (NYSEARCA:AND) holds all three counties in one fund and has $9m assets under management. Global X also offers an Argentina 20 (ARG) fund with about $4m under management and Market Vectors Colombia (NYSEARCA:COLX) is another option covering the country and has $3m under management.
Longer-term returns are better
A longer-term chart shows all the funds outperforming the benchmark iShares MSCI Emerging Markets with Global X FTSE Colombia the best performer.
Two-year chart: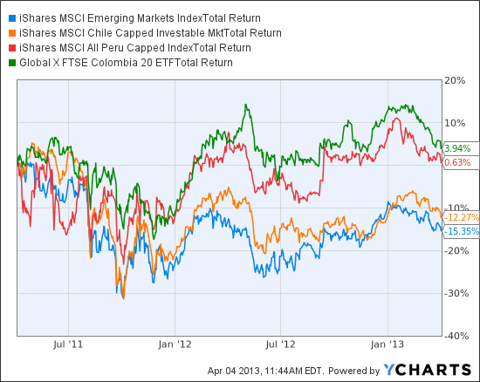 EPU and ECH are relatively liquid funds trading over $10m/day. GXG is less liquid trading around $2m/day and FRN trades around $1m/day.
Should we come back to the house?
From a domestic growth perspective, South American markets have appealing features. Macroeconomic conditions are favorable, populations are young and government policy has been supportive. Market structure poses a challenge due to direct exposures to commodity exporting companies. Markets are also highly concentrated in the case of Peru and Colombia.
From a valuation perspective, EPU looks interesting offering a trailing yield of 3.7%. Dividend growth, however, will depend on improving metals prices and new development projects, both of which are uncertain. The outlook for ECH is challenged by its high utility sector exposure while yields in Chile are the lowest of the group. GXG is compelling from the standpoint of Colombia's large, young population and resource potential. Colombia's reformist government has started to pave a path towards sustainable growth and has been attracting new investment. A continuation of this trend should be supportive for equities.
Metals favor Peru, Oil in Colombia
Fund performance in the region will still depend on a recovery in commodity demand and prices. In a recovering commodity price environment, Peru and Colombia should perform well.
For investors seeking more targeted access to the region, many South American companies list ADRs that trade on U.S. exchanges and are relatively liquid.
South American ADRs
Disclosure: I have no positions in any stocks mentioned, and no plans to initiate any positions within the next 72 hours. I wrote this article myself, and it expresses my own opinions. I am not receiving compensation for it (other than from Seeking Alpha). I have no business relationship with any company whose stock is mentioned in this article.