Costco Wholesale Corporation (NASDAQ:COST) is a membership warehouse club that has been a dominant force in its industry for years. It sells everything from candy to jewelry, and from alcohol to office supplies. The massive company has nearly 100,000 full-time employees and operates in eight different countries. The stock is currently trading at $106.36, up about 20% in the last 52 weeks. The company offers a $1.10 per share dividend.
Costco reported wonderful earnings in its 10-Q just a few weeks ago. Quarterly revenues went up around 8%, and net income was up to $547 million from $394 million the previous year. Analysts expect that the company will grow at a rate of 13.30% per annum for the next 5 years, compared to the industry estimate of 12.03%. Costco is still growing at an impressive rate, as membership fees increased from $459 million to $528 million, and the number of cardholders grew by about 5%. Consisting of cash flows and short-term investments, the company's liquid assets increased about 14%. The fact that Costco, involved in the sale of numerous general items, was founded not too long ago (in 1983) and is already an industry leader is impressive, as are the statistics I have cited, which point toward exceptional growth in the coming years.
This growth is evident in the company's 10-Q, in which it stated that it opened 14 new warehouses in the first half of 2013, and plans to open an additional 14 in the latter half. These ambitious goals are expected to cost the company $2 billion, but this is acceptable, because as the saying claims, you have to spend money to make money.
A few more encouraging statistics from the 10-Q:
Net sales increased by 8% with comparable sales increasing 5%.
Gross margin as a percentage of net sales increased six basis points.
Net income per diluted share raised from $0.90 to $1.24.
International net sales increased 11%.
So what do all of these statistics really mean? It means that the company has great potential for growth and success, and has already begun to show some. Costco is just a normal corporation, selling a myriad of ordinary products. It is not the most exciting business in the world, but this does not justify the undermining of significant advances the company is making.
The impressive growth in annual net income can be seen below.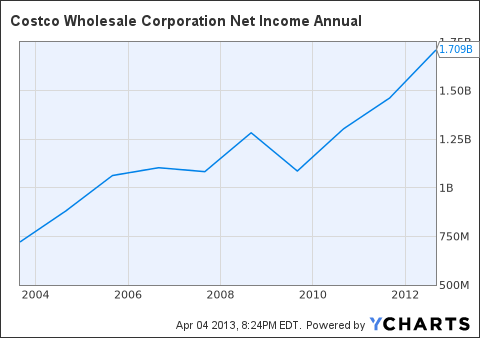 COST Net Income Annual data by YCharts
Despite the success of Costco, one somewhat minor threat must be paid attention to, and that is competition. Two of Costco's main competitors are BJ's Wholesale and Wal-Mart's (NYSE:WMT) Sam's Club. But still, despite this competition, Costco remains dominant. Costco's net sales are at about $97 billion, while Sam's Club's are at $56.4 billion. The privately-owned BJ's has revenues that are only about one-tenth of Costco's.
Costco is relatively cheap right now considering the money it is making. It is trading at 23.82 times earnings, has a decent price/book of 4.59, and a price/sales of 0.45.
Costco has room to grow, with few obstacles standing in its way. The business will continue to grow and prosper for years to come, and it wouldn't be a bad idea to jump aboard and succeed with it by buying a few shares.
Disclosure: I have no positions in any stocks mentioned, and no plans to initiate any positions within the next 72 hours. I wrote this article myself, and it expresses my own opinions. I am not receiving compensation for it (other than from Seeking Alpha). I have no business relationship with any company whose stock is mentioned in this article.