The share price of Philip Morris International (NYSE:PM) has returned 6% over the past 12 months and recently reached its 52-week high. Despite the recent price run-up, I believe this popular dividend stock remains a buy based on the following 5 reasons:
1. PM shares are still inexpensive based on its solid financials relative to its primary peers'. According to the chart shown below, the company's 2-year consensus revenue, EBITDA, and EPS growth estimates are generally better than the averages for a peer group consisting of Lorillard (NYSE:LO), Altria Group (NYSE:MO), and Reynolds American (NYSE:RAI). Similarly, PM's long-term EPS growth rate is forecast to be significantly above the peer average. On the profit side, PM continues to demonstrate a superior performance as the company's various profit margins are notably above par. Although the firm's ROIC metric is below average, the difference is not significant. In terms of debt and liquidity, PM's debt to capitalization ratio is a bit high compared to those of its peers. However, its debt to EBITDA multiple is not markedly above the peer range given the firm's robust profitability. PM's free cash flow margin is fairly in line, and the company was able to maintain a healthy interest coverage. Both the firm's current and quick ratios are below par, reflecting a mediocre balance sheet condition.

The stock's current price multiples at 11.2x forward EBITDA and 16.4x forward EPS (next 12 months) together are on average 21% above the same multiples of the peer group. After accounting for PM's superior long-term earnings growth estimate, however, its PEG ratio of 1.4x is 21% below the peer average at 1.8x, suggesting the market has likely not given sufficient credit to the company's leading profitability performance and thus, the shares are modestly undervalued on a relative basis (see chart above).
2. Compared with the broader market, PM's forward P/E multiple is currently trading at an 11% premium over the same multiple of S&P 500 Index, which stands at 14.7x now. I believe this presents a great buying opportunity as the current market premium appears to be low given that 1) since 2012, the market premium has averaged at 18%; 2) PM's long-term earnings growth estimate at 12% is considerably above the peer average of 8.2% for the S&P 500 companies; 3) the company offers industry/market-leading profitability and free cash flow margins; and 4) the stock has a 3.6% dividend yield, which exceeds an average yield of 2.5% for the S&P 500 Index, and the share price is also bolstered by the company's repurchase program.
3. From a historical valuation perspective, PM's trailing P/E multiple is in line with its historical level back in 2008 (see chart below).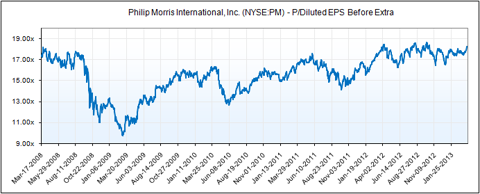 The current valuation appears to be reasonable as PM has been able to produce a higher return on investment as reflected by its rising ROE, ROA, and ROIC metrics, and the company has also managed to steadily expand the profitability margins (see charts below).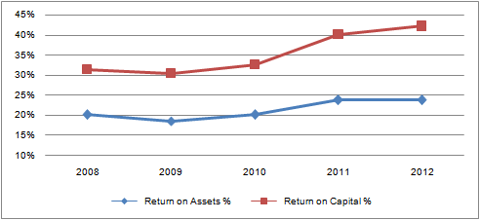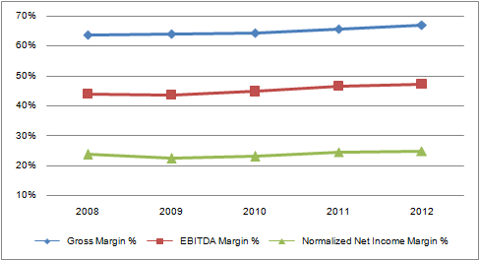 4. Market sentiment is solid. The market's consensus EPS estimates for 2013 and 2014 have trended steadily over the past 6 months, and the limited fluctuation reflects the company's earnings resilience. In addition, analysts' average estimated long-term earnings growth rate has been raised from 9.6% to 11.6% since 6 months ago, further evidencing the positive sentiment (see charts below).

5. The current dividend yield is likely sustainable because 1) PM has a track record of hiking its dividend by decent rates as its annualized dividend per share has been raised 3 times since 2010 by 10.3%, 20.3%, and 10.4%, consecutively; 2) PM's annual levered free cash flow was more than sufficient to cover the annual dividend payment in the past 5 years (see chart below); and 3) the company's earnings payout ratio at 61% is below the peer average ratio at 86%.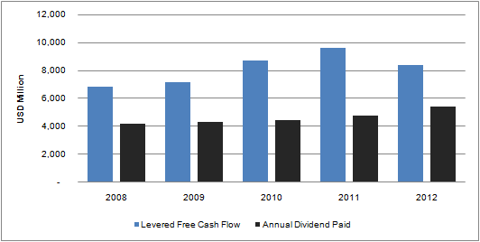 Bottom line, in the light of PM's healthy financials, steady growth potential, and solid margin of safety, the stock is still worth your consideration at its 1-year high.
All charts are created by the author except for the consensus estimate tables, which are sourced from S&P Capital IQ, and all financial data used in the article and the charts is sourced from S&P Capital IQ.
Disclosure: I am long PM. I wrote this article myself, and it expresses my own opinions. I am not receiving compensation for it (other than from Seeking Alpha). I have no business relationship with any company whose stock is mentioned in this article.