Groupon (NASDAQ:GRPN) has taken its fair share of lumps over the past year. After going public to much fanfare, the company has been mired in controversy. Prior to going public, the company was forced by the SEC to restate its financial statements because it was overestimating revenues. The company was recognizing the full amount of the revenue per coupon as revenues when it should have only reported the amount of money it was entitled to. For example, if they sold a $50 coupon for $25, Groupon would be entitled to $12.50 of that coupon while the merchant would get the remaining $12.50. Groupon argued that it was the responsible party for the transaction and as a result it was entitled to recognize the full amount of the transaction with the $12.50 going to the merchant being recognized as cost of goods sold. The SEC didn't buy their argument and forced them to restate their revenues in the S-1 filings when they went public. While this didn't have an impact on the bottom line, it did cause uncertainty right off the bat when they went public.
The company expanded too fast, causing revenues to explode and losses to expand. After going public at a $13 billion market cap, the company's valuation plunged to under $2 billion. Executives had to be questioning founder Andrew Mason's controversial decision of turning down a buyout offer from Google for $6 billion just 18 months earlier.
Speaking of Mason, the quirky affable leader that founded this business back in 2008, was recently ousted due to poor performance and a lack of direction. The company has had many different forays into trading retailing (putting it in competition with retailers like Amazon.com (NASDAQ:AMZN) and eBay (NASDAQ:EBAY) in the discount online retailing space), travel deals (competing with Priceline (PCLN) and Expedia (NASDAQ:EXPE) and other ventures that have left investors confused as to what the company's long-term objectives are. And the stigma of having turned down a buyout offer that would have enriched every investor and employee was a hard one to overcome.
With all of this in mind, the brand is still a recognizable one and is the first one people associate with when they think of coupons. There is a lot of value in the business because of this brand recognition. And if you have followed any of my articles you will know that I love potential turnaround stories. Especially ones where sentiment is very negative and not that many analysts are following the turnaround (the latter not being the case here, though).
So let's take a look at recent trends in a few key metrics to see if the stock warrants a second look.
Gross Margins:
Gross profit (revenues less cost of goods sold) as a percentage of sales. I always look at recent trends in this ratio as a starting point to see if the company has been able to stabilize its most basic operating metric. Take a look at the past 5 quarters' gross margins to see what the recent trend is:

Clearly the trend is bad. From 80.5% down to 55.8% in 5 quarters. Yikes.
Expenses:
The next thing I look for in turnarounds is to see if they can keep expenses in check. If a company can show positive gross margin trends and operating expense trends then it means they have right-sized the business and only have to focus on growing revenues going forward. When a company gets expenses as a percent of revenues down and gross margins stabilized or are improving, it tells me that the management team has a process in place for maintaining profitability and can hone in on growing the top line to spit out impressing bottom line numbers. Look no further than the impressive turnarounds in Pier 1 (NYSE:PIR) and Nautilus (NYSE:NLS) as proof of what happens when these two metrics are kept in check. As I said, it frees the company up to focus on growth.
Anyway, let's take a look at the recent trends in expenses as it relates to revenues:

These numbers are excellent. And improvement of 26% in the past 5 quarters is nothing to sneeze at.
What about Growth?
With Groupon, one metric I like to look at is the growth in active customers. Obviously this metric gives insight into how quickly it is growing but it also can show you how much money they are making per active customer. If that number is rising then the company is offering enough additional services / products of interest that are of interest to their customer base. Here are the most recent trends in this metric (#'s are in 000's):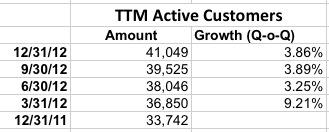 Growth has slowed considerably in this number.
Conclusion:
The trends in gross margins are pretty bad. However, there is a silver lining in that if Q4 2012 was an outlier, consider what the bottom line would have been if Q3 2012 margins were maintained. They would have generated over $64 million in operating profits. By keeping costs as a percentage of sales down and trending lower, the company is opening up the door to profitability in the future. It is still too early to tell if the company can get back to just its Q3 2012 margins. If it is able to do this and continue tapping into its huge customer base with additional offerings like Groupon Goods, while maintaining strict control over expenses, the recipe is certainly there for sustained profitability going forward. Clearly, the stock is suggesting that a bottom is in. After having bottomed in November at around $2.60 the stock is up 125%. And after a big drop on earnings on February 28th, the stock is back to where it was trading before earnings. Right now, though, I think we need to see how Q1 2013 numbers look, particularly how the gross margins look, before betting on this turnaround. It is interesting but not quite there for me.
Disclosure: I have no positions in any stocks mentioned, and no plans to initiate any positions within the next 72 hours. I wrote this article myself, and it expresses my own opinions. I am not receiving compensation for it (other than from Seeking Alpha). I have no business relationship with any company whose stock is mentioned in this article.