Caterpillar, Inc. (NYSE:CAT) is a very popular stock for investors, but it has not performed well for the past few months and that trend could continue due to a number of challenges. Caterpillar makes earth-moving and other heavy equipment that is used in construction, farming, mining, heavy infrastructure and other industries. Let's take a look at the recent performance of the stock as shown on the chart below, and also review some significant issues that could keep this stock in a downtrend for now: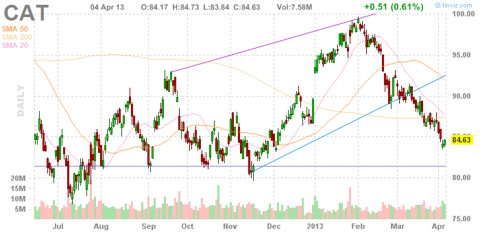 As the chart above shows, this stock topped out in early 2013, and it has been trending down for the past few weeks. This is particularly troubling because the S&P 500 Index (NYSEARCA:SPY) has been trending higher. This weakness in Caterpillar could become even more pronounced if the markets were to experience a correction. Many stocks are trading well beyond the 50- and 200-day moving averages and when the markets are this extended, a healthy correction is sometimes needed. Stocks that are weak or lagging during a major market rally, often perform even worse when markets are sinking. That is a concern for Caterpillar shares, especially since the S&P 500 is up about 9% in 2013. Here are a few issues that could keep investors out of Caterpillar and why Kubota (KUB) could be sending a warning to heed as outlined below:
1) There are some recent management issues that have been cause for concern. First of all, Caterpillar's management needed to reduce longer-term earnings estimates, and that is a sign that the company has been and still could be overly optimistic when making forecasts. Factors that could result in weaker-than-expected revenues in the coming months include a slowdown in China, and an ongoing economic crisis in Europe. Caterpillar also recently reported a steep drop in orders. It announced that global sales declined by 13% in the three-month period ending in February.
2) Management also made a significant misstep when buying a Chinese firm, which subsequently resulted in a $580 million charge. This was allegedly due to accounting fraud and that shows a lack of due diligence in the eyes of some investors. These issues have been known for a few weeks now, but one recent issue that may not be priced into this stock is Japan.
3) Japan's new Prime Minister, Shinzo Abe has taken aggressive steps to boost the economy in that country. He has introduced monetary and fiscal policies that have led to a major 8% drop in the value of the yen, and the currency could be poised to depreciate further. This is a real concern for American manufacturers like Caterpillar because a weak yen makes Japanese products less expensive around the globe. This will make Japanese heavy equipment makers like Kubota more competitive and it could force Caterpillar into discounting. This could lower profit margins in the coming quarters. Since the decline in the yen is very recent, the impact of this has probably not fully registered with U.S. investors, but it could in the next couple of quarters. Take a look at the chart for Kubota below, and you can see it is trending higher just as Caterpillar continues to fall. This is signaling that investors expect Kubota to benefit from the weakening Japanese yen. An 8% drop in the yen is a major move and it gives a serious competitive edge to Japanese exporters.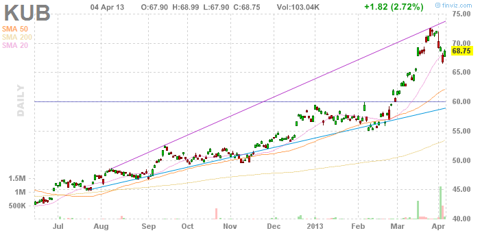 With Caterpillar shares in a solid downtrend the stock might not find
support until around $80. This is where the stock (see CAT chart above) has found support in the past several months. The markets could be overdue for a pullback and that could take Caterpillar shares down further. Also, it seems that the Japanese currency issue could take a toll on earnings and make Caterpillar less competitive against rivals like Kubota. For these reasons, it makes sense to avoid the stock for now.
Here are some key points for CAT:
Current share price: $84.47
The 52-week range is $78.25 to $111.35
Earnings estimates for 2013: $8.03 per share
Earnings estimates for 2014: $9.40 per share
Annual dividend: $2.08 per share, which yields 2.3%
Data sourced from Yahoo Finance. No guarantees or representations are made.
Disclosure: I have no positions in any stocks mentioned, and no plans to initiate any positions within the next 72 hours. I wrote this article myself, and it expresses my own opinions. I am not receiving compensation for it (other than from Seeking Alpha). I have no business relationship with any company whose stock is mentioned in this article.
Disclaimer: Hawkinvest is not a registered investment advisor and does not provide specific investment advice. The information is for informational purposes only. You should always consult a financial advisor.