After announcing on December 6th, 2012 the intention of the company to buy back as many as $2 billion worth of shares, Sirius XM (NASDAQ:SIRI) investors have speculated both how, and when, this might happen.
I think I might have an answer.
On December 3rd, I penned an article entitled, "Sirius XM: Has UBS Begun Filling Another Forward Contract Today?" in which I speculated that UBS (NYSE:UBS) had begun filling a forward contract due to its absence on level 2 quotes. To show what I mean, take a look at a snap shot of my E*trade (NASDAQ:ETFC) quote page from this afternoon. You will notice UBS is present on most price points as "UBSS."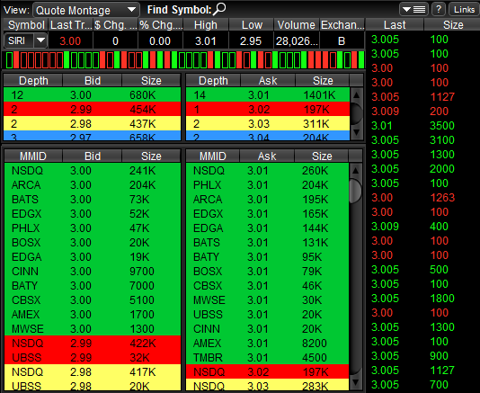 When I wrote the above article in December, "UBSS" was absent entirely from this quote page. The only other time I had seen "UBSS" absent was absent had been earlier in 2012. Its absence was explained when Liberty Media (LMCA) announced it had engaged in a forward contract with an undisclosed party for some 300 million shares of Sirius XM, and later confirmed when UBS reported ownership of nearly 300 million shares. This was further confirmed when Liberty Media took possession of the shares and UBS reported a considerably reduced stake.
The problem with my article from December 3rd was that I assumed that UBS was filling a forward contract for the remaining 50 million or so shares Liberty Media needed to move to control:
It would be my assumption that, absent a one day fluke, UBS is filling a third and what I would assume is final forward contract in order to secure shares of Sirius XM for Liberty Media.
But in January, Liberty Media purchased the 50 million shares on the open market, destroying my theory.
But the fact of the matter remains that from December 2012 up until early April 2013, UBS has been absent from level two quotes, and that's a very long time to excuse yourself from market making unless you are up to something else on the side. My assumption? UBS has been filling a forward contract for none other than Sirius XM itself. Consider how close together the dates are for UBS exiting level 2 quotes, and Sirius XM's announcement of the buyback. December 3rd and December 6th. Three days.
And of course, money flows have also pointed to some very heavy buying. Anything over the red line on this chart is a "buying" day, with most trades going for the asking price. The presence of a big buyer since December is very clear.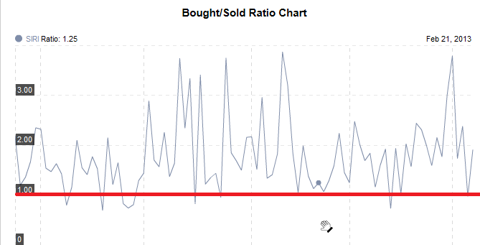 With Liberty Media at the helm, and arguably "in control" even before actually moving to control on paper, it is reasonable to assume that Sirius XM will behave in a similar way while doing share buybacks, to how Liberty behaved when buying up shares of Sirius XM. Start with a big forward contract in secret, and later on go for shares in the open market.
Why do it this way? Because it defers disclosure, and it allows a third party to work its magic. The company can simply state that it has not started buybacks, because in reality, it has not bought back a single share. UBS is a third party, and although there may be a contract to purchase shares back in the future, that does not need to be stated.
Do not be surprised if, when Sirius XM announces Q1 numbers, that not a single share has actually been bought back, because the shares are in contract and not actually delivered yet to the company.
So what should investors do? If you follow my assumption here, is it time to panic? Absolutely not. I'd be thrilled to find out that Sirius XM now had a forward contract for 300 million shares at a share price of $3.10 average, and I would be even more thrilled if it was disclosed that Liberty Media agreed to sell 300 million shares back to the company in kind. Sure, that's a price higher than can be had today at $3 per share, but for a massive volume of shares, that would look like a steal.
As I have been saying all along, Liberty Media, for now, will be interested in what is best for Sirius XM. I would applaud a move that allowed the company to cover the $2 billion buyback in one fell swoop at today's pricing. In a year, much like Liberty Media's forward contract at $2.15 in 2012, it will look like the deal of the century.
Disclosure: I am long SIRI. I wrote this article myself, and it expresses my own opinions. I am not receiving compensation for it (other than from Seeking Alpha). I have no business relationship with any company whose stock is mentioned in this article.
Additional disclosure: I am long SIRI January 2014 $2 calls.