In last week's article, S&P 500's Summer Slumps And Why This Summer Could Be Different, I analyzed the four catalysts of last year's summer slump. The four catalysts for the correction in the S&P 500 (NYSEARCA:SPY) last year were: jobs, Federal Reserve, Europe and earnings. This past week investors received a lot more information about the first three. I continue to believe that earnings are key to the next move for the S&P 500, but the other factors were the drivers for the price action this week. In this article, I will look the performance of the S&P 500 and the new data about each of the summer slump indicators.
S&P 500 Performance
On Monday, Alcoa (NYSE:AA) is scheduled to report earnings and start Q1 2013 earnings season. The first chart shows the parallels between the S&P 500's price action leading up to earnings this year compared to last year.
The second chart more clearly shows the current rally. Even with the negative reaction to the jobs report, the S&P 500 still held the trendline for the rally that started last November. By contrast, in April 2012 the S&P 500 broke its trendline before earnings season began.
Next week, we will see if the S&P 500 can continue to hold above this trendline and this could be an interesting divergence with the price action last year.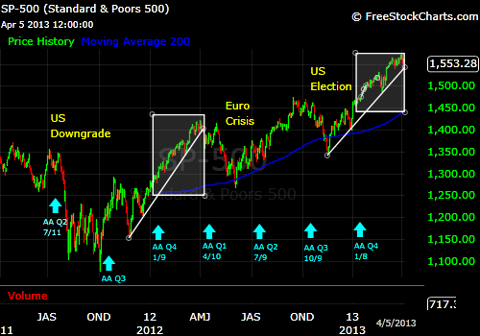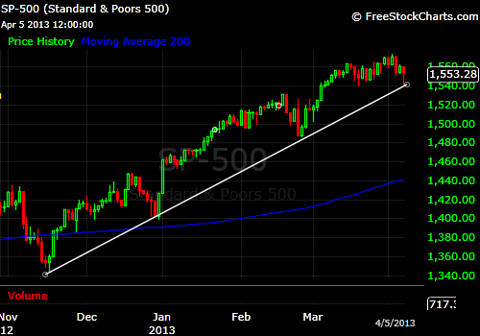 (Source: FreeStockCharts.com)
The bullish explanation of the price action this week is that the market let out some steam in advance of earnings season. The S&P 500 was at record highs at the end of a multi-month rally and faced a week (until Friday) without much news. Therefore, a small pullback was in order. Importantly, the decline following the jobs number was met with dip-buyers and the trendline provided support.
The bears will say that the market is overextended, with a high multiple and way above the 200 day moving average. The bad jobs number could be an indicator of more weakness to come, and this week was the first crack in the rally.
Summer Slump Indicators
Here is a summary of the indicators: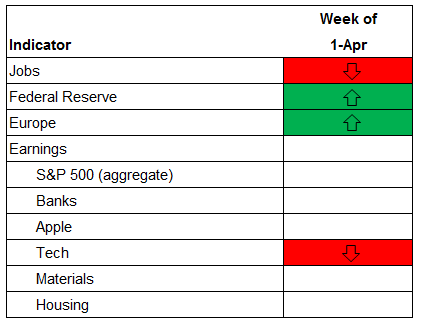 In the following sections, I will explore each indicator and its impact on the S&P 500.
Jobs
The March nonfarm payroll report of 88,000 new jobs came in way below expectations of 150k-200k.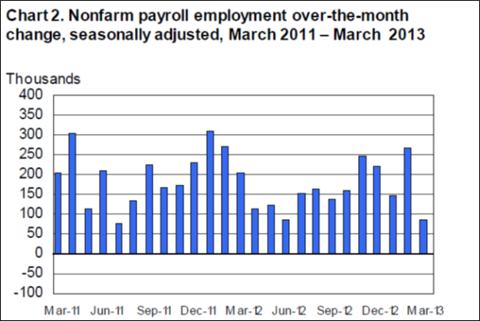 (Source: BLS.gov)
The number was clearly bad, but investors should not attach too much significance to one number.
The numbers are often revised in subsequent months. In addition to the March data, the BLS revised up the January number from 119,000 to 148,000 and the February number from 236,000 to 268,000.
However, the weak data adds an element of risk to the market and we'll see if it develops into a trend. Some investors are predicting a big drop in employment during the Spring months, like the last two years, and the March data adds to that risk.
Federal Reserve
The bad jobs number could mean that the Federal Reserve will be in no hurry to end its quantitative easing program ($85 billion of bond purchases monthly).
In a previous article, The Fed's Tapering Of QE Could Be Good For The S&P 500, I argued that the recent chatter about the FOMC "tapering" bond purchases was not necessarily a sign that they were going to scale back in the short term. My current projection is that QE will continue for the rest of the year. At some point, they may taper down from $85 billion per month, but I still expect the Fed's balance sheet to reach ~$4 trillion from $3.2 trillion now.
The following chart shows the relationship between the increase in the Fed's balance sheet and the performance of the S&P 500.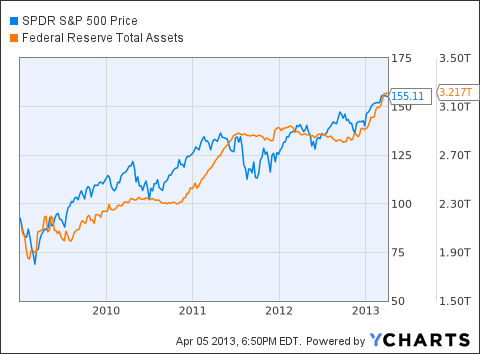 FOMC members have been talking recently about what they would like to see from the job market before starting to taper down QE.
Atlanta Fed President Dennis Lockhart said the following:
"Several months of job creation exceeding 180,000 and declining unemployment would mean "in the second half of the year or in early 2014 it would be appropriate to consider the tapering off"" (source: Blooomberg)
Similarly, Chicago Fed President Charles Evans, said he'd like to see payrolls at "200,000-a-month increases for like six months" before ending QE (source: Bloomberg)
Each FOMC member represents his/her own opinion and not all vote at each meeting. Nonetheless, FOMC members that were hoping for ~200k monthly jobs numbers to start reducing QE will need to wait a while longer as a result of the March data.
Europe
On Thursday, ECB President Mario Draghi said that the bail-in/bail-out of Cyprus was not a template for future banking problems.
The euro rallied on Draghi's comments and finished the week just shy of $1.30. Furthermore, bonds yields in Spain and Italy fell.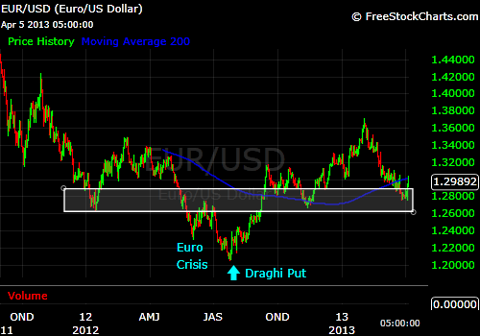 (Source: FreeStockCharts.com)
Europe is still facing many problems but the news, and price action of European securities, were incremental positives. The fears that the Cyprus crisis would lead to broader problems in Europe have subsided for now.
Earnings
Earnings are the real catalyst for the next move in the S&P 500 and earnings season begins on Monday.
According to Factset, as of March 28, 2013, the number of companies that have issues negative pre-announcements is at a 5 year high (see here):
"For Q1 2013, 86 companies have issued negative EPS guidance and 24 companies have issued positive EPS guidance... For the current fiscal year, 168 companies have issued negative EPS guidance and 77 companies have issued positive EPS guidance." (Source: Factset)
In my previous article, Roadmap For Navigating The Upcoming Earnings Season And S&P 500's Next Move, I discussed that I am looking at the following factors to judge the health of earnings season:
S&P 500 earnings in aggregate (had been flat, needs to grow)
Banks - an important leading sector
Apple (NASDAQ:AAPL) - important for sentiment
Tech - has been lagging, but needs to turnaround
Materials (cyclicals) - has been very weak, so looking to see if earnings can stem the downward pressure
Housing - like banks, has been an important leader
I will follow up on these items as the data comes in.
However, there has been some preliminary news from some tech companies and the results look weak. Earnings from Oracle (NYSE:ORCL), Tibco (NASDAQ:TIBX), Red Hat (NYSE:RHT) and F5 (NASDAQ:FFIV) have all disappointed.
Because of these datapoints, as well as the weakness in Europe and federal spending, I am taking a cautious approach to tech earnings. Most likely, I will not hold tech companies through their earnings results. Instead, I will be looking to buy companies if they fall following earnings.
Before Oracle's earnings, I wrote an article: Are Oracle's Earnings A Potential Catalyst For P/E Expansion And A Breakout?
Clearly, Oracle disappointed and the stock fell. I did not have a position going in Oracle going into earnings, despite being bullish. However, I invested after the drop and now hold the stock. I may look to repeat this with other tech stocks.
Conclusions
I remain bullish going into earnings season. The price action of the S&P 500 today seemed to show that there is dip-buying demand. It seems reasonable that the S&P 500 let out some steam after reaching new highs and before earnings.
However, I am focused on four main indicators. This week, the jobs report was a big negative and the Fed and Europe were positives.
Earnings are the real catalyst for the next big move in the S&P 500. Some of the early signs are slightly negative, but it is hard to tell now. I will reserve judgment until there is more data.
As I mentioned in the last article, it is important not to be complacent. If the data is bad, I will react. I don't have a problem moving to the sidelines and then getting back in. The next level of support that I am looking at is 1,530 for the S&P 500. If the S&P 500 loses this level, I may become more cautious. This is my game plan that is suitable for my timeframe, risk tolerance, etc., and each investor needs to develop a framework that works for them.
Disclaimer: The opinions expressed above should not be construed as investment advice. This article is not tailored to specific investment objectives. Reliance on this information for the purpose of buying the securities to which this information relates may expose a person to significant risk. The information contained in this article is not intended to make any offer, inducement, invitation or commitment to purchase, subscribe to, provide or sell any securities, service or product or to provide any recommendations on which one should rely for financial, securities, investment or other advice or to take any decision. Readers are encouraged to seek individual advice from their personal, financial, legal and other advisers before making any investment or financial decisions or purchasing any financial, securities or investment related service or product.
Information provided, whether charts or any other statements regarding market, real estate or other financial information, is obtained from sources, which we and our suppliers believe reliable, but we do not warrant or guarantee the timeliness or accuracy of this information. Nothing in this article should be interpreted to state or imply that past results are an indication of future performance.
THERE ARE NO WARRANTIES EXPRESSED OR IMPLIED AS TO ACCURACY, TIMELINESS, COMPLETENESS, OR RESULTS OBTAINED FROM ANY INFORMATION IN THIS ARTICLE OR ANY LINKED WEBSITE.
Disclosure: I am long ORCL. I wrote this article myself, and it expresses my own opinions. I am not receiving compensation for it (other than from Seeking Alpha). I have no business relationship with any company whose stock is mentioned in this article.
Additional disclosure: I may trade any of the securities mentioned in this article at any times, including in the next 72 hours.