Business:
Dover (NYSE:DOV) is a diversified, global manufacturing conglomerate that operates in four major business segments:
Communication Technologies
Energy
Engineered Systems
Printing & Identification
Within each segment, DOV manages an array of businesses which manufacture items such as hearing aids, speakers, cell phones, air conditioning systems, automated car wash systems, refrigeration systems and glass enclosures, which are used for supermarket refrigeration systems. A list of the company's subsidiaries can be downloaded here.
(Note: The list was taken from the company's 2009 10-K. According to a representative who works in the company's Investor Relations department, it is the only known list in existence, and approximately three of the companies have been sold since the list was compiled.)
The company is so massive that some analyst actually use it as a proxy to gauge how the overall, global economy is performing. Presently, the company has a market cap of $12.4 billion, and it is continuing to grow. In 2012, the company spent $1.2 billion on acquisitions, which the company's president, Robert A. Livingston, believes recent acquisitions "significantly enhanced [the] Company's position in [its] growth spaces of energy, communication components, refrigeration & food service equipment, fluid solutions and product identification." [2012 Annual Report]
Some of the key points Mr. Livingston makes in his annual letter to shareholders are:
The acquisitions of Anthony, Maag Pumps and Production Control Services.
Continued global growth (primarily in Asia, which accounted for approximately 18% of the company's 2012 revenues).
An 11% rise in the company's annual dividend.
A $1 billion share repurchase program.
A 14% increase in revenue in the company's energy segment.
A 35% Compounded Annual Growth Rate outside the company's U.S. and European markets.
A 10% increase in revenue in the company's Engineered Systems segment.
Accelerated investments in the company's Brazilian, Chinese and Indian markets.
Fundamentals:
A 43% decline was seen in fourth quarter earnings for 2012, but the dip appears to be related to the company's plans to sell noncore businesses. For the quarter, DOV reported net earnings of $160 million, or 89 cents per share, as opposed to net earnings of $278 million, or $1.49 per share a year earlier.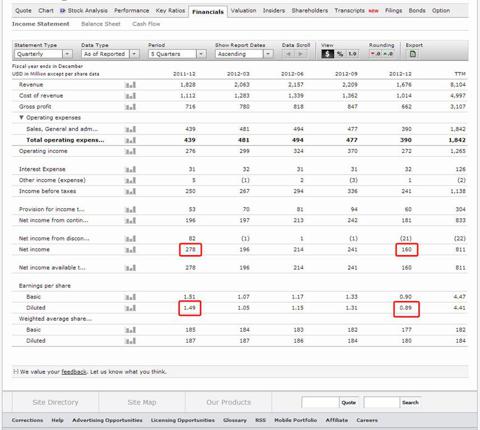 On a year-over-year (YOY) basis, DOV showed net earnings of $811 million, or $4.41 per share, as opposed to $895 million, or $4.74 per share a year earlier.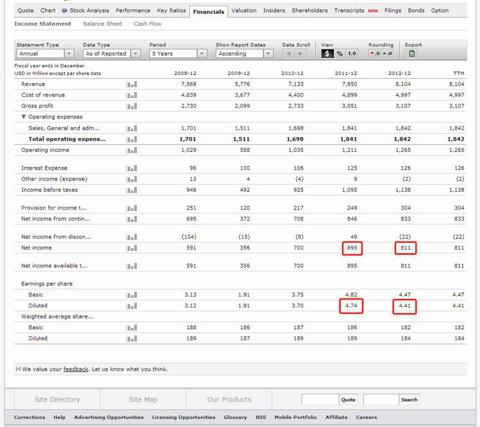 Revenues, on a YOY basis, showed a 1.94% increase.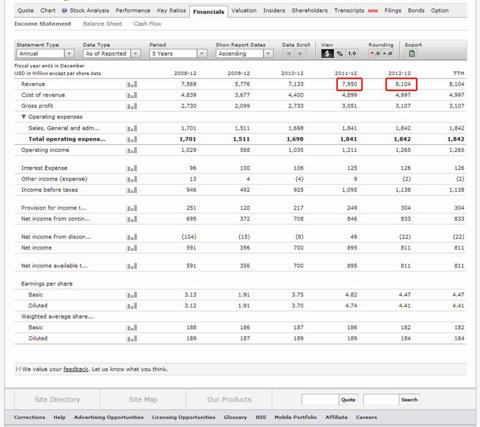 DOV's current debt ratings are:

Of concern is DOV's high level of goodwill and intangible assets which, when combined and taken into consideration, give DOV a tangible book value of negative $4.63.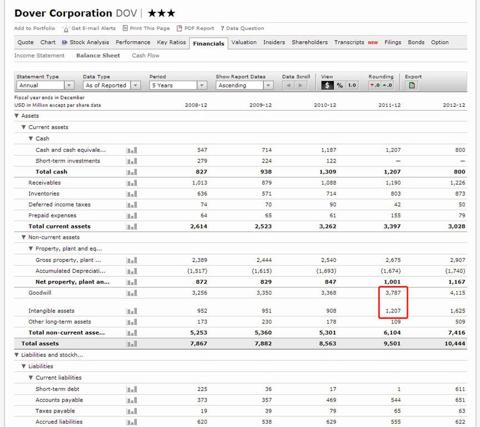 In 2012, DOV paid $1.33 per share in dividends for a current dividend yield of 2.00%. Its current payout ratio is a very comfortable 29.4%.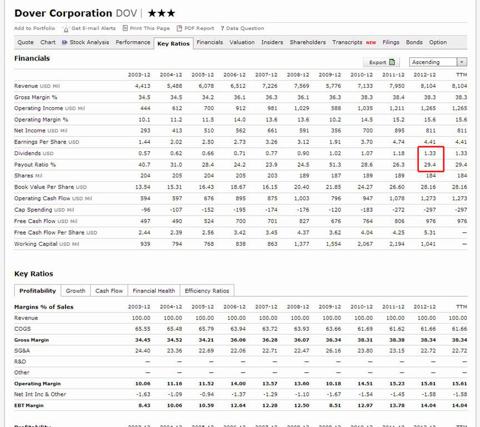 Technicals:
Technically, DOV has seen some choppy trading since the end of the 1990′s.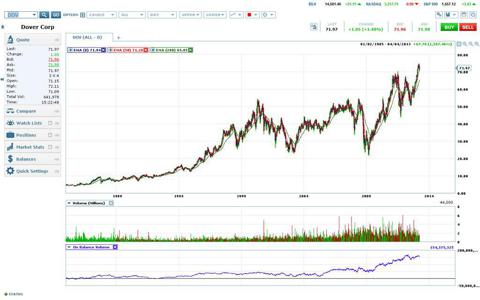 On November 2nd of 2012 a Golden Cross was witnessed (yellow oval) when the 50-Day MA crossed above the 200-Day MA. Since that time, the stock's price followed and upward trajectory until March 15th of this year when the stock's price started to roll-over. Presently, the stock's price is hovering around the 50-Day MA (@ $71.28).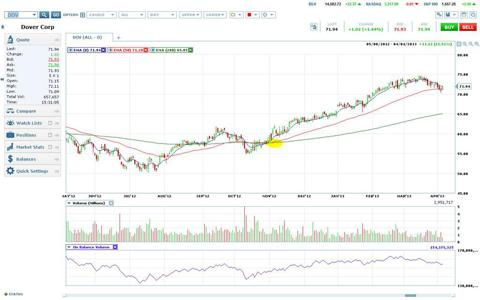 If the stock's price breaches the 50-Day MA and dips below $70.00 per share, look for it to continue its downward trajectory to the 200-Day MA, which is currently hovering around the $65.00 per share range. Also worthy of mention is the fact that on balance volume is now trending downward.
Positive Catalyst:
Founded in 1925, DOV is a large and diversified conglomerate that has a long track record of acquiring and developing small businesses in niche industries. DOV seeks to acquire businesses in industries its management team knows well, and then it allows those businesses to grow under a decentralized organizational structure.
Negative Catalyst:
DOV derives approximately 50% of its revenues from international markets, which exposes it to considerable currency and geopolitical risks. The company's goodwill and intangible assets figures are rather high, which give it a negative tangible book value (a concern for those who worry that the company may go bankrupt).
Conclusion:
For those looking for a dividend paying company that operates in several diverse niche businesses, DOV offers a one-stop-shopping solution. The company has been in operation for nearly 90 years and it has done well at growing its business through acquisitions and through managing a very diverse portfolio of companies. On the downside, however, the company's tangible book value is in the red; its revenues have been relatively flat over the past several years; and approximately 50% of its revenues are derived from international markets, whose economies are, presently, in worse shape than those in the U.S. Also worrisome is the fact that the company operates in countries that offer many geopolitical risks. According to information obtained from the company's 10-K, for the fiscal year ended December 31, 2012, some of those risks are:
Approximately 46% of our revenues for 2012 and 47% of our revenues for 2011 were derived outside the United States. We continue to focus on penetrating global markets as part of our overall growth strategy and expect sales from outside the United States to continue to represent a significant portion of our revenues. In addition, many of our manufacturing operations and suppliers are located outside the United States. Our international operations and our global expansion strategy are subject to general risks related to such operations, including:

o political, social, and economic instability and disruptions;

o government embargoes or trade restrictions;

o the imposition of duties and tariffs and other trade barriers;

o import and export controls;

o limitations on ownership and on repatriation of earnings;

o transportation delays and interruptions;

o labor unrest and current and changing regulatory environments;

o increased compliance costs, including costs associated with disclosure requirements and related due diligence;

o the impact of loss of a single-source manufacturing facility;

o difficulties in staffing and managing multi-national operations; and

o limitations on our ability to enforce legal rights and remedies.

If we are unable to successfully manage the risks associated with expanding our global business or adequately manage operational risks of our existing international operations, the risks could have a material adverse effect on our growth strategy involving expansion into new geographical markets or our results of operations and financial position.

Source: [Link]
Thus, for those who may be interested in investing in DOV, some caution is warranted. A dollar cost averaging strategy to enter a new position would be advisable, and strict discipline to tight stop-losses, possibly coupled with options hedging strategies, would be prudent.
Note: Charts provided courtesy of optionsXpress. Financial data provided courtesy of Morningstar.com. Tangible book value provided courtesy of gurufocus. Ratings data was taken from the company's own Web site.
Disclosure: I have no positions in any stocks mentioned, and no plans to initiate any positions within the next 72 hours. I wrote this article myself, and it expresses my own opinions. I am not receiving compensation for it (other than from Seeking Alpha). I have no business relationship with any company whose stock is mentioned in this article.