Acadia Pharmaceuticals (NASDAQ:ACAD) is a stock I have been following for some time. I have been working in the medical field for the past 15 years, and having first-hand experience with patients with Parkinson's disease, I can say that the potential of ACAD's drug Pimavanserin is massive and can reap huge benefits to investors in the long term.
The story
On November 27th, 2012, ACAD announced that Pimavanserin met primary and key secondary endpoints in Pivotal Phase III Parkinson's Disease Psychosis trial. There were significant improvements in all secondary and exploratory measures.
Jeffrey Cummings, M.D., Sc.D., Director of the Cleveland Clinic Lou Ruvo Center for Brain Health had this to say about the results "These data represent an unprecedented advance for Parkinson's patients who suffer from the psychosis frequently associated with this disease".
Pimavanserin met the primary endpoint in the Phase III trial by demonstrating highly significant antipsychotic efficacy as measured using the 9-item SAPS-PD scale (p=0.001). Pimavanserin also met the key secondary endpoint for motoric tolerability as measured using Parts II and III of the Unified Parkinson's Disease Rating Scale, or UPDRS. These results were further supported by a highly significant improvement in the secondary efficacy measure, the Clinical Global Impression Improvement, or CGI-I, scale (p=0.001).
The above results led to a very nice jump in November as the stock went from $2.50 to $5+.
Recent presentations
A recent presentation at the 65th American Academy of Neurology was also presented by Dr. Jeffrey Cummings. Pimavanserin once again showed robust and consistent efficacy across a wide array of study measures and confirmed the positive top-line results previously reported.
Dr. Cummins said "Importantly, regardless of whether assessments were performed by independent blinded raters, site investigators or caregivers, clear benefits were observed and clinical measures were well aligned. The results of this study suggest that a selective, non-dopaminergic-based therapy has the potential to transform the standard of care by providing an effective, safe and well tolerated treatment for patients suffering from this large unmet medical need" and "Over ninety percent of the patients who completed the clinical phase of this trial elected to roll over into the ongoing open-label safety extension study".
This lead to another big stock price move from $6.50 to $8.
Fundamental analysis
ACAD looks great fundamentally. At the current price of around $7.70, the company has a market capitalization of around $600 million. I believe the potential of this drug is massive, and with ACAD's cash of $108 million in hand, I do not expect that other secondary offering of shares will be made in the near future
Technical Analysis
I am using the weekly chart to study ACAD's recent action. The price broke out of its recent consolidation and is now basing into a nice bullflag on the weekly. I will be adding to prices around this level as I believe ACAD will be trading between $8 and $10 before FDA results. Note how ADX is over 25, a number I use that shows the stock is on a huge uptrend.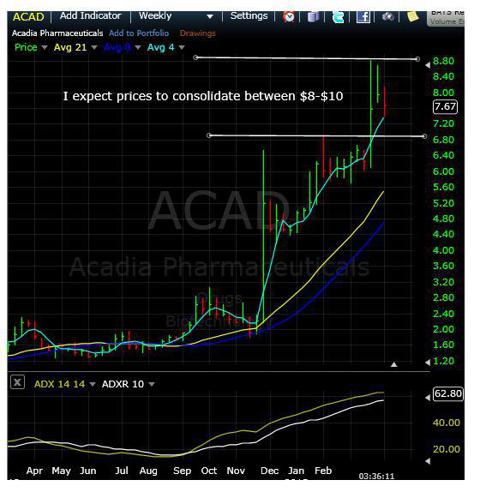 Conclusion
Despite the recent appreciation in ACAD's stock price, I believe the potential is there for higher prices. The drug has huge potential and I believe a $1b market capital is not out the question. One has to remember that big companies like AstraZeneca (NYSE:AZN), Biovail or Allergan (NYSE:AGN) might possibly see ACAD as a buyout candidate.
Despite the recent appreciation institutions still believe that Acadia will go even higher and increase their Acadia holdings by an average of 12%, adding approximately 5.7 million shares to their holdings. The company is still below mean analyst sell side target price of $10 and any positive information on Pimavanserin can bring it closer to this target. The company has recently received a buy rating for Jeffries with a target price of $13. The recommendation is based on Pimavanserin stellar trial results and the mammoth potential of the CNS market.
Disclosure: I am long ACAD. I wrote this article myself, and it expresses my own opinions. I am not receiving compensation for it (other than from Seeking Alpha). I have no business relationship with any company whose stock is mentioned in this article.