Simple question to the Apple (NASDAQ:AAPL) bulls whose answer has enormous implications: when do you plan to sell? I don't know about you, but when I buy a stock, I typically have a "target price" in mind at which I would decide to either sell calls or outright sell the stock. Why is this? There's nothing more irritating than seeing a major unrealized profit evaporate into thin air...well, except a giant unrealized loss! In this article, I implore investors in Apple - even at these levels - to answer the simple question: at what level would you sell?
Very Few Tech Companies Are "Hold Forever" Stocks
The big problem with companies like Apple is that they operate in fiercely competitive industries that are nearly totally dependent on the tastes of fickle consumers for their large profits. What was popular before Apple's iPhone? Oh, just the first "smartphones" from a little company called Research In Motion (BBRY) (now BlackBerry). Before then, it was Nokia (NYSE:NOK).
I know a lot of investors in Apple like to point to Apple's absurd profitability and its "brand loyalty," but it's not like BlackBerry and Nokia weren't raking in the dough, too: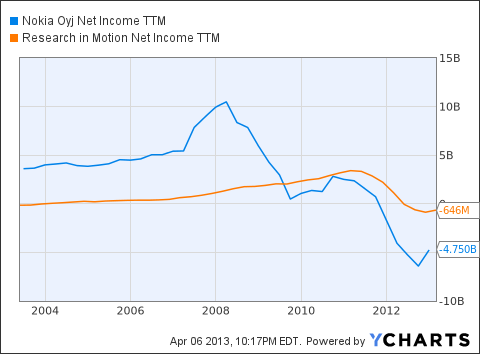 NOK Net Income TTM data by YCharts
Who honestly would have thought that Nokia would go from over $10B in net income to hemorrhaging $5B in just a few short years? Or how about BlackBerry - the President's phone of choice? Who knew that the gravy train for that company would come to an end, either? The sell-side in those days was projecting growth to infinity because the stocks were hot and trade-able (the brokerage firms made a killing on commissions, and the hedge funds traded their way to huge profits).
That being said, Apple is different...
Apple Is An Ecosystem Company...
Apple is an ecosystem company, rather than purely a device company. Sure, if you want in on their ecosystem, you have to buy one of their devices (this is a double edged sword), but fundamentally Apple is differentiated by the fact that its products can generally reel in a captive audience much more handily than almost every other company in the world. Customer stickiness for every one of their product lines - from phones to desktop computers - is quite high, and I believe that this helps to ensure that the company will be viable long after the "hype" completely vanishes.
Now the problem with this "double edged" sword is that it is entirely dependent on its device sales to keep the profit streams from its ecosystem flowing. Unlike Microsoft (NASDAQ:MSFT) which essentially prints money with each PC sold (no matter who makes said PC), or Google (NASDAQ:GOOG), which will get the world's clicks no matter what devices they're using, Apple needs people to buy iPhones, iPads, and iMacs/MacBooks to maintain its immense profitability, and this is why the company's shares fail to command even market multiple - the business has a lot of risk.
Too Much Risk
Apple is actually probably in the worst position possible with respect to longer term market share/profitability. In its niche-PC business, it already owns the high end market and has no intention of going after the low end market there, so the risk is really that the Microsoft PC vendors clean up their acts and put together competitive high quality devices. Apple's lack of a touch-based Mac is probably going to bite them in the rear end over the next couple of years as well, as high quality convertible Windows 8/Windows Blue PCs start really ramping up their "cool" factor. There is little room for market share gain in the broader PC segment, but plenty of room to lose share.
Same problem with tablets/phones. Right now, Apple is in the unenviable position of having the vast majority of the market share in the markets in which people have money - the developed world. See, while the PC vendors are still fumbling and bumbling to try to release quality devices that can compete with the MacBooks at the very top end, the phone/tablet scene is so much different. The innovation and quality is happening at a fierce pace in the phones. Look at the new HTC One, which Anandtech put up an epic review of. It's a beautifully designed device that makes the iPhone 5 look rather primitive in comparison. And that's from HTC - a vendor that had been "left for dead" over the last year.
It will only get worse as the competition in the Android/Other OS space heats up. Lenovo (OTCPK:LNVGY) isn't sitting still, ZTE is ready to go, LG isn't a slouch, Samsung (OTC:SSNLF) is a powerhouse, and you've even got Nokia and BlackBerry trying to get back into the game. This is a crowded space, and each of these smaller vendors is trying to eat into Apple's pie. Apple does have a moat, but it's not anywhere near as wide and deep as those found in other industries.
So if you are asking yourself why Apple's P/E is low, then understand that it's because the market does not see the profits as all that sustainable in light of the competitive pressures.
So, Back To My Question...
So, back to my original question: when do you plan to sell Apple if you are one of the brave souls buying today? How much upside do you see versus downside? Clearly, $705 was a top that was rejected pretty violently, and even the $600's couldn't hold for that long. What do you think it will take for the broader market sentiment to all-of-a-sudden shift in order to bring the price per share up?
Well, there are two components to a share price: earnings and multiple. With Apple, you are dreaming if you think the market will expand its multiple. Just ask Microsoft shareholders how willing the market was to give it an increased multiple over the years as its profits and revenues soared!
So, right now, any share price increase in Apple will be dependent on EPS growth against a fairly static multiple. If Apple manages to grow its earnings from 2012 levels (or more importantly, analysts revise their estimates upwards over the year to anticipate growth), then the share price will move proportional to 10x that value. According to analyst projections of $44.05, that's about $440.50/share - pretty much where the stock is trading today.
Apple Can "Save" Its Shareholders
The "saving grace" here is the cash. While many factor it into their valuations as Apple looks even cheaper from an EV/EBITDA standpoint, I believe that Apple can truly "save" its shareholders by getting super aggressive with its buyback. Enough of this $10B authorized nonsense - Apple, you have $137B on your books collecting a mere 2% or so!
If Apple were to engage in an aggressive buyback, it could help shareholders in more ways than juicing up the EPS line (although this really would help). See, when a company buys back stock, it does so on the open market. Now, you've got these hedge funds that are maybe playing with a $1B AUM...or if you're David Einhorn, $5B. But Apple has $137B. That means it could literally go and buy back 34% of its shares at the most recent closing price! So, what's stopping Apple from hiring, say, UBS and telling them to switch on the buyback program whenever the stock chart starts to get bearish? Not only would this help to get the traders pushing this stock in the right direction for shareholders, but it would also have the added effect of juicing EPS.
My concern here is that Apple would rather hoard the cash and let it collect 2% than give it back to shareholders. Buying up the shares at these levels would improve EPS, and allow Apple to increase the dividend without raising the amount of cash paid out per distribution. The $10B buyback just about covers the yearly share dilution from employee stock options, but it's not really potent enough to keep the stock afloat. It also is a little disturbing that the insiders were selling shares heavily despite the (then) recent drop in shares: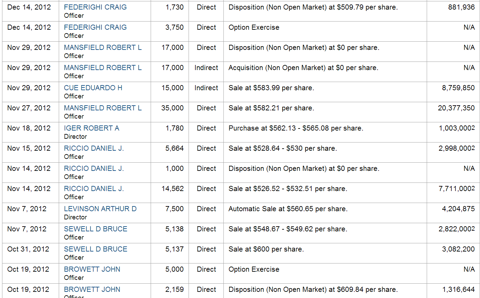 The insiders also don't really keep large personal stakes in the stock, either:

In addition to a buyback, just a single insider buy would help to restore investor confidence. Unfortunately, it is very rare that insiders in large companies actually buy shares on the open market, so it's hard to actually fault the insiders for not doing so.
Conclusion
As I have stated previously, I still don't really like this stock as a long-term investment: it's too risky. That being said, should Apple announce a major buyback program with some real teeth or a big dividend boost, I would become very interested in the stock as there could be a very nice trading opportunity on the long side. Until then, look for more bad news as Samsung and the other Android players take over the smartphone world, and for the analysts continue to parrot their desire for Apple to release a 5" phone. They need something to generate trading buzz, right?
Disclosure: I am long MSFT. I wrote this article myself, and it expresses my own opinions. I am not receiving compensation for it (other than from Seeking Alpha). I have no business relationship with any company whose stock is mentioned in this article.