With the Federal Reserve's quantitative easing program still in place and the labor market showing no signs of the vigor required for the Fed to contemplate an exit strategy, it is worthwhile to consider investments in the bond space, which may capitalize on these continuing asset purchases. Closed end bond funds have proven lucrative investments as many are levered and benefit doubly from higher bond prices and lower interest rates. It is anticipated that in the aftermath of the 2008 credit bubble, low interest rates and easing may be with us for some time yet.
PIMCO's Dynamic Income Fund (NYSE:PDI) is an interesting play on this investment theme. In marked contrast to the high premium to net asset value (NAV) given to many PIMCO funds, Dynamic Income trades at only a hair above net asset value at the present time. The annualized yield of the fund at the close of trading on Friday is 6.90% (Figure 1).
Figure 1: NAV and Market Price

The composition of the bond holdings of this closed end fund is highly concentrated in mortgage-backed securities. The investment should be categorized as aggressive due to the leverage that the fund employs. Dynamic Income has been less volatile than the market and is probably less risky than investments in stocks, but should not be confused with more conservative bond ETFs. Nevertheless, the yield of the fund should prove to be sustainable. With a 4.68% average coupon rate and total effective leverage of 46.98% the annual payment is exactly where it should be.
Figure 2: Dynamic Income Fund Holdings

The exceptional alpha of the fund can be seen in the rising NAV over the past eleven months since it went public in May of 2012. The share price has appreciated 23.1% in that time, but has trailed the appreciation of the NAV. Thus while the fund began trading at approximately a 5% premium this has narrowed to essentially zero.
Figure 3: Appreciation of Net Asset Value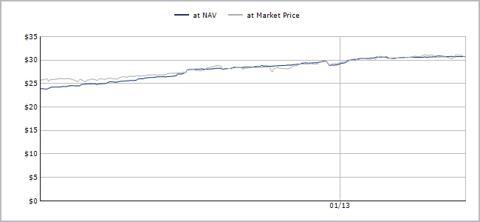 Daniel Ivascyn manages the fund and holds a considerable share of his net worth in shares of Dynamic Income. In January, he owned a total of 288,456 shares or $8.87M. While his total net worth is undoubtedly a good bit larger, this holding gives me confidence that Mr. Ivascyn believes that his fund is an investment worthy of his own money.
In essence, Dynamic Income is front running the largest buyer in the marketplace and at the present time it seems likely that there is a good deal more buying to come from the Federal Reserve. With $40B in purchases per month until the labor market improves capital appreciation should continue with a 7% yield to boot. Furthermore, an investor seeking current income with some tolerance for risk should be very attracted by the high yet prudent yield. As such, Dynamic income is a buy at the current price or an idea to watch for a more attractive entry point.
Disclosure: I am long PDI. I wrote this article myself, and it expresses my own opinions. I am not receiving compensation for it (other than from Seeking Alpha). I have no business relationship with any company whose stock is mentioned in this article.