The euro (NYSEARCA:FXE) closed the week at $1.2989 after a sharp rally in reaction to ECB President Mario Draghi's comments. Last week I wrote, "Is Cyprus A Template? Draghi, Your Turn To Answer Is Coming Up." He answered and the markets liked it. European bond yields fell and Spain-Germany and Italy-Germany spreads tightened. However, the reaction in European equity markets was more muted. In this article, I analyze Draghi's comments and look at the price action in the euro and European securities. Did Draghi give us a green light to go long Europe?
Draghi's Comments
The following are some of the key points from Draghi's press conference following the ECB meeting (transcript here).
Regarding the bail-in/bail-out of Cyprus as a template for other banking problems, Draghi was rather emphatic that it is not:
"Let me stress that Cyprus is not a template! I have not had chance to talk to the President of the Eurogroup [Dijsselbloem], but I am absolutely sure that he has been misunderstood."
Not only is Cyprus not a template, but Draghi said that Dijsselbloem didn't mean it when he said that it could be. I don't think Dijsselbloem responded yet, but it will be interesting to hear what he thinks. Draghi also said that there was "no plan B" for Cyprus, or any other country, to leave the euro and he believes that European politicians are so invested in the euro that they will not allow it to happen. The ECB did not lower interest rates, but Draghi's comments were seen by some as indicating that an interest rate cut will come.
Regarding the overall economy, Draghi said that it was weak. Specifically, he noted "access to financing indicates tight credit conditions, particularly for small and medium-sized enterprises in several euro area countries." The ECB has not yet come up with a solution for tight credit and needs to do so soon.
Furthermore, Draghi said, "we are thinking about all angles of both the non-standard and standard measures," which implies that they may well embark on a European version of QE. However, he noted that there are significant differences between Europe and U.S./Japan, so any "non-standard" solution would look different.
In summary, Cyprus is not a template, Europe still has problems and the ECB will need to do more, but it isn't clear what or when.
Euro Price Action
For the last few weeks I have been watching the $1.29 level for the euro, which is the upper end of an important price band. On Thursday, the euro jumped above $1.29 on Draghi's comments. It ended the week just shy of the 200 day moving average, currently at $1.3010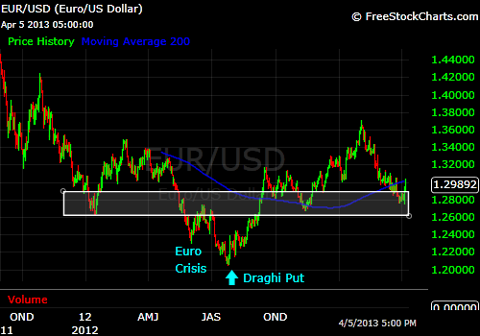 (Source: FreeStockCharts.com)
European Bond Yields
The European bond markets were very strong last week. Yields fell sharply in Germany, Spain and Italy and spreads fell as well. U.S. bonds were also strong, and the big news of the week was the Japanese quantitative easing. It is unclear how much of the strength in the European bond markets was due to factors in Europe or outside. However, the European bond markets seem to have put the Cyprus crisis and contagion fears away for now.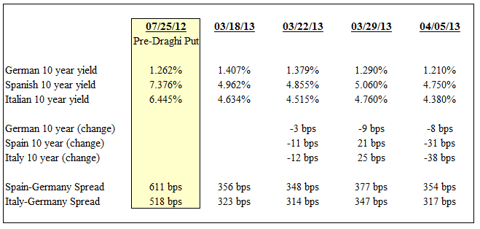 (Source: Bloomberg.com)
Spanish Bonds
The Spanish 10 year yield fell back below the key 5% level last week and is just above the mid-March low.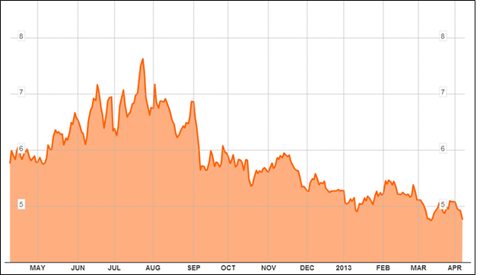 (Source: Bloomberg.com)
Italian Bonds
Italian bond yields experienced a sharper drop and are now back down to levels not seen since January.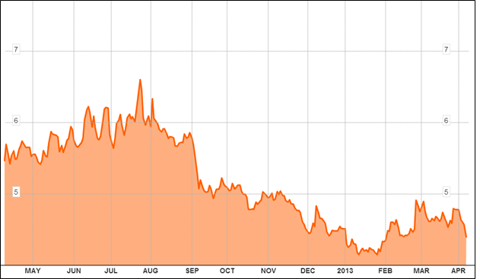 (Source: Bloomberg.com)
European Equity Markets
Despite the European bond markets putting the Cyprus crisis in the rear-view mirror, the European equity markets were not as strong. Italy had the best performance for the week and the ongoing saga around the new government likely had an impact late in the week. The following chart shows the 5-day price action for: iShares MSCI Germany Index Fund (NYSEARCA:EWG), iShares MSCI Italy Index Fund (NYSEARCA:EWI), and iShares MSCI Spain Capped Index Fund (NYSEARCA:EWP) and the SPDR EURO STOXX 50 ETF (NYSEARCA:FEZ).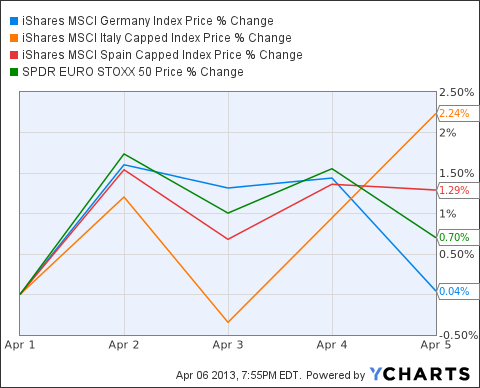 EWG data by YCharts
Considering the performance in the bond markets, I would have expected better performance from the European banks. However, the European banks, as measured by the iShares MSCI Europe Financials ETF (NASDAQ:EUFN), were in-line with the broader European market.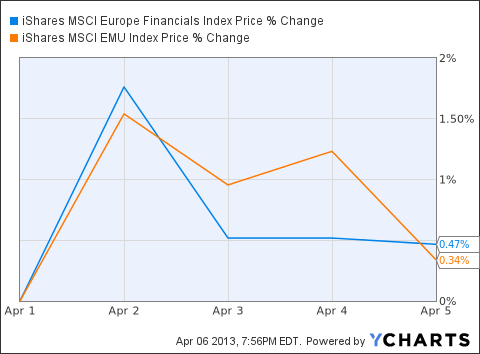 EUFN data by YCharts
Specifically, I am watching Banco Santander (NYSE:SAN) because it has a large weighting in the European bank index and exposure to the problems in Spain. Banco Santander was up 1.2% over the last 5 days, but basically traded in-line with the index.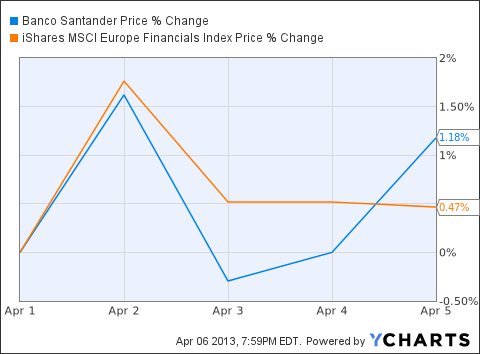 SAN data by YCharts
Impact of European Equity Markets on US Equity Markets
Around this time last year, the European markets began to act as a catalyst to bring down the U.S. equity markets. So far, there seems to be no repeat this year.
The following charts contrasts the U.S. and European equity markets by showing the 5-day and year-to-date price action in the S&P 500 (NYSEARCA:SPY) and Financial Select Sector SPDR ETF (NYSEARCA:XLF) compared to the EUFN ETF and the iShares MSCI EMU Index ETF (BATS:EZU).
In fact, last week the European ETFs performed better than the U.S. ETFs. On a year-to-date basis there is a wide gap, with the US ETFs outperforming.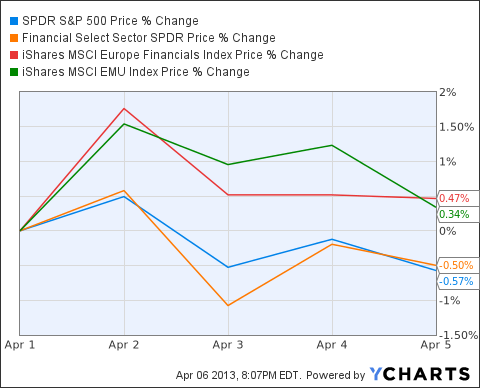 SPY data by YCharts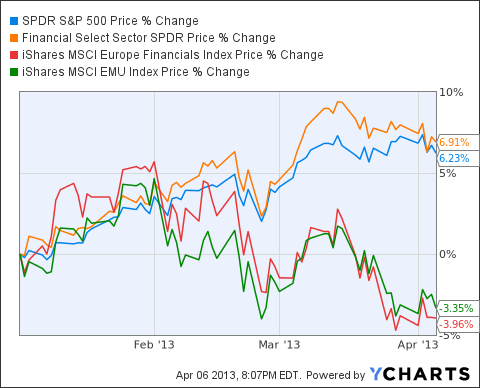 SPY data by YCharts
Conclusions
At this point, it looks like the European markets have moved past the Cyprus crisis. Importantly for U.S. investors, it seems that Europe will not be a catalyst for another summer slump like last year. The euro is showing resilience at $1.30 and we will know more next week if the rally on Thursday/Friday was just short covering or the start of a more sustained upward move. With strength in the European markets, I am starting to look more closely at the stocks of European banks. Banco Santander, and others that dropped on the Cyprus news, are now at interesting levels. I am still doing my homework and want to see if/how the markets react next week following the sell off in the U.S. on Friday, but the European banks are back on my watchlists.
Disclosure: I have no positions in any stocks mentioned, but may initiate a long position in FXE, SAN over the next 72 hours. I wrote this article myself, and it expresses my own opinions. I am not receiving compensation for it (other than from Seeking Alpha). I have no business relationship with any company whose stock is mentioned in this article.
Additional disclosure: I may trade any of the securities mentioned in this article at any time.
Disclaimer: The opinions expressed above should not be construed as investment advice. This article is not tailored to specific investment objectives. Reliance on this information for the purpose of buying the securities to which this information relates may expose a person to significant risk. The information contained in this article is not intended to make any offer, inducement, invitation or commitment to purchase, subscribe to, provide or sell any securities, service or product or to provide any recommendations on which one should rely for financial, securities, investment or other advice or to take any decision. Readers are encouraged to seek individual advice from their personal, financial, legal and other advisers before making any investment or financial decisions or purchasing any financial, securities or investment related service or product.