Recent Baker Hughes Rig Data Shows Surprise Contraction In Active Gas Rig Count
Last Friday, April 5, Baker Hughes reported yet another sizeable reduction in the U.S. gas-directed rig count: according to the survey, the number of rigs drilling for natural gas in the Lower 48 States now stands at 375, down 14 from 389 rigs the week before and down 56 rigs from the recent high of 431 rigs on March 15 (these figures compare to 900+ rigs just eighteen months ago).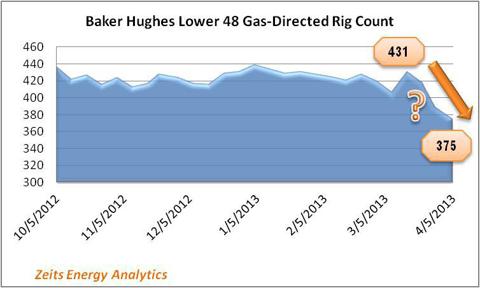 At the first glance, this recent decline appears very material and is surprising as it represents a departure from the low but stable level of natural gas drilling seen over the past six months. To put the magnitude of this decline in perspective:
There are only 13 rigs currently operating in the entire Fayetteville Shale, which, in my estimate, should be sufficient to keep the field's ~3 Bcf/d of natural gas production stable in the near term.
There are only ~13 rigs currently active in the Northern Louisiana sweet spot of the Haynesville Shale (although recent moderate declines in the field's volumes suggest that current dry gas-targeted drilling activity - which I estimate at ~25 rigs in total - is insufficient to fully offset base declines in the field's 6+ Bcf/d production).
These examples illustrate that even a relatively small number of gas-directed rigs can make a difference for natural gas production from major fields. In this context, a 56-rig drop in the industry-wide gas rig count would seem large enough to have material consequences for the U.S. natural gas production volumes later in the year and deserves a closer analysis.
The abrupt drop in the gas-directed category appears particularly puzzling, given the recent strength in spot natural gas prices and firmness of the futures curve which point to improving returns for natural gas drilling. Economic logic would seem to suggest an uptrend in natural gas rig count, not a mass exodus.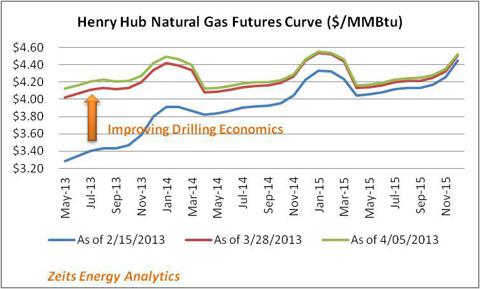 Closer Analysis Leads To A Counterintuitive Conclusion
Baker Hughes survey results require careful interpretation. A large portion of the recent change in gas-directed rig count is explained by a singular 29-rig drop in the Eagle Ford (to 30 rigs as of March 28, down from 59 rigs as of March 22 ). Most likely, this was a result of a recategorization of rigs from Gas-directed to Oil-directed.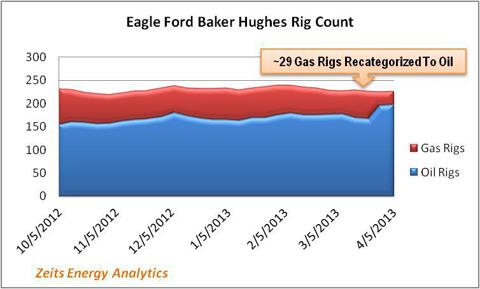 Excluding the Eagle Ford singularity, declines in gas-directed rig counts during the past three weeks have been most significant in the Marcellus (down 12 rigs) and Permian (down 10 rigs). Given the significant backlog of wells and capacity constraints in the Marcellus, the rig count reduction in the area is hardly a reflection of a slow-down in growth. More likely, it is driven by the lumpy takeaway capacity expansion calendar and well inventory management. In the Permian, the variance is within "statistical noise" given the size of the province and almost 500 total rigs currently active.
Therefore, notwithstanding the large fluctuation registered in the latest three-week period, it would be incorrect to read any negative gas drilling activity trend into Baker Hughes survey data. On the other hand, there are no signs of an acceleration in gas-directed drilling either, which is a bit of a surprise in its own right.
Rig Recategorizations Have Made Rig Count Analysis An Interpretation Science
As I wrote in my notes several months ago, recategorizations within the Baker Hughes rig activity survey have been not infrequent. To provide an example, Baker Hughes made a major recategorization in its Mississippian Lime rig count in November 2011 which involved approximately 27 rigs.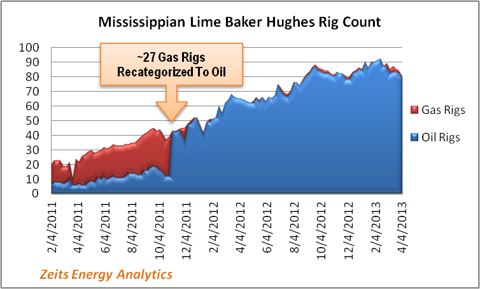 Similarly, about a dozen rigs seem to have been recategorized from Gas-directed to Oil-directed around the same time frame in Cana Woodford .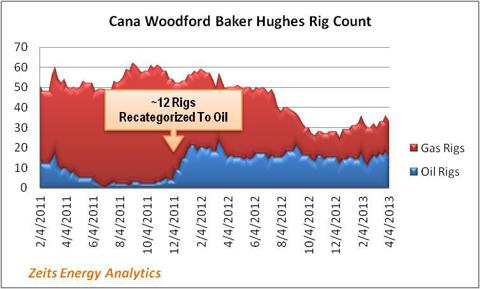 The recategorization of rigs in the Eagle Ford two weeks ago is not the first one Baker Hughes has done in the play. A significant recategorization seems to have occurred in the Eagle Ford in April 2011.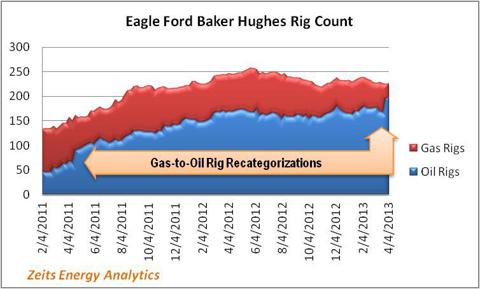 Overall, by analyzing Baker Hughes weekly data for the Eagle Ford and applying certain screening criteria to single out anomalies, I could identify at least four instances during the last two years when a significant increase in the oil-directed rig count coincided with a similar decline on the gas side.
| | | |
| --- | --- | --- |
| Week | Change in Gas Rigs | Change in Oil Rigs |
| 4/22/2011 | -14 | 25 |
| 11/11/2011 | -10 | 11 |
| 12/23/2011 | -7 | 8 |
| 3/15/2013 | -29 | 28 |
Clearly, it is not possible to ascertain the nature of each "kink" in rig counts without knowing specific rig-by-rig reporting circumstances. However, reclassification of certain areas of play from gas to oil appears to be a likely explanation for many of these data anomalies.
A lot more difficult to detect are "creeping" reclassifications when just a few rigs are reclassified at a time, or when a rig finishes drilling a well that is categorized as a gas well and moves to a nearby location, which has the same geological characteristics but this time is designated by the operator as an oil well.
Should Baker Hughes Tighten Its Survey Methodology and Provide More Commentary On Its Survey Data?
Traditionally, the industry and investors have relied upon two weekly rig surveys, one of which is provided by Baker Hughes (BHI) and the other by Smith Bits, a subsidiary of Schlumberger (NYSE:SLB).
As I wrote before, the process and methodology used by Baker Hughes in their survey may in certain instances produce data that is not comparable to prior periods. The first source of potential inconsistency is the reliance on the operator's judgment in the Gas-directed vs. Oil-directed categorization. According to Baker Hughes:
The determination is made by the operating company when the rig permit is issued by the state's permitting authority. The operating company will drill appraisal well(s) to determine the hydrocarbon target. Based on the results, the operator makes a judgment call on how to classify the well. For example, if a well is producing - on a Btu basis - 50% gas; 20% NGLs and 30% oil, it could either be listed as a gas well (gas is the largest component), or an oil well (which is driving the economics). This judgment is solely up to the operator.
For liquids-rich plays in early delineation stage, the uncertainty with regard to the drilling objective - oil versus gas - is normal. The operator often has limited ability to predict a priori the well's EUR and production mix. In addition, the hydrocarbon content may vary noticeably within the play depending on location (e.g., position within the oil, condensate or dry gas windows for which the limits yet need to be determined). As the delineation of a new play progresses and production history is accumulated, it is natural to expect instances when acreage is reclassified for "geological" reasons. The Mississippi Lime play is perhaps one of such examples.
What appears to be a lot more arbitrary, is the operator's ability, under Baker Hughes' surveying method, to designate the drilling objective as "gas" or "oil" based on what "is driving the economics." As a result, the same "combo" well (where all the three components -- gas, NGLs and oil -- are present in the production mix) can be classified as an oil well or gas well, depending on the relative price of the commodities or simply the operator's judgment. This practice is prone with potential inconsistencies in the data as different operators can have different - and changing - internal policies and agendas with regard to how drilling objectives are designated. This approach also introduces a pro-cyclical bias in the oil rig and gas rig counts and makes historical comparisons potentially not meaningful.
In 2011 and 2012, as natural gas prices plummeted and natural gas producers rushed to demonstrate to investors and analysts the radical shift in capital allocation towards oil and liquids and away from natural gas, the definition of what represented an "oil well" was possibly stretched in more than a few cases by applying the economics driver criterion. Not an insignificant number of wells that are being drilled today "for oil" are essentially similar to the wells that were classified as being drilled "for gas" just eighteen months ago.
Under Baker Hughes' survey methodology, a reclassification of a producing area by the operator impacts only the wells in progress (and, very likely, future wells in the same area and same geologic formation), but it does not change the categorization of the wells already drilled. As a result, reclassifications create inconsistencies in the rig count data that may complicate historical comparisons.
The second source of inconsistency may stem from the evolution of the methodology that Baker Hughes uses in the survey. It is difficult to blame any single operator for what likely was Baker Hughes' initiative to recategorize drilling activity in certain areas of the Eagle Ford two weeks ago (no single company in the play is currently running 29 rigs targeting gas). While it is certainly good news that the survey is making steps to update its reporting process, the occurrence also raises a question regarding a possible systemic methodology lapse that was corrected. The corrective step also indicates that the survey may have been "behind the curve" in the Eagle Ford for quite some time.
Implications For Natural Gas Prices and Producer Stocks
The discussion above illustrates that it may be precarious to rely on rig count headline figures without "looking under the hood" of the underlying data. For the rig count to be a useable prediction tool for future natural gas production, a granular, play-by-play analysis and careful interpretation are required.
For the moment, gas-directed rig count suggests "stability at a low level" in the drilling activity targeting natural gas. Rig count is a leading indicator for the direction of future production. Current data suggests capital discipline by E&P companies which is a positive for natural gas prices.
Rig count data in combo plays such as the Eagle Ford, Permian and Utica will likely remain noisy, volatile, subject to recategorizations, and, as a result, difficult to interpret. Fortunately, rig count changes in dry gas plays have much greater capacity to impact gas production volumes and are more directly linked to the economics of the natural gas cycle. Therefore, rig count in dry gas shales - which is often more consistent and easy to interpret - is a more reliable indicator of future gas production. Dry gas shales will also likely serve as bellwethers of the cyclical turn in natural gas, with an acceleration in the drilling activity in plays like the Fayetteville, Haynesville, Pinedale, and Arkoma Woodford being an important indicator.
The above discussion is fundamentally relevant for natural gas (NYSEARCA:UNG) and the natural gas producer stocks. My natural gas producer index includes:
Chesapeake Energy (NYSE:CHK)
Encana Corporation (NYSE:ECA)
Devon Energy (NYSE:DVN)
Southwestern Energy (NYSE:SWN)
Ultra Petroleum (NASDAQ:UPL)
EXCO Resources (NYSE:XCO)
WPX Energy (NYSE:WPX)
Cabot Oil & Gas (NYSE:COG)
Range Resources (NYSE:RRC)
QEP Resources (NYSE:QEP)
Quicksilver Resources (NYSE:KWK)
Forest Oil (NYSE:FST)
Bill Barrett (NYSE:BBG)
Newfield Exploration (NYSE:NFX)
EQT Corporation (NYSE:EQT)
Cimarex Energy (NYSE:XEC)
Disclaimer: This article is not an investment recommendation. Any analysis presented herein is illustrative in nature, limited in scope, based on an incomplete set of information, and has limitations to its accuracy. This article is not meant to be relied upon for investment decisions. Please consult a qualified investment advisor. The information upon which this material is based was obtained from sources believed to be reliable, but has not been independently verified. Therefore, the author cannot guarantee its accuracy. Any opinions or estimates constitute the author's best judgment as of the date of publication, and are subject to change without notice.
Disclosure: I have no positions in any stocks mentioned, and no plans to initiate any positions within the next 72 hours. I wrote this article myself, and it expresses my own opinions. I am not receiving compensation for it (other than from Seeking Alpha). I have no business relationship with any company whose stock is mentioned in this article.