A few weeks ago, the largest independent oil and gas company, ConocoPhillips (NYSE:COP), hosted their yearly analyst meeting. In it they reiterated and gave greater detail on their operational and financial outlook for 2013. In addition, they gave more detail on their important development and growth projects for 2017 and beyond.
In a previous article published in February, I cited investors' growing concerns about the company's substantial funding gap. That is, Capital Expenditures (CapEx) have been exceeding Free Cash Flow for a while now.
In this article, I will go over the operational and financial highlights of this meeting. Also, I want to give an update on the company's persistent funding gap and provide some context. Readers must keep in mind what ConocoPhillips will look like a few years from now.
Funding Gap 2013
Like last year, ConocoPhillips will have a funding gap in 2013. This has been a source of concern for many. As part of the company's recent transition, they have been selling off assets and rearranging their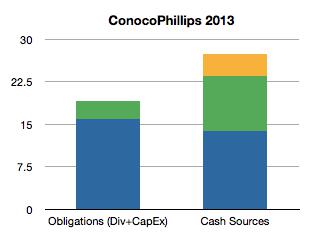 business. Much capital must be spent on new projects and developments to reposition the company. And so, this year CapEx will increase to $16.6 billion from $14.1 billion last year. Assuming there is no change in Operating Cash Flow (in blue on the right), the funding gap will be $2 billion. This does not include a $3.2 billion dividend. The funding gap will be covered by asset sales of $9.5 billion (in green on the right). The company also has $4 billion in short-term cash (in yellow).
In considering the long term, first take note of the company's significant buyback program. Last year, management bought back around $5 billion of their own stock. Although numbers for this year's are less clear, chances are that share repurchases will continue to be significant. Retiring common stock will chip away at dividend obligations (without cutting the per-share payout).
Consider also that developments on existing projects in the lower 48 states more than mitigate base decline in legacy areas. More importantly, these lower 48 development areas shift the company's production to higher margins.
Finally, there are an array of new projects which will drive the company's 3-5% annual production growth. They run the gamut from Canadian oil sands, brand new blocks in the North Sea to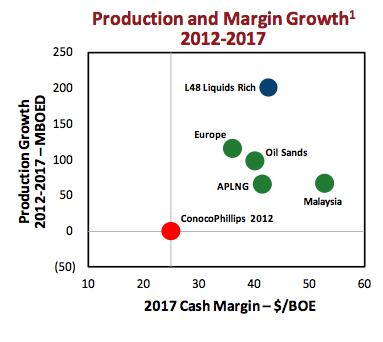 high-margin deepwater in Malaysia and long-life Australian LNG fields. All of these carry a cash margin higher than $30 per barrel; well above the $25 of today. It is the higher margins of these new projects and developments which will add $6 billion to ConocoPhillips' Cash Flow and ultimately close that funding gap. After that, the company does intend to grow its dividend.
So, with that in mind, let's go over the company's developments, new projects and legacy assets:
The largest base declines are from the Middle East and Asia, including Indonesia and the large Bayu-Undan project between Australia and East Timor. From 2012 to 2017, reserves will drop from approximately 300 to 250 Million Barrels of Oil Equivalent Per Day (MBOED), a 5% base decline each year.
The legacy Ekofisk field in the North Sea is set to decline from about 225 to 175 MBOED over the same time period. Here, development projects are offsetting what would be an even greater decline.
Thanks to the company's high-tech development programs, Alaska and Western Canada are declining only marginally or not at all.
Developments in the lower 48 are more than offsetting these above declines. The Permian Basin will increase production from about 45 MBOED to 65. Bakken shale production will jump from 25 MBOED to about 51. The most growth comes from the Eagle Ford of southern Texas, which will see production soar from approximately 65 MBOED to 130. The Gulf of Mexico, San Juan Basin and Barnett shales will chip in, too. Overall lower 48 production will grow from 425 MBOED to 580.
And a wide array of brand new projects includes the following:
Jasmine, a new North Sea field, will add 50 MBOED of production by 2017.
New fields on the Norwegian side of the North Sea will add 60 MBOED , making this 40 year-old oilfield an actual source of production growth.
Malaysia will add 60 MBOED of deepwater oil that will fetch the highest margins in the company.
Australian Liquefied Natural Gas (LNG) will go from 20 to 70 MBOED and will afterwards have a very low decline rate.
Indonesia, China and Alaska will together add another 55 MBOED of production.
Exploration Gives Other Reasons To Be Excited
Management has been all-encompassing in their CapEx approach: in addition to developments and new projects, they are carrying out exploration with the potential of post 2017 growth in mind. This year's exploration budget totals $2.4 billion. Here are some of the projects which I think have the most potential:
Unconventional exploration in the lower 48. This is the largest chunk of their exploration budget and it takes place entirely in the Permian Basin of Texas and Niobrara Shale of Wyoming. Management believes that the Niobrara will have a higher Liquids (oil and liquid natural gas) yield than the nearby successful Wattenburg Shale.
Deepwater Gulf of Mexico. This is the second largest source of spending and it has already yielded a 500 million - 1 billion barrel discovery in the Shenandoah block.
Canadian unconventional exploration. This includes the Duverney and Montney plays, which focus on liquids-rich areas.
Deepwater Angola exploration, which I believe could lead to Tupi-like discoveries due to shelf formations similar to Brazil's.
Look Ahead
While concerns of a funding gap may be scaring some investors away in the here and now, ConocoPhillips will be transforming into a premier high-margin, low decline Exploration and Production company. With so many new assets at a low cost base and in stable political geographies, ConocoPhillips will be the most protected in the face of price drops or supply shocks. And it will at some point provide shareholders with steady dividend increases. The vision that management has straightforwardly laid out is a compelling one and I hope that this article has conveyed it well.
Stay Tuned
ConocoPhillips is a company I have written about in the past and will continue to provide update articles when material and relevant.
Sources:
"ConocoPhillips 2013" Chart by author, data from 2013 Analyst Meeting and Morningstar.
"Production and Margin Growth" chart and all MBOED production information from 2013 Analyst Meeting.
Disclosure: I am long COP. I wrote this article myself, and it expresses my own opinions. I am not receiving compensation for it (other than from Seeking Alpha). I have no business relationship with any company whose stock is mentioned in this article.