Netflix (NASDAQ:NFLX) stock is in free fall. Does this mean that at $164 per share and with a 9 billion market valuation, is Netflix overvalued? In this article we try to provide an answer by analyzing the future prospects of the international streaming business line of Netflix.
I) Netflix 101: What you should know
To begin with, the issue of being "overvalued" or not is not really an issue. We mention here a few price targets by some top institutions in the street.
Since Netflix is trading now at $164 per share, we can see that most analysts have a price target higher than the current market price. Therefore, for the time being, most analysts have optimistic assumptions in their valuation models and think that Netflix is not overvalued.
| | | | |
| --- | --- | --- | --- |
| Institution | Analyst | Price Target | Label |
| Morningstar | Michael Corty | $70.00 | BB+ |
| Cantor Fitzgerald | Youssef Squali | $180.00 | Buy |
| Pacific Crest Securities | Andy Hargreaves | $225.00 | Buy |
| JPMorgan | Doug Anmuth | $205.00 | Buy |
| Morgan Stanley | Scott Devitt | $200.00 | Buy |
| Lazard Capital Markets | Barton Crockett | - | Buy |
| Caris & Company | David Miller | - | Sell |
| Oppenheimer & Co | Jason Helfstein | $80.00 | Buy |
| UBS AG | - | $225.00 | - |
(More info: investorwand.com)
You might wonder why there is such a big difference between certain price targets.
This is due to the fact that Netflix valuation is highly sensitive to modifications in the growth rate of revenue. Optimistic analysts would generally have a positive view on the internationalization of Netflix operations, while pessimistic analysts would align with our view.
Therefore, to understand the real potential of Netflix, we need to have a view on the growth rate of revenue.
Netflix operates two lines of businesses, the DVD domestic business (which is the most profitable) and the streaming business (which is what investors have high expectations of). Whatever view you take on the growth rate of both businesses will ultimately define your price target and your personal rate for this company.
For example, Morningstar assumes that domestic streaming will peak at 38.5 million subscribers by 2017 while the DVD domestic business will lose about 1 million subscribers per year. The result: a fair price of $70.00 per share, with high uncertainty.
II) Our personal view
Now that we have introduced the main mechanisms behind Netflix' share price movements, we move to our views on the matter.
First, we start with the rental DVD business, the historical cash cow of Netflix. It enjoys a healthy 52% margin but unfortunately it is shrinking: it lost 2.76 million subscribers domestically in a single quarter.
Let us move to the more interesting streaming business line, also known as the "Subscription View on Demand" model. This business model was applied successfully in the domestic market (U.S. and Canada) and the reason why the stock rose 60% in one year is because investors have high expectations on the internationalization of the same business model. After all, it worked well in the domestic market.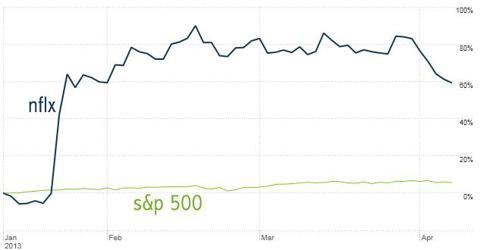 Consequently, Netflix is making good efforts to render the market more international.
Recent job posts at the website suggest that they would be interested in further expansion in India, Europe or Korea. But this is not news for a company with a record of aggressive international pushes: the launch of stream-only service in Canada (2010), the move into Latin American markets, the launch in the UK and Ireland on January last year and the 1 million member milestone reached on August 20th, in the UK and Ireland, to mention a few examples.
However, is Netflix' business model really that scalable? Can they really replicate the U.S./Canada success in other parts of the world?
First of all, the international business is currently operating losses. On top of it, the loss growth rate is increasing.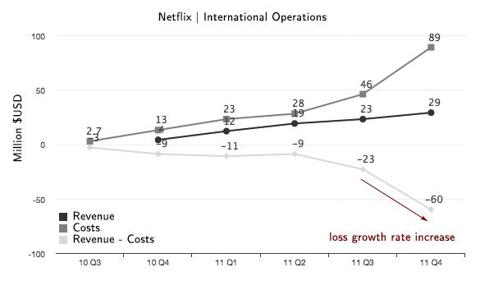 And while some could say that Netflix is currently in the "investment" phase when it comes to international markets, and that sooner or later we would see some nice figures, the truth of the matter is that the demand size for video content per capita in these countries (specially in Latin America) is at the moment much smaller than in the United States.
But there is a market, and it is growing fast. Take, for example, the current state of affairs in Latin America. Mexico already has about 1.8 million pay TV subscribers who use VOD services. In Colombia, VOD has been made available by Une and Telmex, and Telefonica shows interest in joining them in the future. VTR launched a VOD solution in 2006 in Chile, and the platform has over 600,000 active users now.
Dataxis has forecasted that the Latin American VOD market and related services will record a total of 12.8 million active accounts by the end of 2016. This implies a growth rate of 924% from 2011 to 2016.
Unfortunately for Netflix, there is more than one competitor and if they manage to become profitable in Latin America, we expect more incumbents to join. Just in Mexico, Netflix competes with Sunday TV, Totalmovie, Vudu, Yuzu, Zune Marketplace and the iTunes Store. This shows that there are few barriers to entry. Unlike the U.S., content owners are reluctant to sell exclusive access to just one distributor.
Summarizing, we think that the international demand for streaming services will increase in the next few years and that Netflix will benefit from it. However, fierce competition is on its way. Netflix will manage to be profitable both nationally and internationally, but not at the same domestic margins.
Risks to International Expansion:
- Content owners reluctant to sell exclusive access.
- Low barriers to entry.
- A decent level of profitability can take many years to achieve, as the market size is currently too small.
- LATAM: Absence of well established institutions that protect copyrights and the existence of a DVD piracy based underground market.
- LATAM: Unlimited bandwidth Internet packages in LATAM are not well spread.
Rate: Neutral
Disclosure: I have no positions in any stocks mentioned, and no plans to initiate any positions within the next 72 hours. I wrote this article myself, and it expresses my own opinions. I am not receiving compensation for it (other than from Seeking Alpha). I have no business relationship with any company whose stock is mentioned in this article.