Freeport-McMoRan Copper & Gold Inc. (NYSE:FCX) is a leading international mining company, operating large, long-lived, geographically diverse assets with strong reserves of copper, gold and molybdenum. FCX was upgraded recently by analysts. Recent developments will be updated for FCX. By comparing to another major copper player, Southern Copper Corp (NYSE:SCCO), and copper price, FCX is shown to be more than a good copper bet.
Dividend
On March 27, 2013, FCX declared a cash dividend of $0.3125 per share payable on May 1, 2013 to holders of record as of April 15, 2013.
M&A
In late March, FCX completed the transaction for 56% interest of a large scale cobalt chemical refinery located in Kokkola, Finland. FCX will be the operating for this new joint venture, named Freeport Cobalt. As reported,
"The acquisition enhances FCXs cobalt marketing position, product portfolio and product development capabilities and provides direct end-market access for the cobalt hydroxide production at Tenke."
Analysts' Calls and Estimates
On April 5, 2013, FBR Capital initiated coverage on FCX with an outperform rating and a price target of $41. The analyst, Mitesh B. Thakkar, said,
"We are launching coverage of copper producers with a cautious near‐term outlook but believe that long‐term fundamentals will continue to support copper prices around $3/lb. In the near term, we believe that copper prices could remain under pressure due to a choppy demand outlook, inventory overhang, and impending supply growth. Longer term, however, we believe that prices will remain supported above the marginal cost and should provide incentives for needed supply growth."
Analysts currently have a mean target price of $40.00 for FCX. Analysts, on average, are expecting an EPS of $0.82 with revenue of $4.78B for the current quarter ending in March, 2013. For 2013, analysts are projecting an EPS of $4.38 with revenue of $21.39B, which is 18.80% higher than 2012. FCX is expected to release its Q1, 2013 earnings on April 15, 2013. In the last 4 quarters, FCX had 3 positive earnings surprises and 1 negative surprise.
Fundamental Comparison
To see where FCX stands fundamentally, FCX will be compared to Southern Copper Corp, an integrated copper producer, and the industry average. Southern Copper ranks as of one of the world's largest copper miners by reserve and annual output.
| | | | |
| --- | --- | --- | --- |
| | Freeport-McMoRan | Southern Copper | Industry Average |
| Revenue Growth (3 Year Average) | 6.2 | 21.3 | 9.2 |
| Operating Margin, %, ttm | 32.3% | 46.6% | 45.3% |
| Net Margin, %, ttm | 16.9% | 29.0% | 24.5% |
| ROE, ttm | 18.3 | 44.1% | 36.7 |
| Debt/Equity | 0.2 | 0.9 | 0.3 |
| P/E | 9.9 | 15.3 | 12.0 |
| P/B | 1.7 | 6.2 | 2.6 |
| 5 Year Average P/E | 11.5 | 18.9 | N/A |
Source: Morningstar
Both FCX and SCCO currently have lower P/E as compared to their 5 year average. Despite a lower debt/equity, FCX is lagging behind SCCO for growth, margins, and ROE. However, FCX remains very attractive from P/B perspective.
Below we will take a look at sales estimate for the current and next 3 quarters for both stocks.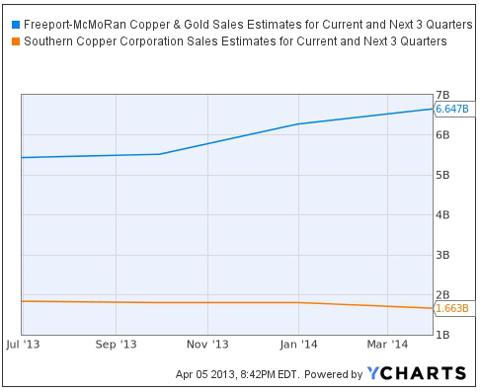 Source: YCharts.com
FCX's sales number is expected to increase throughout next 3 quarters while SCCO's sales number is estimated to decline gradually. Next, FCX and SCCO will be compared for their EPS estimate for the current and next 4 quarters.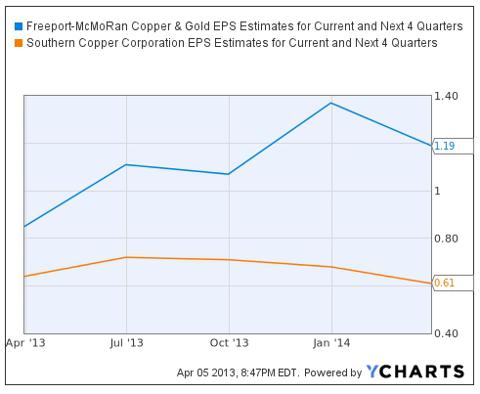 Source: YCharts.com
FCX's EPS is expected to increase and reached $1.19 while SCCO's EPS is expected to decline gradually and reached $0.61 by April, 2014. Next, both stocks will also be compared from cash flow perspective.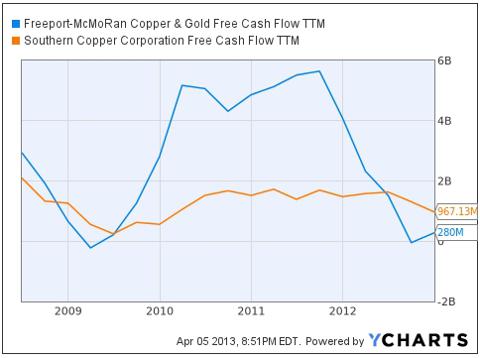 Source: YCharts.com
Since late 2011, FCX's free cash flow started to decline significantly and bottomed by late 2012 before it rebounded and reached $280M by the end of 2012. On the other hand, SCCO's free cash flow remained much more stable throughout 2009 to 2012 and reached $967.13M by the end of 2012. Lastly, when it comes to evaluate and compare mining companies, book value (or net asset value) plays a vital role to help understand how much premium investors are paying. Price comparison will also be presented below.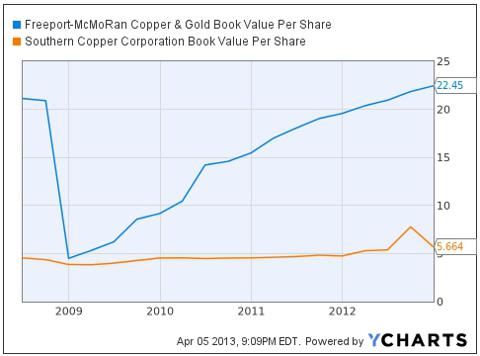 Source: YCharts.com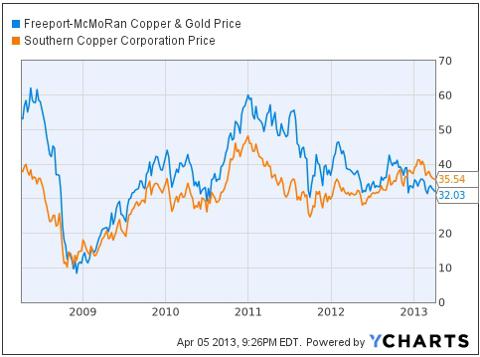 Source: YCharts.com
FCX's book value continues to increase through 2009, yet its price started to decline since 2011. SCCO, on the other hand, trades more in sync with its book value. However, both stocks are greatly influenced by the copper price, as seen from the chart below.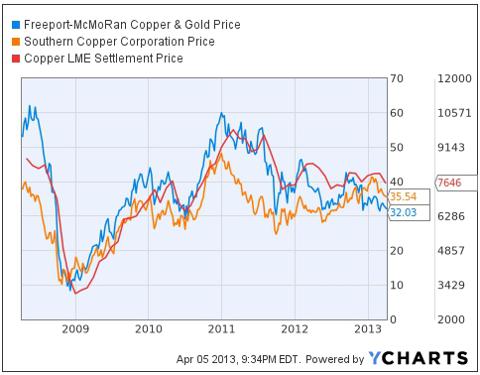 Source: YCharts.com
Since late 2012, FCX started to underperform as compared to SCCO and copper price despite the fact that its net asset value continued to increase.
Technically, FCX is reaching its long-term support level, as seen from the chart below.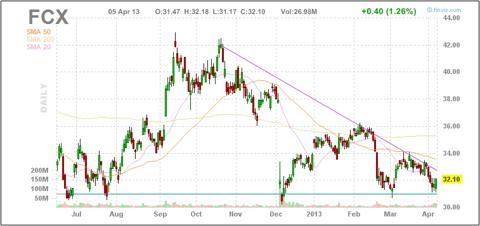 Source: Finviz.com
In short, copper price may be depressed due to global economic slowdown, but FCX is a good bet now based on 3 factors: 1) much increased NAV 2) reaching its long-term support 3) attractive cost profile and diversification.
Investors can also review the following ETFs to gain exposures to FCX:
Dow Jones U.S. Basic Materials Index (NYSEARCA:IYM), 6.87% weighting
Materials Select Sector SPDR (NYSEARCA:XLB), 6.83%
SPDR S&P Metals & Mining ETF (NYSEARCA:XME), 3.45%
Note: Investors and traders are recommended to do their own due diligence and research before making any trading/investing decisions. FCX is a high beta stock and may not be suitable for conservative investors seeking stability.
Disclosure: I have no positions in any stocks mentioned, but may initiate a long position in FCX over the next 72 hours. I wrote this article myself, and it expresses my own opinions. I am not receiving compensation for it (other than from Seeking Alpha). I have no business relationship with any company whose stock is mentioned in this article.