I am long American Capital Mortgage Investment Corp. (NASDAQ:MTGE) and short ARMOUR Residential REIT, Inc. (NYSE:ARR). This is a pair trade. I believe American Capital Mortgage stock, due to its management team, will outperform the ARMOUR Residential REIT stock. Both names are hybrid mortgage real estate investment trusts (mREITs). Hybrid mREITs can own agency and non agency mortgage backed securities (MBS). My specific pair trade is successful if American Capital Mortgage outperforms ARMOUR Residential REIT.

Gary Kain Track Record
In my article, An Interview with American Capital's Gary Kain, I quickly learned his thought process. He has exceeded my expectations in terms of mREIT expertise and success. He emphasized the American Capital Agency (NASDAQ:AGNC) risks, returns, and business model. His intellect was obvious and he was in touch with the various interest rate movements.
American Capital Mortgage
American Capital Mortgage Investment Corp. was incorporated in Maryland on March 15, 2011, and began operations in August, 2011 after completion of its IPO. American Capital is a real estate investment trust (REIT) which manages finances and invests in leveraged portfolios of MBS with a focus on agency, non-agency and other mortgage investments.
A key highlight was Mr. Kain's risk management at Freddie Mac. He managed internal controls on a 50:1 levered portfolio. He possessed hands-on experience with a Government Sponsored Entity (NYSE:GSE) mortgage backed securities (MBS).
ARMOUR Residential REIT, Inc.
ARMOUR Residential REIT has operated as an agency mREIT. Assuming reinvested dividends, ARMOUR Residential has yielded an annualized return of 4.83%. The company did change to a hybrid mREIT.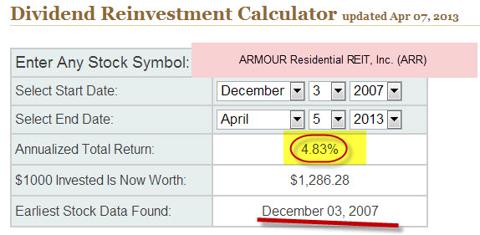 Here are the annualized returns for 4 years and 2 years respectively: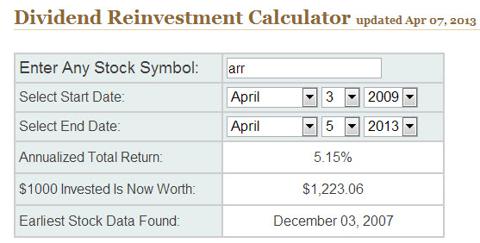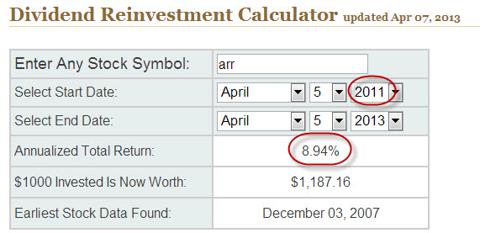 American Capital Mortgage Investment Corp.
American Capital Mortgage, annualized returns since inception, has provided exceptional investor performance versus its peers. Gary Kain has produced the following American Capital Mortgage returns: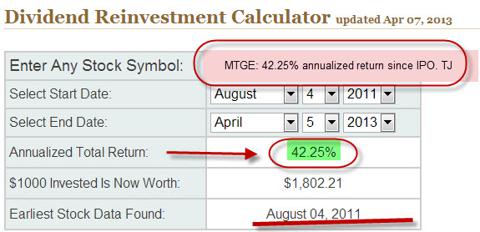 If we compare ARMOUR REIT returns over the exact same time period, the data finds the following return: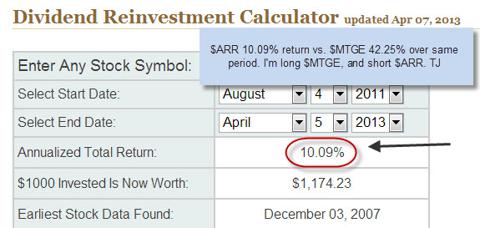 If we compare American Capital Mortgage versus ARMOUR in the past year, we find these results:
ARMOUR REIT 1 Year Returns: 10.98%: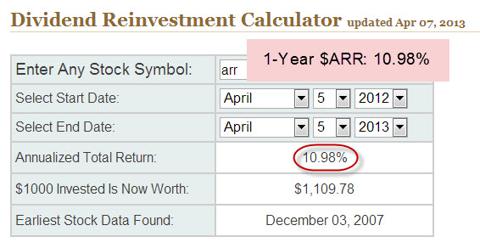 American Capital Mortgage 1 Year Returns: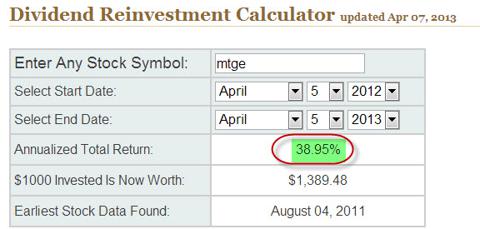 Dividends
American Capital paid its first dividend on August 13, 2011, shortly after it commenced operations on August 9, 2011 and completed its IPO. It has consistently paid quarterly dividends.
The company currently pays quarterly dividends of $0.90 per share ($3.60 annualized). The first quarter ex-dividend date was March 18th. The next dividend payment is April 26, 2013. With shares trading at $26.15, American Capital Mortgage shares units offer a healthy dividend yield of about 13.80%. The company has a market capitalization of $1.54 billion. Shares currently trade near the top of their 52-week range of $21.35 - $26.71.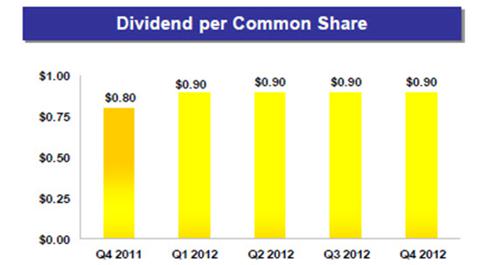 Company
American Capital is externally managed by American Capital MTGE Management, LLC, an affiliate of American Capital (NASDAQ:ACAS), a publicly traded global asset manager and private equity firm since 1986. American Capital manages roughly $117 billion in total assets and operates across eight offices in the United States and Europe (as of December 31, 2012).
The company's portfolio has rapidly grown to $7 billion (as on December 31, 2012) from $1.8 billion in December 2011. Agency securities (directly or indirectly backed by the U.S. government) accounted for $6.4 billion (primarily 15-y and 30-y mortgages) and non-agency securities accounted for about $681 million (see chart below).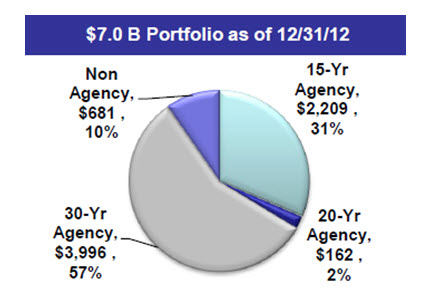 Their agency mortgage portfolio includes residential mortgage pass-through certificates and collateralized mortgage obligations (CMOs) where principal and interest are guaranteed by a U.S. government affiliate (see chart below).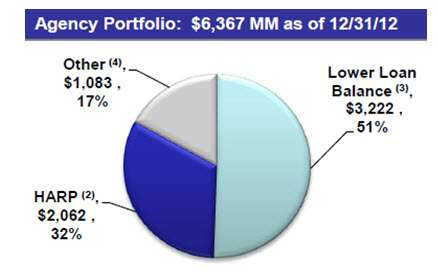 Their non-agency mortgage portfolio includes slightly higher risk RMBS and non-prime and prime residential mortgage loans.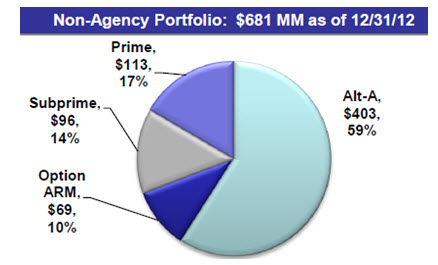 Due to the lower risk of agency mortgage securities, American Capital uses higher leverage (6x - 12x) to boost returns. With its non-agency portfolio, the company uses hedging techniques to lower risk (interest rate risk, credit risk and pre-payment risk) and limits its leverage to 1x - 6x.
American Capital Mortgage Management
American Capital was founded by legendary investor, Malon Wilkus, who has led the company as Chairman and CEO since 1986. He also serves as Chairman and CEO of most American Capital subsidiaries such as American Capital Mortgage Management, American Capital Agency Corp. and American Capital AGNC Management. Mr. Wilkus is also the Chairman of European Capital Limited, a European private equity and mezzanine fund, and has served on the board of directors of more than a dozen middle-market companies across industries.
Gary Kain serves as American Capital's President. He joined the company in January 2009 and supervises investments. Before joining American Capital, Mr. Kain was responsible all of Freddie Mac's mortgage investment activities.
John R. Erickson serves as Executive Vice President and CFO. Mr. Erickson is also a member of the Board of Directors and additionally serves as EVP and Treasurer of American Capital Mortgage Management, LLC. He joined American Capital in 1998 and has extensive experience with Structured Finance and CFO duties at REITs.
ARMOUR REIT Management
I have highlighted my concerns about ARMOUR REIT for about 2 year. My concerns were first addressed in this article on June 27th, 2011, titled Why I Believe It's Time to Sell Armour Residential. In this July 2011 article titled Digging Deeper into Armour Residential mREIT, I addressed a few ARMOUR REIT concerns.
Financials
Fourth Quarter Income Statement
American Capital started operations in August, 2011. For its fourth quarter ended December 31, 2012, the company reported $39.1 million in interest income from agency securities and $10.5 million from non-agency securities, about a 80/20 split, with strong growth in non-agency income year over year (yoy). Net interest income was up almost three-fold yoy. The company also reported other gains of $14.2 million from securities and derivatives transactions, up 76% from $8 million.
Total expenses were up 156% to $4.5 million, with increases in management fees and G&A expenses. Quarterly net income almost doubled to $50.4 million but diluted earnings per share fell to $1.40 from $1.72 because of a 3.5-fold increase in shares outstanding.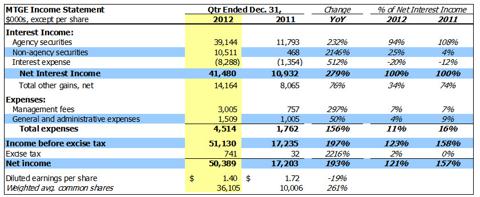 The markets for non-agency MBS continued to improve in Q4 with home prices up approximately 7% in FY 2012 and construction activity at its highest since 2008. As a result of improvements in the underlying collateral (i.e. home prices), market value of legacy RMBS improved and led to gains on portfolio sales. Demand for non-agency MBS continued to improve and delivered higher returns on a more optimistic housing outlook. The agency portfolio appears positive too as banks and GSEs exit the business to manage overall risk.
Balance Sheet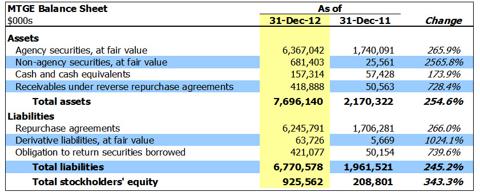 American Capital ended 2012 with $157.3 million in cash and cash equivalents, $6.4 billion in agency securities at fair market value (up from $1.7 billion at the end of 4Q 2011), $681.4 million in non-agency securities (up from $25.6 million for 4Q 2011) and $419 million in repo receivables. The company had $6.2 billion in repo loans and $421 million in borrowed securities. Total stockholders' equity was $925.6 million (roughly 30% below its market capitalization), up from $208.8 million for 4Q 2011.
Cash Flow
In 2012, the company generated $118.4 million from operating activities, spent $5 billion on net purchases of MBS securities, US Treasury securities, repurchase agreements and other financial derivatives, and generated $5 billion from equity and debt offerings net of debt repayments and cash distributions to partners.

Summary
American Capital Mortgage Investment Corp. delivers an exceptional 13.70% dividend making it very compelling for dividend investors. Moreover, shares trade at only 3-times earnings and the company has sizably grown assets to $7 billion from $1.8 billion portfolio within a year. The company also benefits strongly from its management leadership and affiliated firms. Improving MBS market fundamentals, quantitative easing (QE3) and American Capital's expert investment and hedging strategies make this a compelling purchase at current levels.
I am long American Capital Mortgage and short ARMOUR REIT based upon the above data and returns. Gary Kain has produced better absolute returns than ARMOUR REIT management. I am long one American Capital Mortgage share to every one ARMOUR REIT share. I believe the results are due to, on one word, management. I have been consistent with these views since June 2011.
Disclosure: I am long ACAS, MTGE, AGNC. I wrote this article myself, and it expresses my own opinions. I am not receiving compensation for it (other than from Seeking Alpha). I have no business relationship with any company whose stock is mentioned in this article.
Additional disclosure: I am short ARR shares vs. my long MTGE shares. TJ 04.07.13