Walgreen Co. (WAG) is the world's largest drug retailing chain. It has paid a dividend for more than 79 consecutive years and has increased its dividend for the last 37 consecutive years. WAG's share price started a tumble in 2011 due to its dispute with Express Scripts (NASDAQ:ESRX) over reimbursement rates. The dispute was resolved in July 2012 and since then WAG has been undergoing a recovery in its share price. As of the close of business on Friday 05 April 2013, WAG's share price is $47.01, but does this mark a good entry point for the long term investor with a keen eye on value?
As usual, I focus on the 3 general areas one should check when evaluating investment risk. They are:
The business risk - the risk that the business generates lower than expected profits or loses money (and yours!).
The financial risk - the risk the company has taken on too much debt which it is unable to finance and so goes bust.
The valuation risk - the risk we pay too much for a share, minimizing our returns even if the business performs well.
The Business Risk
WAG is the world's largest drug retail chain based on sales revenue. Up until last year, WAG was focused solely on the US market, but a deal to buy 45% of UK based Alliance Boots, with the potential to buy the remaining 55% within 3 years, gave WAG exposure to 26 European countries through more than 3000 pharmacies operating in the region. Below are graphs displaying the business performance of WAG in terms of sales, earnings, cash flows and dividends per share going back to 1995 in order to evaluate how WAG has performed over time and through varying economic cycles.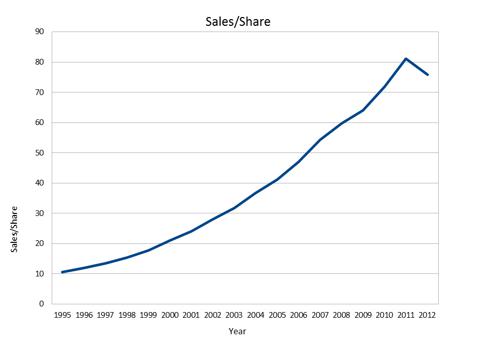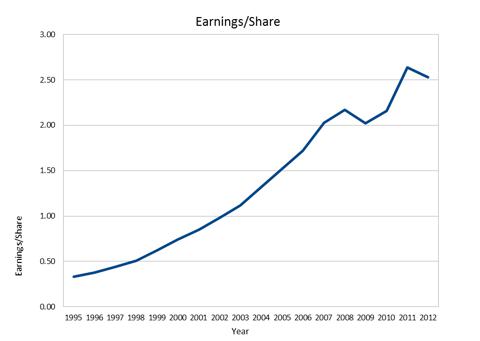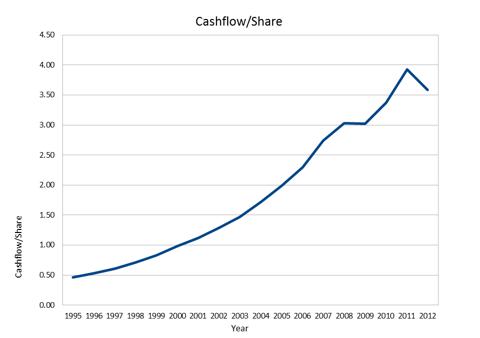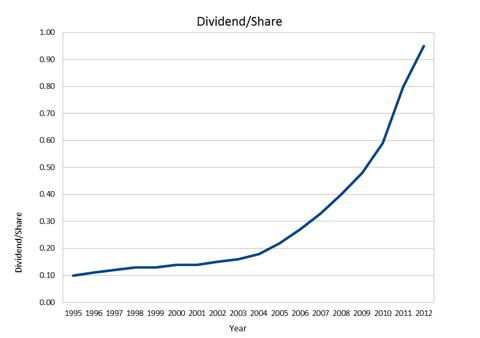 The business profile displayed above, with consistent upward trends in sales, earnings, cash flow and dividends per share is exactly the type of profile I look for in potential investments. Companies with performance records like this set themselves apart from the market at large and are indicative of some kind of competitive advantage, an economic moat. However, earnings growth has stalled since 2008 as the EPS graph and the Growth Rate table below will show.
(CAGR = Compound Annual Growth Rate)
WAG - Growth Record

Growth Parameter

CAGR over the past 17 Years

CAGR over the past 5 years

Prospective 5 year CAGRs

Sales per share

12.3

4.9

7.0

Earnings per share

12.7

3.1

10.9

Cash flow per share

12.9

3.5

11.4

Dividend per share

14.2

18.9

7.4
Historical and prospective growth rates derived from Valueline
Earnings growth has reduced greatly over the last 5 years compared to the long-term average performance. WAG's deals with Alliance Boots, and more recently with AmerisourceBergen (NYSE:ABC) are examples of them trying to address this situation. Together, they will have the world's largest pharmaceutical wholesale and distribution network, and will be the largest buyer of prescription drugs and health and beauty products where they expect to be able to negotiate discounts from generic drug makers. Synergies and cost savings of up to $1 billion are estimated by 2016 from the Alliance Boots deal alone. Indeed, faster than anticipated purchasing synergies have led management to estimate additional earnings of $0.25-0.29 per share over the next three quarters. So the outlook for the prospective 5 years is heading back up to near double digit estimates.
As mentioned earlier, WAG has raised its dividend for 37 consecutive years. Although earnings growth has slowed, dividend growth has increased. The dividend payout ratio has increased in recent years as a result as the graph below shows. Its WAG's commitment to return cash to shareholders at a target of 30-35% of net earnings. As they are already near the top end of this target, expect dividend increases to reduce from here.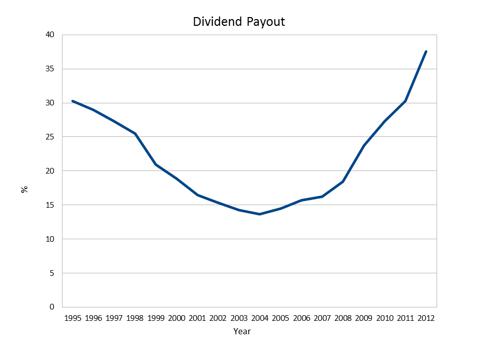 Based on the above, WAG has historically had a very strong business model. Although in recent years their performance has weakened, WAG is attempting to address this and performance is widely expected to improve.
Financial Risk
The following graphs help to evaluate WAG's financial position.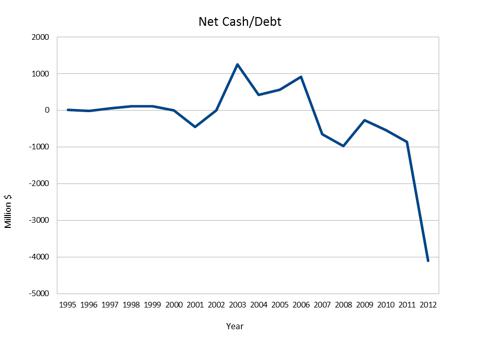 The above graph shows WAG's net debt position (based on cash and short and long term debt) going back to 1995. Although typically ranging +/- $1 billion, debt was substantially increased in 2012 to $4 billion. The terms are extremely good; the first $550 million are floating rate notes payable in 2014, with the remainder of the $4 billion having a weighted average interest rate of 2.5%, with the final tranche being paid in 2042.
Looking at WAG's debt position in the context of the net cash the business generates through operations, there seems to be very little financial risk with WAG. Net cash provided by operations in 2012 was $4.5 billion, completely covering its total debt obligations.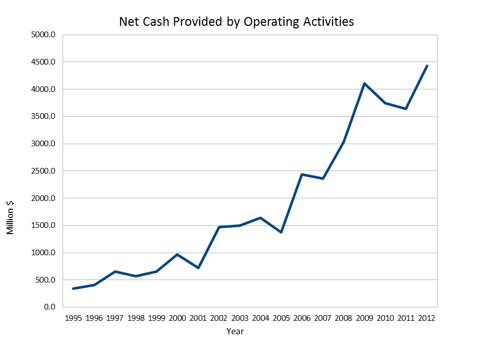 Valuation Risk
The following graph show how much investors have been willing to pay for WAG shares over the past 17 years.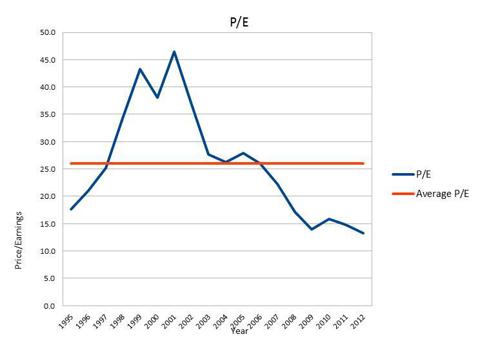 This graph shows that investors were willing to pay over 45x earnings for shares in WAG in 2001 and approximately 15x earnings from 2009 to 2012. With a current price of $47.01, and a forward 2013 earnings estimate of $2.85 per share (from Valueline), WAG has a 2013 forward PE ratio of 16.5. This is well below the average PE of 26 over the past 17 years. Based on the premium investors have paid for WAG's earnings growth in the past, and the anticipated return to double digit compound earnings growth over the medium term, a PE of 16.5 seems an attractive valuation compared with the market at large.
WAG has a long history of dividend payments and, as stated earlier, has increased its dividend payment for the past 37 consecutive years. Today, the yield is approximately 2.3% which is closer to its high of 2.8% than its average of 1.1% of the past 17 years.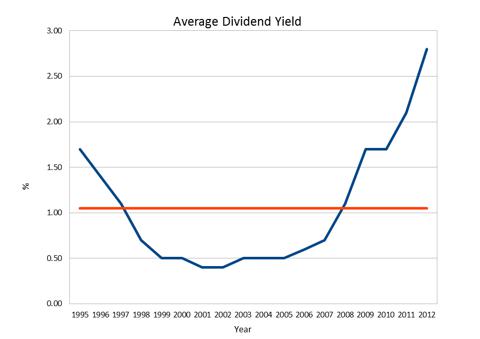 Based on the current P/E ratio and dividend yield WAG is almost as cheap as it has been for the past 17 years. So for the long-term investor, WAG would appear to be a good potential candidate for investment at this time.
However, since November 2012, WAG has had a solid run-up from the low $30s to high $40s, an approximate increase of 50%. Is it likely WAG will continue its rise in the short term? A short-term technical indicator I use is the 30 week moving average, to establish where the momentum currently lies. The graph below shows how far above or below the WAG price has moved above its 30 week moving average from 1995 to Friday's close. WAG is currently about 25% above its 30 week moving average. History shows that whenever WAG approaches this level, there is a reversion to the mean. That means there is an increased likelihood that either the current price will drop closer to the 30 week moving average (currently at $37.59), or that the share price will remain static at the current level until the moving average catches up.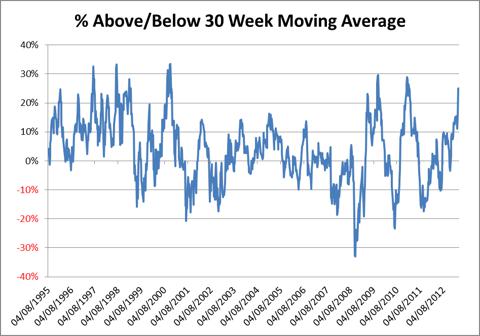 Conclusion
I believe WAG to be attractively valued, with little business or financial risk, so overall, an excellent investment candidate. With the issues of 2012 now behind it, i.e. Express Scripts, and the recent deals with Alliance Boots and AmerisourceBergen, WAG's future potential appears solid. However, this good news appears to have carried the share price up too high too quickly. A pull back looks imminent in my opinion, and therefore a more attractive entry point will likely appear in the next couple of months or so.
For the medium term, I am looking to re-enter a position in WAG at a lower entry point after recently selling out of a position at $46.89.
Disclosure: I have no positions in any stocks mentioned, and no plans to initiate any positions within the next 72 hours. I wrote this article myself, and it expresses my own opinions. I am not receiving compensation for it (other than from Seeking Alpha). I have no business relationship with any company whose stock is mentioned in this article.